The Braves Need to Sign Craig Kimbrel ASAP
by Alex Kielar
April 19, 2019
Alex Kielar| April 19th, 2019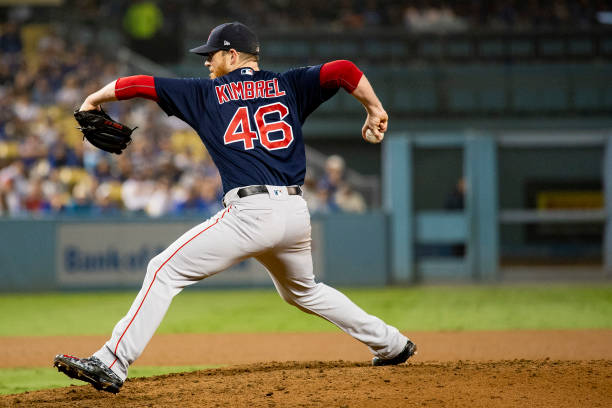 The Braves bullpen is in desperate need of help, holding a 5.17 ERA, allowing almost six walks per nine, and allowing a .297 batting average on balls in play (BABIP) in 62.2 innings pitched this season. The Braves have also lost their closer, Arodys Vizcaino, to season-ending shoulder surgery, which opens the door even more for them to look internally and externally for improvements on the bullpen. What's an external option, you might ask? Well, it couldn't be the guy who saved 42 games last year while pitching to a 2.74 and striking out 96 at the age of 30, could it? No way that guy is still a free agent, right? Someone had to have signed him by now, three weeks into the regular season. Well no one has, and Craig Kimbrel is still a free agent, and now is the perfect time for him to return to the team he started with and won the Rookie of the Year with.
Only two Braves relievers who have appeared in at least five games and have an ERA less than 3.00. Kimbrel has pitched to an ERA above 3.00 only one time during his 8+-year Major League career, in his first year with the Red Sox. Kimbrel has made the All-Star roster every year except one, his only year in San Diego in 2015, when he had a "mere" 39 saves and a 2.58 ERA. The Braves' bullpen has surrendered leads or ties in four of their nine losses thus far. Without those losses being pinned on the mediocre play of the bullpen, the Braves could possibly be 13-5 and be in first place in the National League East. Obviously, Kimbrel is only one man, and even with him, they could have still lost those games. But signing him only makes their bullpen much stronger and in my humble opinion puts them from possibly missing the playoffs altogether, to winning the NL East. Call that a bold or hot take, if you will, but I really believe signing Kimbrel could make all the difference in the world for the Braves' season.
The Braves certainly have the bats, with Ronald Acuña Jr., Ozzie Albies, Freddie Freeman, Dansby Swanson, etc. but their pitching, especially the bullpen is what lacks. Obviously, it's a small sample size, but almost all their regular hitters are hitting above or near .300. The offense has scored at least 4 runs in 12 of the 19 games so far, so they have definitely done their part. In three of these games, the pitching didn't do their job. Signing Kimbrel would mean they would have the 9th inning locked down and would move the rest of the relievers roles around, giving them a jolt as well.
The reason that the Braves and frankly all Major League teams won't sign Kimbrel, is the contract he is demanding. It has been reported, by most notably Ken Rosenthal of The Athletic, that Kimbrel wants a three-year deal somewhere in the range of $39 million and $52 million. This would put the annual value (AV) around 13-18 million, but that isn't the main sticking point as to why the Braves are hesitant. Atlanta doesn't want to make a three-year commitment, which is just silly to me. A 30, almost 31-year old pitcher, who hasn't seen much signs of decline, coming off an impressive season with the Red Sox and won the World Series, is a commitment that is worth it. He would be 34 at the end of the contract, and if the money isn't the real concern, why not do it. He would obviously need some time to get into prime shape and season form, but once he is, he would be a huge improvement to the Braves underachieving and hurting bullpen.
Will the Braves, or anyone for that matter sign Kimbrel? If so, what will the contract length/AV be? Where will he sign? Are the Braves division favorites with a Kimbrel signing and should they sign him? We'll have to wait and see, but for now, let's have some fun and speculate. Let us know what you think on Twitter @TheScorecrow and me @KielarScorecrow!
Questions and comments?
thescorecrowsports@gmail.com
Follow Us on Twitter @thescorecrow
Follow Us on Reddit at u/TheScorecrow
Follow Us on Facebook at The Scorecrow
Follow Us on Instagram at The Scorecrow
Follow Alex Kielar on Twitter @KielarScorecrow
Main Image Credit: Embed from Getty Images