Undrafted: Adam Butler Looking to Achieve Maximum Power Level in NFL
April 15, 2019 4:11 pm | by Sam Gordon | Posted In Atlantic, Exclusives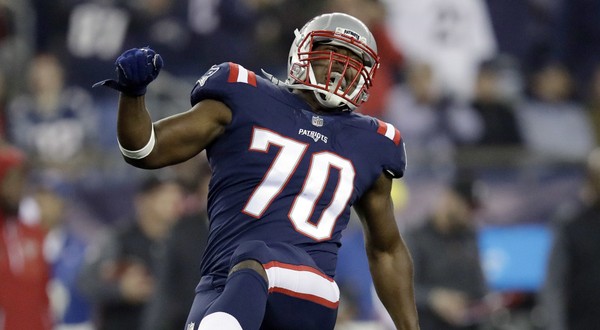 Photo Credit: AP/Charles Krupa
New England Patriots defensive tackle Adam Butler is easy to spot on the field with not only his speed, but his smaller than normal size for the position.
To carve out a niche, former Patriots defensive coordinator Matt Patricia told Butler to slim down.
"He said 'You wanna roll on this defense, we need you as a third down pass rusher," Butler told Prime Time Sports Talk. "I figured if I was gonna roll as a third down pass rusher, I didn't need to be 315 (pounds) I needed to be slim and quick so I could get to the quarterback as fast as possible."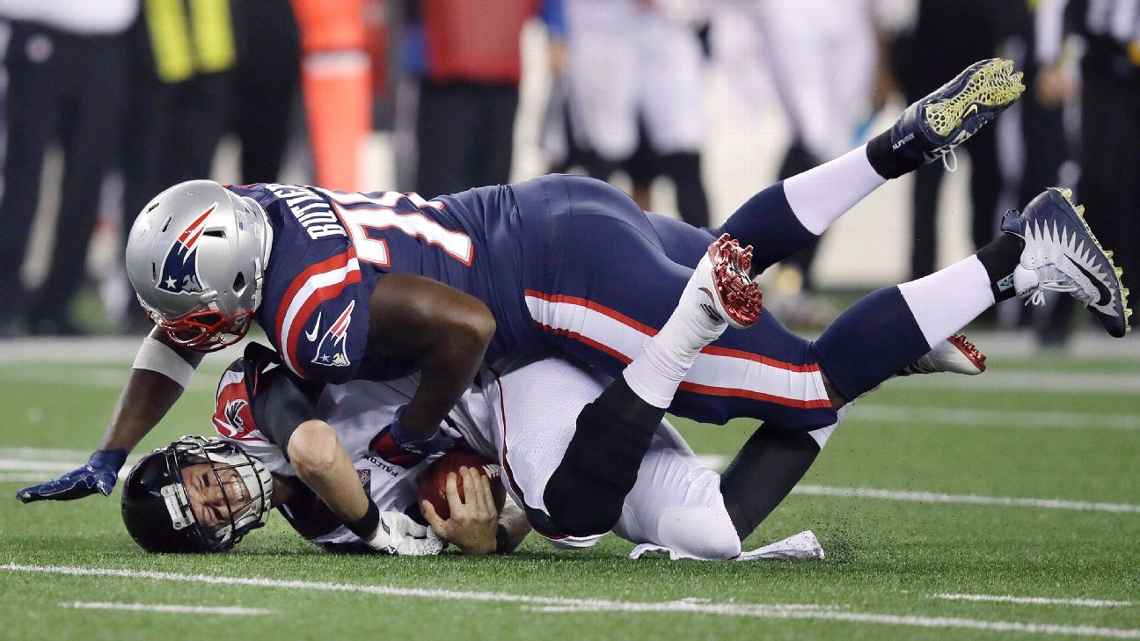 To do this Butler cut out red meat, and tried to clear his mind of anxiety that clouded his brain.
"I was really stressed with trying to make the team," Butler said. "It really took me two months to drop almost 40 pounds getting it down to 285 at one point.
Butler's father introduced him to the game throwing his son into PeeWee football where the Super Bowl champion started as a running back. Butler was also on the kickoff team as a return man.
A middle child, Butler had a younger brother and older sister. He and his brother loved being active.
"Me and my brother spent a lot of time playing outside, my sister really wasn't the kind of person to go outside and play," Butler said. "My little brother used to always help me with playing basketball and for whatever reason whenever we played basketball and you transition to football, it usually works out pretty good."
Butler's sister Kymberlee Snoddy though the older sibling, admires his tenacity and told a funny childhood story where he displayed it.
"His drive is so fierce, I love that about him," Snoddy said. "When Adam was younger, roughly four-years old, the second Jurassic park movie came out and he was in absolute love with the T-Rex. He had every T-Rex toy that came out. Being his annoying older sister. I teased him by taking the pits of avocado and told him they were dinosaur eggs. He kept them in his window during the summer, checked on them daily and even washed them. Adam was so determined to make those avocado pits hatch he would do whatever is necessary to succeed in doing so. Although he eventually found out they were only avocado pits, he still has that same determination in his eyes to be successful in all of his endeavors."
Butler also did track and field in High School. In the shot put event, Butler was competing with a familiar face.
"(Track and Field) is actually where I met Deatrich Wise Jr. for the first time," Butler said. "It was to see who was going to state and Deatrich [Wise] beat me by an inch, so I got knocked out of state and he advanced to the final round, the last thing I said to him was I wished him luck."
Butler went to Vanderbilt and had a modest college career accumulating 113 total tackles and 10 sacks. His best season was as a senior totaling four sacks and 7.5 tackles for a loss. This however didn't spark team's interest enough to draft Butler.
The Vanderbilt alum was not concerned, his parents on the other hand were uneasy.
"[My parents] really wanted me to get drafted," Butler said. "I thought I had a really solid senior season but when I didn't get the call I didn't flinch because I knew I was going to get an opportunity somewhere and I knew I just had to make the most of it."
Butler had a sense of security as Patriots head coach Bill Belichick contacted him while the NFL Draft was unfolding.
"Before the draft was over [Belichick] called me during that time [which] kind of gave me somewhat a sense of relief because he said he wanted me to come to [the Patriots] before the Draft was even over," Butler said. "I was thinking to myself 'Well if I don't get picked, at least I'll have some kind of safety net so that was good.'"
When he landed in New England, much to his surprise, he was reunited with his competitor turned teammate in Wise at Logan Airport.
"My reaction was basically like 'holy crap what are you doing here?,'" Butler said. "When I was watching the draft and when I saw him [get picked] I was like 'I remember Deatrich' and I was telling my parents about it and I had completely forgot that they had picked him."
Butler was focused on getting himself mentally prepared for the uphill battle to make the roster.
"I just had to calm my mind," Butler said. "I had to get in the zone because honestly trying to make the team is one of the most nerve-wracking things I've ever been through in my life, it might be the most to be honest and so that's why I set out to calm my mind."
There were a couple of things that helped him do just that.
"Two things that helped me was No. 1 my relationship with God," Butler said. "And the second thing was that I just told myself 'Look you can't control what happens, the draft is over, none of that matters right now, the only thing you can do is go there and work as hard as you possibly can every single day and try to be [as respectful as you can] to the coaches, basically just control what I can control."   
Names kept dropping off of the roster and Butler continued to get nervous as the number of players in the defensive tackle meeting room were getting smaller.
"It's like one day you're sitting next to someone and then the next day you ask 'Where are they?' thinking that they're late and then you ask someone and they say 'They got cut,'" Butler said. "You start to think 'Oh shoot that could be me.'"
Butler got a call from his agent who told him he had made the roster. The celebration started as the Vanderbilt alum was jumping up and down. The first thing he did was tell the ones who believed in him from the start.
"I was like 'I gotta tell my parents,'" Butler said. "My parents was excited and they were happy [as well]."
But just because he had made the roster, Butler didn't stray and kept his eye on the ball.
"I still kept focus because I mean they can still get rid of you," Butler said. "I just kept my focus and just kept playing."
Butler has been on the roster ever since the start of the 2017 season, including being active for the season opener against the Kansas City Chiefs.
In his role as as a rotational defensive tackle on pass rushing downs, Butler has recorded 36 total tackles and five sacks in only two years in the NFL. With defensive tackle Malcom Brown departing for the New Orleans Saints, Butler isn't fighting for a roster spot, but a chance to make more of an impact going forward.
When Butler takes the pads off, people will most likely find him on his sofa watching anime. which includes Dragonball, Yu Gi Oh!, Pokemon, and more.
"I've watched Dragonball pretty much longer than any other anime, I started out watching that and Pokemon when I was a younger guy," Butler said. "When I got older I got introduced to Naruto and that's my favorite anime of all-time."
When it comes to Dragonball, it isn't the famous characters that are his favorite but one of the anime's most notorious villains Broly and compared him to one of the game's great defensive tackles.
"I always thought that Broly was just somebody who was just born and naturally gifted," Butler said. "You know how you get players in the NFL, players that are just like Ndomakung Suh who was just born to be a monster, that's part of his genetics and I'm not saying he didn't work hard because his coach was my coach so I know he definitely worked hard but then you have somebody like me who's had to work for a lot of the things that they get and I saw Broly and Goku in that same light."
Butler is also an avid gamer. He proudly wears the No.70 he dawns on the field with the Patriots on his Fortnite character.
"Anybody can pick it though, I mean it's not like my name's on the back of the jersey," Butler said. "But, I definitely got it as close to myself as possible because I think that's just awesome."
The Super Bowl champion sees a future for himself outside of football as an ambassador for video games as well. Butler is also thankful for the support he gets on the field from Patriots fans.
"I definitely do, I just gotta get my followers up," Butler said. "I just want to say I appreciate all the support from them and anytime they want to play Fortnite with me they can go on my Instagram (il_never_quit) and see my tag [SpredTheMadness], it's gonna be hard to fit everybody in but I'll fit in as many people as I can."
Brought to you by…