Player Spotlight: Julio Urias
April 1, 2019
Levon Satamian | April 1st, 2019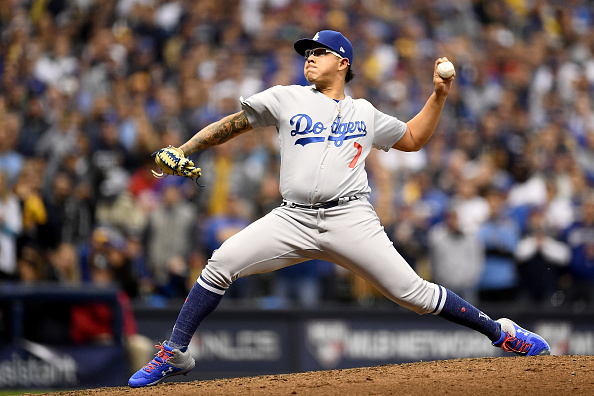 Julio Urias is just 22 years old. Urias has battled with injuries throughout his young career. Now, he is fully healthy, and he is apart of the starting pitching rotation, along with Clayton Kershaw, Walker Buehler, Rich Hill, Hyun-Jin Ryu, and Kenta Maeda.
Urias was born in Mexico, he grew up in La Higuerita, just outside Culiacan in Sinaloa. When Urias was younger, he underwent three surgeries, on his left eye to remove a benign mass. That is the reason why his left eye is nearly closed; fortunately, he is able to see through it. When Urias was asked about his eye condition, he said, "That's how God works. He gave me a bad left eye but a good left arm." Urias has sky-high potential, and I can't wait to see him pitch this season.
In his career, Urias has appeared in 26 games, he started in 20 games, finished with a 5-4 record, and a 3.71 earned run average. He pitched in 104.1 innings, had 102 strikeouts, and a 1.438 WHIP. In this season's spring training, Urias pitched in 6 games; he started in 5 of those 6 games. Finished Spring training with a record of 2-0 and a dazzling 1.72 earned run average. In 6 games, he allowed 5 hits, 4 runs, and threw for 15 strikeouts.
In 2015, Urias was throwing 98-mph fastballs. Then, 18, he was the youngest player in spring training by almost two years. At the time, Urias was learning from Clayton Kershaw and Zack Greinke. Now, Urias is learning from Clayton Kershaw and Rich Hill. Kershaw, Hill, and Hyun-jin Ryu, like Urias, are left-handed pitchers, which is good for Urias because he will be able to develop with left-handed mentors. Urias had season-ending left anterior capsule surgery in June of 2017. The injury occurred while pitching in the Triple-A. The injury kept him out for over a year. Urias quickly started drawing comparisons to Fernando Valenzuela. He is back and will be on the mound tonight against the San Francisco Giants. I am looking forward to seeing him pitch for the first time as a starter since his surgery.
Last season, Urias came in as a relief pitcher in the playoffs and did an outstanding job. In game 7 of the NLCS, Urias pitched a day after his grandmother passed away. Dave Roberts was convinced after Urias' dominating performances, that he would be in the pitching rotation to start the season. Now, Urias has a starting spot, he is one of my favorite up-and-coming players in baseball, and I'm hoping he puts on a show for Dodger fans this season, starting tonight against the Giants.
Check out other Dodgers Spotlights: Corey Seager
Questions and comments?
thescorecrowsports@gmail.com
Follow Us on Twitter @thescorecrow
Follow Us on Reddit at u/TheScorecrow
Follow Us on Facebook at The Scorecrow
Follow Us on Instagram at The Scorecrow
Follow Levon Satamian on Twitter @TheSportsNotes
Main Credit Image: Embed from Getty Images