Celtics Preview for March 29 – March 30
March 27, 2019
Eddie Bronsozian |March 27th, 2019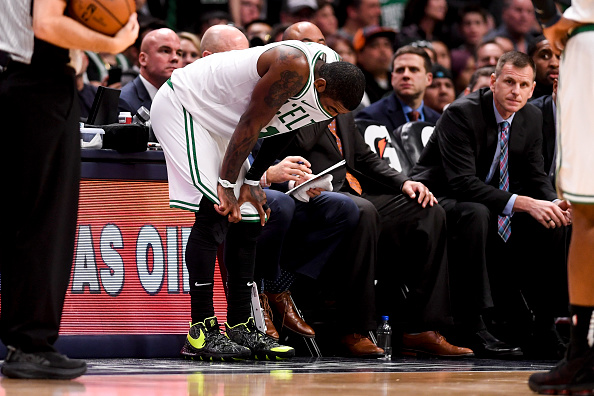 The Boston Celtics are coming off a horrendous 0-4 week. I believed they would go 3-1, but it definitely didn't turn out that way. They collapsed against the Charlotte Hornets and it seems like they're going through that mood swing cycle again as the season comes to an end.
Overview of Last Week
The Celtics began last week losing a tough game at home against the very talented Denver Nuggets 105-114. The Nuggets flat out came to play, Boston kept it close most of the game, but they fell apart and had no answer for Nikola Jokic. Then on Wednesday night, they played the Philadelphia 76ers on the road in which they had a huge double-digit lead most of the game. Marcus Smart shoved Joel Embiid and was tossed out of the game, it went downhill for the C's from that moment on and they fell to Philadelphia 115-118.
On Saturday night, the Celtics took on the Charlotte Hornets on the road, Boston was up most of the game, but Kemba Walker wasn't going to let Boston come into his home and just beat them. Walker had a phenomenal game as he poured in 36 points, dished out nine and grabbed 11 boards as the Hornets defeated Boston 124-117. Kyrie Irving dropped 31 points for the Celtics, but it wasn't enough on the road. The Celtics struggle once again as they come off a disappointing week.
The Celtics returned to winning ways on Tuesday night with a 116-106 victory on the road to the lowly Cleveland Cavaliers, and will look to build on this win this weekend, where they face a tricky back-to-back.
Friday vs Indiana Pacers
On Friday night the Celtics will face off against a tough and gritty Indiana Pacers team who lost their All-star point guard Victor Oladipo earlier in the season. The Pacers sit at the fourth seed, one place ahead of Boston in the Eastern Conference, and the crazy thing is they have maintained a top four position without their best player, who is out for the season.
The Pacers might not have their talisman, but they should not be taken lightly. They are a great defensive team and are led by a superb coach in Nate McMillan, and the Celtics will likely play them in the opening round of the playoffs. Bojan Bogdanovic is currently the team's leading scorer at about 18 points per game and picks up about four rebounds a night. He is a threat from three-point range and is shooting 43.3% this season. He plays hard on defense as well and is very underrated on this end.
In the frontcourt, they have their two defensive anchors in Domantas Sabonis and Myles Turner. Sabonis is averaging about 14 points nine rebounds a game. Turner is averaging about 13 points a game, while leading the team in blocks with 2.7 a game. He is a strong and lengthy defender who protects the paint at a very high level for the Pacers. The Celtics will need to move the ball a lot and get great looks at the basket against this team in order to be successful because Indiana plays defense at such a high level, ranking eighth in defensive rating as a team this season.
Boston has a huge advantage being at home, but must come to play against this tough Indiana team. I expect Jaylen Brown to step up and put up big numbers in this game, I also believe Irving will show great leadership and guide his team to a victory in this one if he doesn't take it off to rest. Al Horford will also have to step up especially on the defensive end against the likes of Sabonis and Turner. I expect Boston to win a close game in the TD Garden against the Pacers in a playoff-like atmosphere.
Saturday vs Brooklyn Nets
On Saturday afternoon, Boston will be on the road going up against the up and coming Brooklyn Nets who are being led by D'Angelo Russell. Russell is averaging 20.9 points and seven assists per game. In the frontcourt, they have big men Ed Davis who leads the team in rebounding (8.7 per game) and Jarrett Allen who leads the team in blocks per game (1.5).
In the backcourt alongside Russell himself is Spencer Dinwiddie who is also having himself a year averaging 17.5 points, 4.7 assists, and 2.5 rebounds. Dinwiddie is the team's second-leading scorer and has been a huge part of the team's surprising success this season, as they have surpassed expectations to sit sixth in the Eastern Conference. At shooting guard, the Nets have Joe Harris, who has had himself a year. He just won the three-point contest during All-Star weekend and is shooting about 46.6% from behind the arc this season. He is also the team's 3rd leading scorer at about 13.5 points per game. He is very dangerous from deep so the Celtics have to step up when it comes to defending the perimeter, Smart, Brown and Gordon Hayward really have to step it up on the defensive end when they defend against this young and gritty team.
Boston will have to match Brooklyn's intensity and play well as an entire team, it can't just be Irving that has a big game and the Celtics end up losing once again. It really needs to be a team effort, Hayward needs to step up as well as Jayson Tatum, who has not been underwhelming in recent weeks. This will be a dog fight Eastern Conference matchup between Boston and Brooklyn, expect it to be a close game and that Ultimately the Celtics will come out on top due their smart decision making.
Expectations as the Season Comes to an End
The season is coming to a close and the Celtics still seem to be having problems with team chemistry and sacrificing the ball. It seems like Boston will not have any home-court advantage at all throughout the playoffs as they sit at the fifth seed, right behind the Indiana Pacers. Kyrie has had a phenomenal season, but his team-mates have taken a step back. Tatum is averaging fewer points than last season and Brown is currently coming off the bench after being a starter last season. Terry Rozier has also taken a step back, which was obviously expected since Irving returned.
Overall Boston had a lot of great expectations coming into this season, but some people also predicted that they would have their troubles because they had to re-insert Hayward and Irving into the team's success from last year. I haven't given up on Boston quite yet, I still believe they can flip the switch in the playoffs and forget about all the controversy and drama from the regular season. The playoffs are definitely a different ballgame, and the young guys who are worried about their egos will realize that even though they experienced it last year. Kyrie is the team's leader and I know he has what it takes to lead the team to the Finals, but it will not be easy, especially because they will have to mostly play on the road. 
This has also been a tough year for head coach Brad Stevens because he has never dealt with this much talent and expectations, but I believe all this drama with the team will be a learning experience for the players and the coaching staff going forward. I expect the Celtics to bounce back from a "tough" week and come out this week and play well. I believe the C's will end up going 2-0 this coming weekend, but the way the season has gone they can also go 0-2, so we shall see how it goes.
Follow Us on Twitter @thescorecrow
Follow Us on Reddit at u/TheScorecrow
Follow Us on Facebook at The Scorecrow
Follow Us on Instagram at The Scorecrow
Follow Eddie Bronsozian on Twitter @Sports_report34
Main Credit Image: Embed from Getty Images