Longo Looks to Kick Message of Inspiration and Hope Through The Uprights
February 27, 2019 9:57 pm | by Sam Gordon | Posted In Exclusives, Pacific
Photo Credit: azcentral sports
Becca Longo's football career would have never happened it if wasn't for a track practice.
"It was in my freshman year [at Basha High School] and a bunch of the football players ran track as well," Longo said. "They were throwing the football around after practice and I was like, 'Hey put it down on the ground because I wanna try and kick it.'"
She fell in love. Longo went to the athletic director and guaranteed she would earn the spot as their next placekicker.
"I was like, 'So I'm gonna be your kicker next fall,'" Longo said. "So he told me I had to try out and I did and got the spot."
But she still needed to seek approval from her parents.
"I knew my Mom would be iffy about it because she was always scared about me getting hurt," Longo said. "But I knew my Dad would be all for it."
So much so that a week after telling her parents she wanted to play, her father brought her to a Gilbert Christian High School to a kicking camp hosted by her future kicking coach Alejandro Zendejas Sr.
Though in front of professional coaches and players, Longo didn't get uneasy.
"I didn't get nervous when I kicked, it was like an adrenaline rush for me," Longo said. "I had Chandler Catanzaro out there teaching me how to kick the year he got drafted and I was just like 'This is just some other kicker,' like it was nothing."
It was there that she caught the eye of Zendejas, who has been her trainer from that point on.
"Her father actually approached me, and asked me if I could take a look at Becca," Zendejas said. "I remember her from the camp and from there I went to go and meet at her high school and that was the end of it. We started working together."
https://www.youtube.com/watch?v=1fZQS1-V_0Y
From the get-go, it was a match made in heaven. Longo had the mentality Zendejas was always looking for.
"I've trained a lot of kickers and one of the worst things is when they don't want it as bad and that's not Becca she wants it," Zendejas said. "She wants to train, she wants to work. Her work ethic is amazing."
Working with Zendejas taught her to value precision over power.
"I'm [always] working on my ankle strength, my calf strength, and my hip strength," Longo said. "I may not be able to kick as hard as all the other guys but with the hip speed and ankle strength and everything, I'm guaranteed money, 100 percent through the uprights."
https://www.youtube.com/watch?v=HnS5QbMCQGM
Calm and collected through tryouts and practices, Longo described the minutes leading up to her first real football game as a nerve-racking experience.
"I was mortified," Longo said. "I remember I was sitting on the bus feeling like I was gonna throw up, I'm crying, I called my Mom on the phone. I was so scared."
When the first whistle blew, Longo though warmed up, was not prepared for what would come next. Her first in-game field goal.
"I lined up for the kick and honestly I blacked out," Longo said. "I don't remember a thing except that my legs were shaking."
The nerves didn't last forever. In her final year of high school football, Longo connected on 30 of her attempted 33 extra points. She made four out of her four attempted field goals with her longest at 30 yards.
Longo put together a highlight reel, and Adams State University made an offer. With a stroke of the pen on her letter of intent, Longo became the first female football player in history to receive a scholarship in a Division I or Division II program.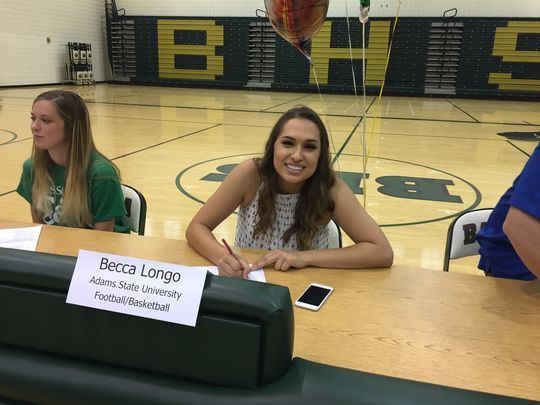 Longo's football routes go far back to when she was 6-years-old. Always a fan of football, she was at one of her older brother's games where she saw one girl in a sea of guys in shoulder pads.
"My brother's 11 years older than I am and he always played," Longo said. "I went to all of his games and he actually had a girl on his team at the time so that's the first I saw that girls actually could play football."
When she was in fourth grade, her family moved to Chandler, Arizona. She always thought one day she'd return to California.
"I was always convinced ever since I moved to Arizona that I'd move back into my same old house," Longo said. "But every time I go back to visit California now, I'm like 'I cannot wait to get out of there, I can't deal with this traffic."
The California native has inspired girls in all walks of life. One particular story tugged at the heartstrings of Longo.
"A girl recently made me her living museum [inspiration]," Longo said. "Her Dad and I have been in contact, and he sent me videos of her in my uniform, talking about me and that was just the cutest thing ever, worth more than any award."
A redshirt year, and a torn tendon in the ankle of her plant-foot forced Longo into recovery mode. After discussing it with family, she announced her departure from Adams State and returned home to focus on her healing and fundamentals.
"I'm back in Arizona and doing online schooling," Longo said. "Just rehabbing and kicking and I'll be transferring to another school in the fall to kick."
Zendejas has been with her every step of the way as she's getting back to full strength. Longo he says still has that spirit she had from the time they met.
"The thing I love about her is when she sets her mind to something she's gonna do it," Zendejas said. "No doesn't mean anything to her."
Longo now is focused on college, but has recently thought about a possible career in the NFL.
"I never really did think about it until maybe around this year," Longo said. "It's still up in the air."
She's not alone in this journey as Longo and other female players consistently keep in touch across the country.
"We all have that bond and we all know what it's like being with an all male group," Longo said. "I was talking with Raksha [Bethencourt] and how we both understand what's going on in each other's lives even though we're in different situations, we still know and it's just relying on each other for that support."
Longo still today deals with the prejudice that comes with being a female in a male dominated sport. Her answer to those people who say to her "girls can't play football" is a simple one.
"I just tell them to watch me," Longo said. "Google me."