The Story of P.K. Sam: How a Play Led to Rocky Experiences With 2 of Football's Greatest Minds
February 25, 2019 2:00 pm | by Sam Gordon | Posted In Atlantic, Exclusives
Photo Credit: The Grueling Truth
The story of what could have been is as prevalent as an athlete's successful journey.
Former NFL, NFL Europe, and CFL wide receiver P.K. Sam was on the New England Patriots' 2004 championship team. But never felt a part of that success.
"I privately got rid of my Super Bowl ring," said Sam.
Sam was suspended by the Patriots before their Super Bowl matchup with the Philadelphia Eagles. He sat at home while his team took their third championship in four years.
Sam's football journey started in Georgia, where his father pushed him towards the gridiron.
"It was just the basic, 'Dad wants his son to play sports [story],'" Sam said. "It was just one of those things, he had the first kids in the family, both boys, he kinda wanted us to play the sport that he loved, that he just missed out on."
Sam started playing football competitively playing multiple positions including quarterback and cornerback.
He began his high school career at Norcross before moving to Buford High School in the middle of his sophomore year where on-field opportunities became more frequent.
"When I transferred to Buford High School where I finished up is where I really got to play all of it for a significant amount of time," Sam said. "To be honest I loved defense but as I got older and was recruited to play both ways, I just didn't enjoy everything that came with hitting over and over and over again so I picked receiver."
Sam continued to be a jack of all trades in high school. He was also the team's punter which he learned to do at a very young age.
"I was a really small kid but I Ioved football and everybody was like 'well even though you're good, you really want to find a position you might last' so I learned how to punt and kick when I was small," Sam said. "It just kind of paid off as I got older and grew into a legit football player, it was just something I could do."
Looking at colleges, Sam had his heart set on Florida State University.
"FSU was my dream school," Sam said. "That's where I wanted to go but University of Georgia offered first and my parents made me accept it, but as the offers started rolling in we were just praying on FSU and one day they offered and that was kind of it. I sat on it for a couple months and finally decommitted from Georgia and decided to go to FSU.
The decision paid dividends. In a rivalry game between Florida State and Florida, quarterback Chris Rix and Sam connected on one of the most famous plays in program history. This catapulted Sam to national notoriety.
The play was only supposed to go 30 yards downfield, but Sam saw an opening.
"What we found out was that the coverage they had when I started running in towards the middle of the field where I got open a few plays earlier against safety Gus Scott," Sam said. "So we knew we could come right back to it and get a good result, crazy part was that when Chris Rix who was always improvising, left the pocket which should have been just a normal play turned into a legendary Florida State play."
Sam declared early for the NFL Draft. Though everyone around him said he would go the first day, Sam fell to the fourth round and his frustration soon turned to excitement when the Patriots drafted him.
"I wish I had not been so upset and enjoyed the call a little bit more," Sam said. "I do remember just being really excited, put on a t-shirt, somebody bought me a t-shirt, I was excited and in Bill [Belichick] fashion was just kind of saying 'get ready to go to work' and they were just passing the phone around to everybody to introduce themselves and welcome me."
As the years go by, Sam thinks of the memory like fine wine.
"It's one of those experiences that gets better in your memory as you get older," Sam said. "You know to be able to tell your kids that once upon a time, the Patriots actually wanted Daddy, so it was good experience.
The Florida State alum went into Training Camp in the 2004 season wearing No.14. This put him next to No.12. Tom Brady.
"Going from any college quarterback to Tom Brady just blew your mind at how perfect he was all the time or at least his attempt to be perfect and he wanted that from you," Sam said. "I tell people all the time out of all the people I've ever met who ended up being such a superstar, he's a great guy, he was a great teammate, I think the only people that don't like him are just people who don't like greatness, obviously he could be smothering because he wanted perfection all the time but it was fun, I enjoyed him, we had a lot of talks."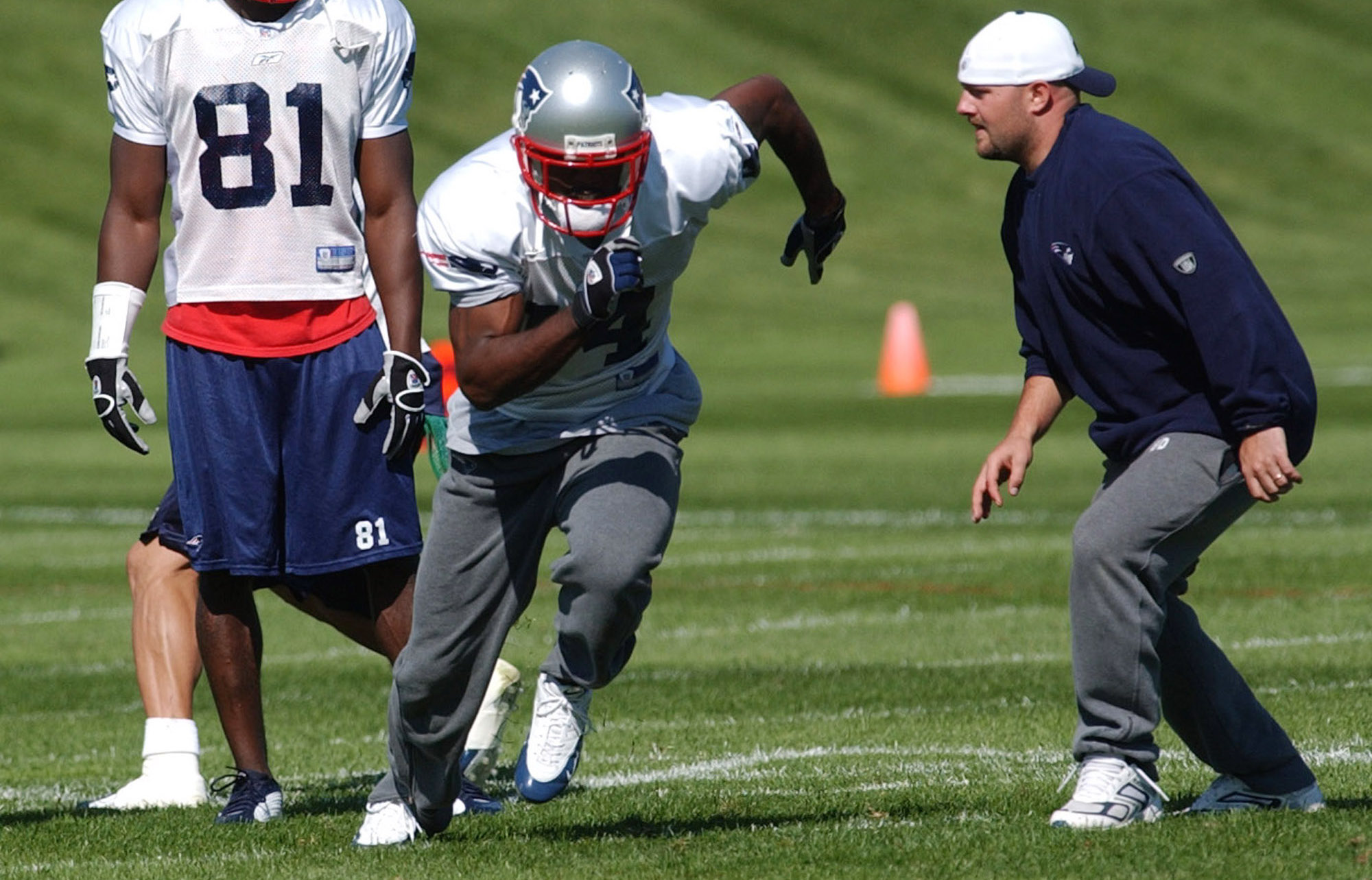 Sam never recorded a reception with the team, nor did he with his next team the Miami Dolphins. The team at the time was coached by Nick Saban.
Sam and Saban have a spotty history, one plagued by miscommunication and personal issues.
In a week leading up to a game against none other than the Patriots, Sam was told his father was dying on Saturday. He called his agent to speak with the Dolphins on the matter.
The organization at first was ok with his absence. But were not having it just a few days later.
"On Tuesday, they called me saying I had to be back on Wednesday or else they were gonna cut me," Sam said. "My Dad passed Thursday morning and I just kind of laughed and told them to cut me."
Right after his father's passing, Saban and the Dolphins released Sam for not following orders to return to the team for film preparation. Sam still holds bitterness towards the now decorated college coach.
"That was just one of the things that really just bothered me was just how he handled that," Sam said. "From a guy who wasn't part of the game plan, just a guy trying to make a team and also balance the passing of my Dad."
Sam went to play for the now defunct NFL Europe team Rhein Fire to prove himself to the organization he could still play. According to him, Germany was home to some of his favorite times in football.
"I went out there and played very well, I was more relaxed," Sam said. "There wasn't a lot of rich guys that you had to sit behind, it was just a fair shot."
Sam is still close with teammates he played with there, more so than the other teams he had previously played for.
While he was in Europe, Saban left Miami abruptly for Alabama. With a new coaching staff in place, Sam was an odd man out in a new system.
Though time has softened the blow, Sam still holds ill feelings towards Saban.
"I personally [still] don't respect Saban," Sam said. "I forgive him because that's what I was raised to do but, I just won't have respect for somebody who does that and messes up people's careers."
Sam went on to have success in the CFL with the Toronto Argonauts. In six 2008 appearances, Sam recorded 36 catches for 499 yards and three scores. The team ironically cut his 2004 Patriots teammate wide receiver Bethel Johnson to sign him.
Sam today runs a company called My Vision which calls for athletes to think bigger than just playing a sport and to have success in the world of business.
The now former football player, links it to not having a safety net with all of his injuries cutting his career short.
"It came from me being such a good talent who got hurt and you don't end up with the millions," Sam said. "I honestly didn't have a backup plan you know it was just 'oh I'm just gonna go coach' and then I realized that coaching takes a lot of time and I wasn't ready for coaching while I was raising kids so My Vision is just to train kids, but also I'm trying to grow it where we have people come in and set up internships, just let them job shadow and let them learn what they wanna do."
Years later, he reunited with Belichick, his first professional coach and they embraced with nothing but good feelings towards one and other.
"I still respect coach Belichick so much that wrote him a handwritten letter," Sam said. "I saw him one day and gave him a hug and thanked him, so I will always respect him."
Brought to you by…