Max Paul Pushes for Legacy Built on God, Family, and Football
February 20, 2019 8:21 pm | by Sam Gordon | Posted In Atlantic, Exclusives
Photo Credit: Max Paul
While some are born pigskin in hand, others are late to the gridiron like Max Paul. 
"I didn't start playing football until my junior year of high school," said Paul, a Tampa, Florida native. "I went to a small private school and football did not come up for us and my first real season was my senior year, it was another sport I hadn't tried yet and I had played backyard forever, I played everything else so I wanted to add football to the list."
Paul an adopted only child, was raised by a single mother and went to Tampa Baptist Academy from Kindergarten through high school.
Since then, he has taken up football and has a daughter of his own named Ali.  He said the challenges of living both lives as a single parent and player were tough.
"The biggest challenge is having time away from your family," Paul said. "I'm lucky enough that her mom is really good with her while I'm gone, but the hardest part is the time, the time being away and not getting to see your daughter on a regular basis, having to be in a new city for four-six months at a time, that's the real struggle."
Paul decided to attend the University of South Florida, majoring in communications with a desire to play football at the collegiate level.
He sustained a shoulder during spring football which derailed his college career and made him contemplate hanging up the cleats.
"Being sidelined tests your mental toughness. So i focused on other things. Like work," Paul said. "After healing up i played Semi Pro and got back into it. Had two good years with my team the West Coast Soldiers who helped me grow as a player and gave me the film needed to move up to the pro level."
Paul began his professional career playing for an indoor team called the Kearney Hawks in Nebraska.
In his first year, he was named a starter and captain for the team. A first chance in a football career that he will never forget as the start of something special for him.
"It was my first pro team," Paul said. "So it will always be special to me. Everything from the bond with my team. To the road trips for away games. To the fans. I will never forget the time or people I met there."
Paul runs onto the field as a member of the Kearney Hawks. Photo: Max Paul
Paul moved on to Texas and joined the Austin Wild. Contrary to his experience in Nebraska, he was a small fish in a big pond when it came to talent and did his best to stick out.
"It's much different than in Nebraska from a role standpoint," Paul said. "In Nebraska, I was one of the top dogs on the team. I come to Austin and it is a roster loaded with talent and experience across the board. It was a humbling and eye opening experience. Got to learn a lot and grow as a player and person."
Paul admitted that there are times when he thinks about throwing in the towel. That is when he thinks about the legacy he wants to leave for his daughter.
It something that goes through your mind every year as training camp starts to gear back up, you say 'is this all worth it,' Paul said. "Eventually you come around to the conclusion that 'I have to leave a strong legacy for my child I can't be like 'I'm going to quit this' because eventually my child will look back and go 'Dad why did you give it all up' and I say 'I got tired of the hours, I got tired of being gone and what not. I don't ever want my daughter to feel like just because you're tired of something means you can just up and drop it if you still love and still have passion to do it, do it until you can't do it anymore."
Paul's said his favorite part about football other than the game is the fans and spreading his knowledge to children about how to be great on and off the field.
"For me, football is football, my favorite thing is the opportunity to give back to the community," Paul said. "I love doing the events, I love when we get to go to school and talk about the team in front of the kids and be mentors to the next generation because I feel that right there is the most important thing about being a professional athlete is giving a great example to the next generation of how to be a professional, how to give back and how to be a positive role model to your community."
In addition to football, Paul is also a coach and runs his own fitness facility Alphapack Fitness in Tampa. Paul gets most of his gratification from seeing how far his clients come compared to when they first start.
"The best thing about [training] is watching the transformation from the first day," Paul said. "When you give them a workout that's very tough and there always down on themselves saying 'I can't.'"
When his clients are at their lowest on their first day, Paul attacks their well-being with the same philosophy he tells himself.
"I have to tell them the rules, I tell them all the time 'when you train with me you can use the words I can't,'" Paul said. "Because that's a mental thing, it's not that you can't do it, if you believe in yourself, you can do it and get it done."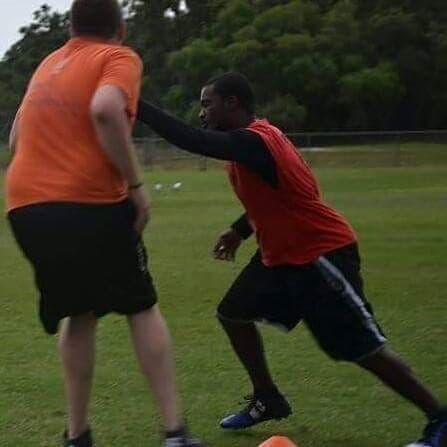 Paul said the most important thing in life is who's there to stand by him.
"I'm a firm believer in always being good to the people loyal to you," Paul said. "I have to give credit to my daughter's mother, she's always been in my corner no matter what we have going on, she's very supportive of everything I do, she steps up to the plate and really holds it down while I'm gone and does everything to make sure [for example] to bring my daughter to games, make sure my daughter gets to see her dad for at least those few minutes as a superhero in pads."
While Paul admits it's a cliche, he wants to be remembered with a legacy of just three words: God, family and football.
"That's all I want it to be. I want to be known as a God fearing man, as a family man, and football being the last thing on the list," he said.
Brought to you by…