Life After Football: The Story of Bernard Pollard
February 11, 2019 6:12 pm | by Sam Gordon | Posted In Central, Exclusives, Life After Football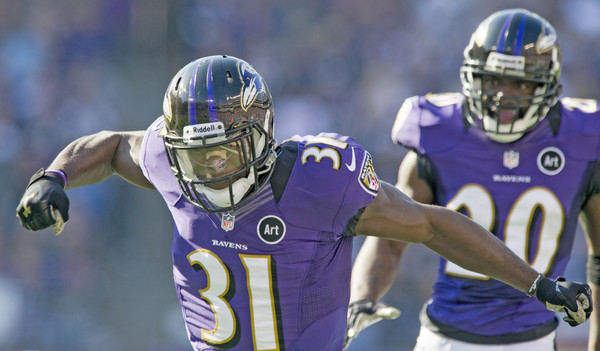 Photo Credit:Christopher T. Assaf/Baltimore Sun Staff
Most football players aim to make impacts, but Bernard Pollard is remembered for his Super Bowl championship season as a Baltimore Raven, where he fit seamlessly with future Hall of Famers Ed Reed and Ray Lewis. Their hard-hitting, go-to-work personalities gelled to create a championship defense.
"I thought with the type of player I was, it would clash with Ray [Lewis], Ed [Reed], Haloti [Ngata], and Terrell [Suggs], it didn't we all meshed," Pollard said. "It was awesome to be able to step into that locker room and to finally be on a team where I had guys that felt like me, guys that played like me, and guys that protected like me. If one falls, we all fall and that was our motto in Baltimore."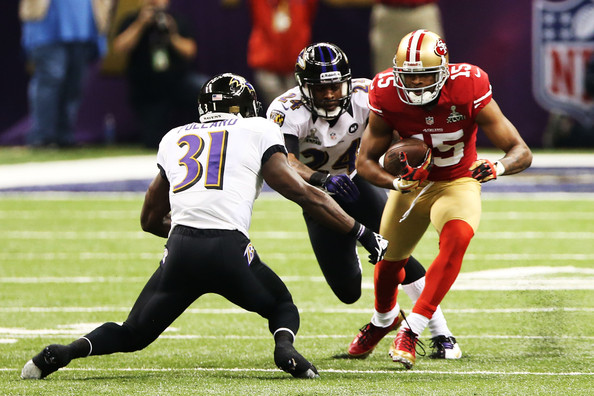 The player who would be known by teammates wherever he went as the "bonecrusher," began his career being pushed by his linebacker father to put on the pads between ages seven and eight.
"He got me in man and he said 'yo let's go, let's go play,'" Pollard said. "I always played when I was around the house and he would see me move and he was like 'no you need to go play in contact.'"
Pollard who started as a quarterback, moved to safety in his sophomore year of high school and immediately felt comfortable with his new home on the football field.
"That was a love of mine being able to come from the center of the field and be able to hit people coming across," Pollard said. "Hit people on the fade, post, whatever it may be and intercept balls, it was just really good for me."
At South Side High School, Pollard also lettered in basketball as well as track and field. Not really as passionate about them, he saw these sports as a way to sharpen his skills on the gridiron.
"I played basketball and ran track because it was conditioning for football," Pollard said. "But at the same time while I was good at those sports, I [felt] I was really good at football and it kind of kept me conditioned for football."
Pollard found another niche when he was put on the punt team in high school. This would end up being one of his calling cards when he went to play college football at Purdue.
"My coaches saw my abilities, me being able to run, block punts, block field goals," Pollard said. "They just cut me loose and I blocked punts and field goals in college and it carried over to the [National Football] League."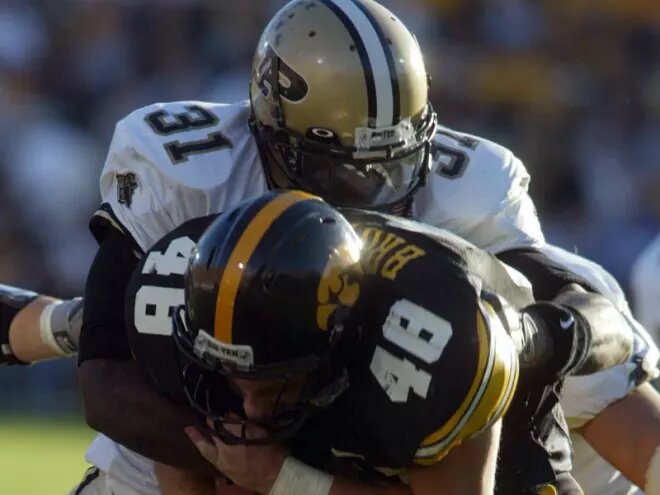 Pollard's on-field awareness to track the football made it an easy transition from college to the professional level.
Drafted in the second round by the Kansas City Chiefs, Pollard sprinted out of the gate as a rookie.
In his first year, he blocked two punts becoming the first since Albert Lewis in 1990 to record two or more blocks in a season.
One of these blocked punts came on New Year's Eve of 2006 against the Jacksonville Jaguars to earn a Wild Card berth. Pollard blocked and recovered the ball in the end zone to help the team draw first blood in that game.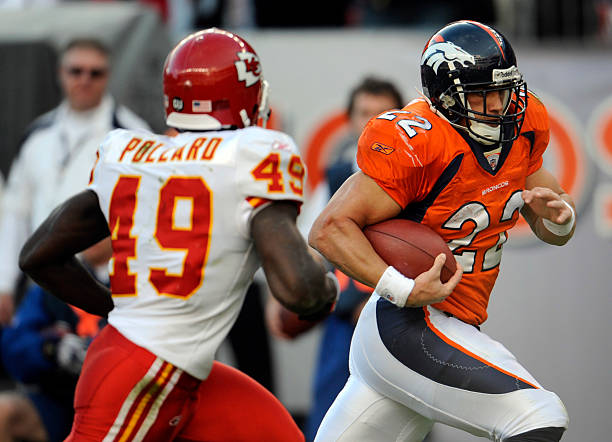 Pollard would gain infamy in the first week of the 2008 season against the New England Patriots. Quarterback Tom Brady dropped back to pass and while his throw was completed, Pollard hit the now six-time Super Bowl champion's knee by happenstance ending his season prematurely.
The safety garnered quite the reputation in New England. He was in the vicinity when Wes Welker tore his knee in the final game of the 2009 season, sprained Rob Gronkowski's ankle in the 2011 AFC Championship and drilled Stevan Ridley in 2012, leaving the running back concussed and without the ball.
The then Kansas City safety recounted what happened on the Brady hit.
"The Brady injury was honestly something where I was just relentless, I was gonna get to the quarterback," Pollard said. "A lot of people were upset about it but [Sammy Morris] was on my back if [Morris] weren't on my back, I would have hit him in the chest, I didn't mean to hit him in the knee."
Hurting a lot of players in his nine-year career with his powerful tackling style, Pollard put it to being a part of the game and the risk you take by playing.
"It's football, If I would've got hurt that day, it wouldn't have mattered, nobody would be talking about it," Pollard said. "It's just a coincidence that three or four of their guys were hurt by me, but it's part of the game."
Pollard went to Houston after being released by Kansas City, following his former Chiefs defensive back coach David Gibbs.
In his first season with the Texans, Pollard played in 13 games, starting all of them, racking up 102 tackles, four interceptions, returning one for a touchdown.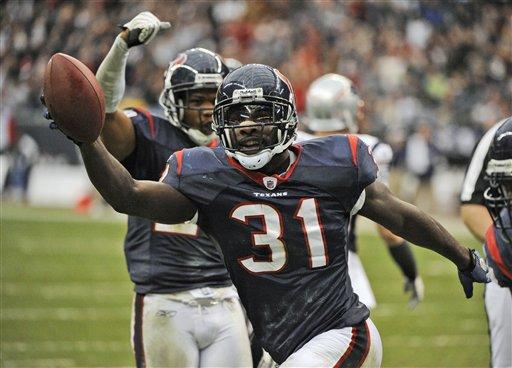 He would continue his roll into the next season recording a career-high 111 tackles before leaving for the Ravens. In 2012, the safety from Fort Wayne, Indiana would play through six cracked ribs to lead the team in tackles with 98.
"Every time they were starting to heal I would just re-break them," Pollard said. "That's the name of the game for us as warriors, as players, that's what we do."
Though constantly breaking his ribs, he played a pivotal part in the Ravens' 2012 Super Bowl run recording a forced fumble in the AFC Championship game against the Patriots with the aforementioned Ridley hit.
He and the rest of the defense made the final stand against Colin Kaepernick and the San Francisco 49ers to cap off a run that was so special to Pollard in so many ways.
"It was awesome," Pollard said. "To be able to see the confetti, to be able to be in New Orleans to win a Super Bowl in Ed [Reed's] hometown, my family to be there, my son, my uncle, my mom, my best friend, my wife, it was truly awesome. It hurt because behind the scenes before every game I had to get shots in the ribs to try and numb it as much as I could, it was awesome to finally know that it was over and that when it was over to know that a trophy came with that."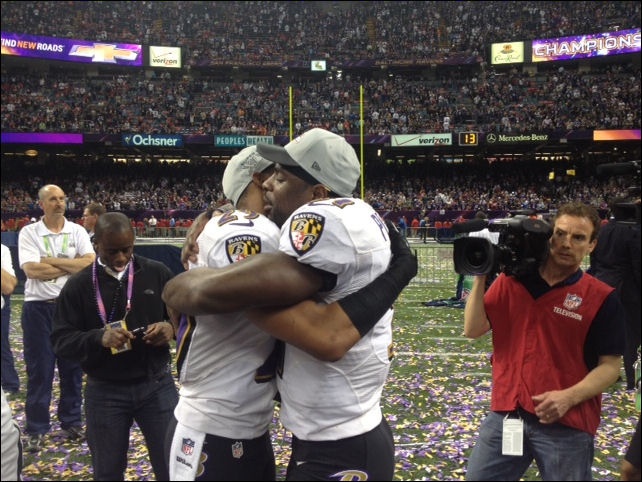 Pollard moved on to the Tennessee Titans for his last two seasons, ending his career with 710 career tackles and 12 interceptions.
Pollard today, lives in Nashville and spends his time coaching defensive backs at Lipscomb Academy where the head coach is another ex-Raven and Super Bowl champion Trent Dilfer.
"It's been a blessing because it goes back to relationships," Pollard said. "I was able to have a relationship with a coach who opened the doors to allow me in to work with their players and work with the players I have."
While he's teaching defensive backs, Pollard also learns about how to cater to other player's abilities which teaches him to be a better coach.
"I'm able to learn and see their talent and when I'm able to see their talents now I can take them and coach them accordingly," Pollard said. "I can have a group of 12 [defensive backs] and all of them are totally different and I coach them all in one session differently and get the job done."
Pollard also learns about all the happenings in today's pop culture.
"I learn all the new fads and new sayings," Pollard said. "I learn rap songs. I don't even listen to rap. I learn about these new artists, whatever it may be, man, but it's a lot of fun."
Along with coaching, Pollard runs the "Pollard's Helping Hands" Foundation with his wife and kids, where they make sure families have the essentials during holidays.
When sitting down with another family, the Pollards make sure everything stays between the two parties.
"We're true believers and when we step in to be a blessing to a family or families, no cameras, no newspapers, no writings, and no pictures because when we're there, we're there to serve them, we're not there to exploit them," Pollard said. "We step in and we want to be a blessing to them, their children, to their household, and we sit there and it's a moment where we just laugh and just have a good time."
Pollard's charity also helps with local schools. Once the bell rings and the day is done, the charity is all about helping the people they serve get whatever it is they need.
"It's been a great partnership with the Second Harvest Food Bank here in Nashville. We partner with schools, we go to the school, we figure out what families need what," Pollard said. "We do it after school, we set up things, we're taking it to their cars, we're driving it, our church got involved, we're taking food to homes, that's what we do, we step in and are that 'in between,' we'll be that help, just to be that light because they just need a light, they just need a smile, they just need a hug, they need an ear and that's who we are."
He may have the legacy of imposing fear on the field, but when it comes to being a person, Pollard wants to have a legacy of love in his life after football.
"I want to be remembered as a person who loves," Pollard said. "I love to meet people, I love to see people laugh, I love to serve, I love to laugh and break bread with people, that's who I am."
Brought you to you by…