Former Patriot Wright Looks to Make Perfect Cuts On and Off the Field
January 23, 2019 1:08 pm | by Sam Gordon | Posted In Atlantic, Exclusives, New England Patriots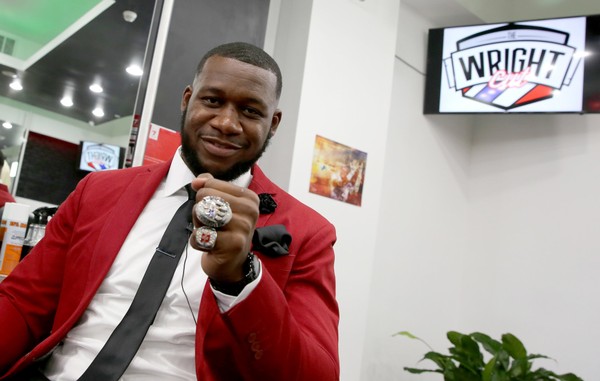 Photo Credit: John Munson | NJ Advance Media for NJ.com.
Former New England Patriots tight end Tim Wright, unbeknownst to football fans of teams he has played on, is a man of many talents.
Wright started playing the game of football when he was 5 years old. In the process, he learned the way to make strong cuts only with a nice pair of barber shears as a teenager, which he says was something he just picked up naturally.
When Wright was younger, he would landscape with his grandparents in the yard. "So when I picked up the clippers at 13, I just started cutting my friends, cutting my hair every three days and then when I got to college it just took off," said Wright.
Wright turned what he considers his second passion into another career with a desire to leave as a legacy when he founded The Wright Cut barber shop just off of the Rutgers campus. The place where he began his journey to a Super Bowl championship as a wide receiver for the Scarlet Knights.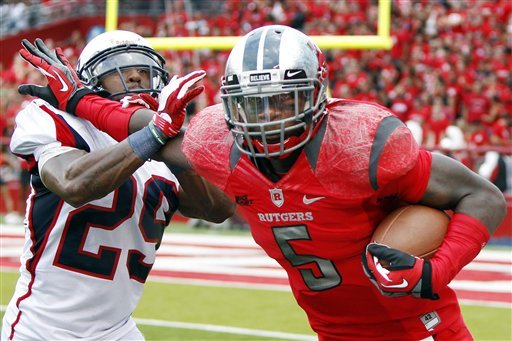 Under the tutelage of their former head coach Greg Schiano, he totaled 11 catches for 147 yards and two touchdowns. His play improved dramatically in his senior season recording 39 catches for 449 yards and another two scores.
Wright went undrafted in 2013 and was scooped up by the Tampa Bay Buccaneers, reuniting him with his former head coach Greg Schiano. Before training camp even started, Wright went through a position change from wide receiver to tight end.
It paid immediate dividends, as Wright put up huge numbers racking up 54 catches for 571 yards and five touchdowns. Wright joined John Carlson and Jermaine Gresham as the only rookie tight ends to catch at least fifty passes in a season (Evan Engram recorded 64 last year). He is also the only tight end in NFL history to rack up over 500 receiving yards during his inaugural season.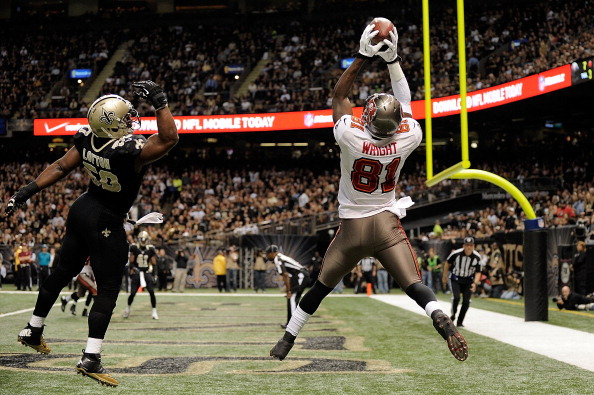 Though playing really well in Tampa Bay's system, it wasn't enough to warrant a long-term stay. The team was going through a coaching change as well as a shake-up in their offensive system. This led to a blockbuster trade between the New England Patriots and Buccaneers, with Tampa acquiring All-Pro guard Logan Mankins in exchange for Wright and a fourth-round pick.
Getting off the plane at his new home in Foxboro, he immediately saw a change in how the organizations were run, mainly with how everyone fell in line.
"[I was] around teammates that understand a common goal," Wright said. "The Patriots was the best team I was on from the leadership from top to bottom, everyone understood their role and when you have that, that ultimately leads to success."
After the trade, Wright admitted that he was indeed blindsided by it. However, he was surprised at how fast the process was transitioning from one organization to another, but what shocked him the most was going from hearing stories, to actually playing with a quarterback like Tom Brady.
"I was like super-excited because I went from a senior in college to not knowing what my next [stop] would've really been if I were have made it in the NFL, to making it, to being one of the best as a rookie tight end, and then out of nowhere get traded. So Tom Brady, hearing all these stories as a kid and catching the first first down of that season, it was very exciting," Wright said.
Coming to New England, Wright was no longer the top tight end because of Rob Gronkowski. Wright was not upset whatsoever; in fact, he was excited to step on the field with Gronk to create what he called the "one-two punch."
"You never knew what angle we were going to hit you with," Wright said. "It was just a great year to go out there man and score touchdowns and still be in a role and just every week we were going out there and just having fun."
Gronkowski's presence as a never-ending ball of energy makes it sometimes hard to keep up with him, even an all-time great quarterback like Tom Brady.
Wright was equal to the task as he tried to match his teammate's caffeine-like hyper personality with his own fire and described how having a guy like Gronkowski just makes everything better.
"I got high energy myself and I fed off of it," Wright said. "He allows his personality to shine through his game which is really cool, especially the offensive guys they feed off of that and just following somebody who's had such success at that position."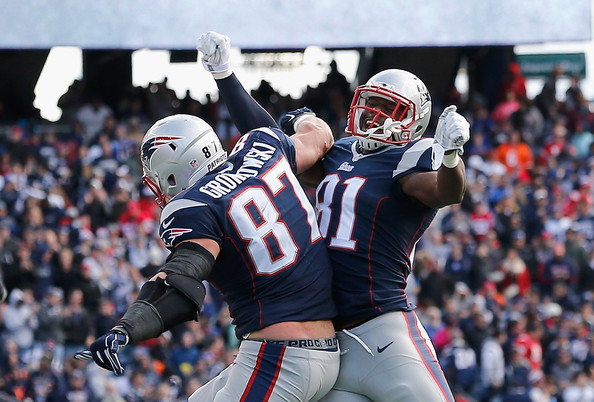 Wright started off on a high note by converting the first first down of the season. But it was the infamous 41-14 blowout loss to the Kansas City Chiefs that galvanized the team. A hyper-focused week of prep led into the game against the Cincinnati Bengals, where he caught his first of six touchdowns in a Patriots uniform.
"We were encouraged because we knew we were coming back home in front of our home crowd," Wright said. "Me personally, I felt very confident and very excited, I just felt like I understood the system and I knew what the plays were, Brady and I had a nice chemistry going on and we just started hooking up man, when that ball started rolling, we got it goin'."
The season ended with a Super Bowl to remember with cornerback Malcolm Butler making one of the greatest plays in NFL history. His game-clinching interception is the reason Wright has a Super Bowl ring, which he wore proudly in his return to New England for an autograph signing.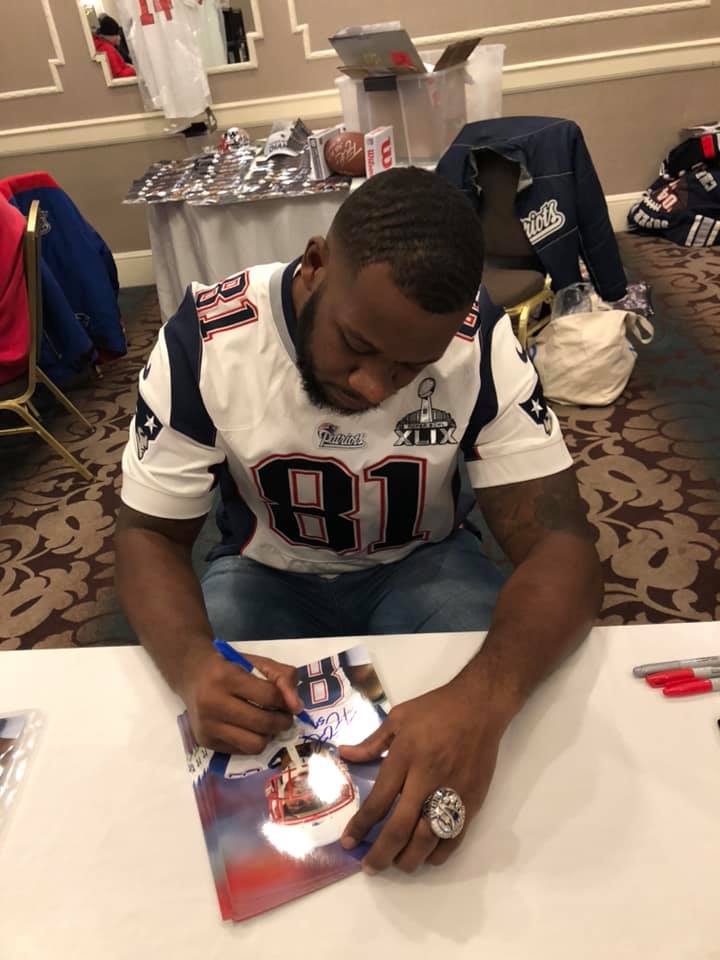 After 2014, he spent time with a few teams around the NFL including the Kansas City Chiefs. While only there for training camp, he was able to watch young phenom Patrick Mahomes. Wright couldn't help but notice from his encounters with both quarterbacks how strikingly similar their work ethics were.
"Their preparation is unmatched," Wright said. "Their confidence comes from preparation and the guys are very very talented. I mean, Brady, he'll outwork anybody out on the field no matter what age you are. Mahomes is a young kid, very talented, but he understands what he can do with his talents and through hard work and preparation, when you go out there on the field on Sundays you can't be touched."
Wright is using his time off to work on his other passion as a businessman. He runs his barbershop in New Jersey, a business where he integrates some of the most important aspects of football.
"Leadership is No.1," Wright said. "Setting goals and being able to articulate to your team members, your staff members. That's the most important thing so that everybody knows what's at stake and everyone understands that you can reach a common goal and that's to be the best barbershop/hair salon in the area."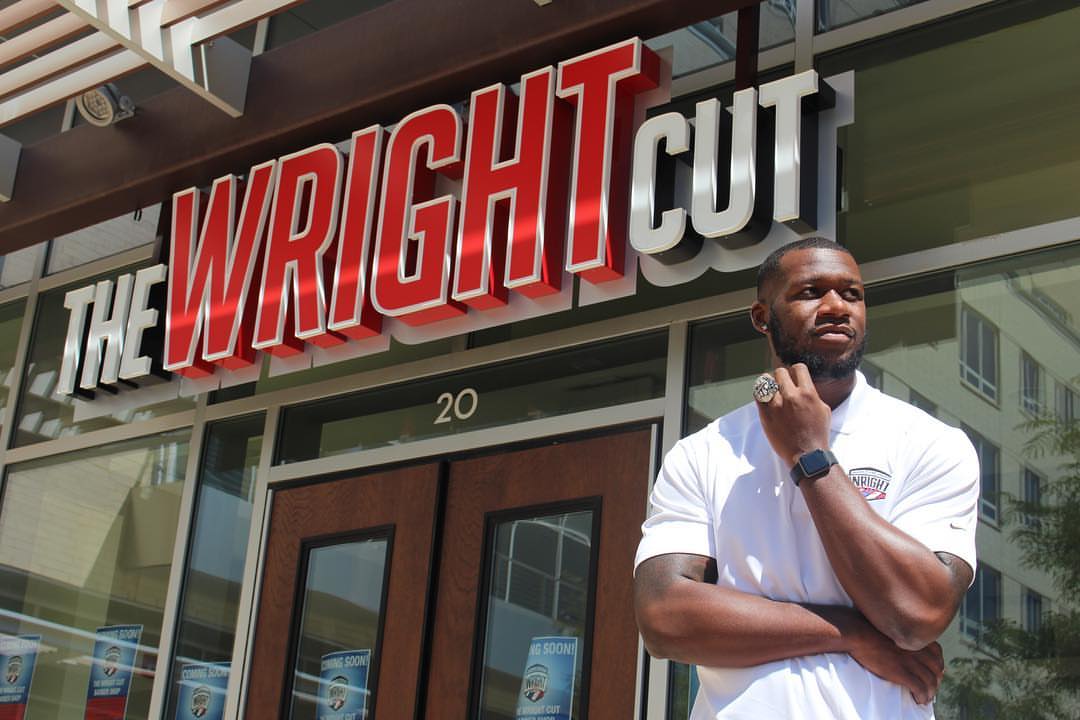 Wright's barbershop has been open for three years. He's now a father, and also is a key face of Dome Audio. Even with his busy schedule, he still holds his heart toward the game and if he got the call, he would strap on the shoulder pads and look to improve on the things he may not have done as well as he wanted the first time around.
"I've been playing football since I was 5 years old and it will always be number one for me," Wright said. "I would just try and be as consistent as possible in every moment I get. Sometimes things happen in the game of football that you can't really control, but every opportunity that I have I just want to be as consistent as possible."
Brought to you by…