Washington Redskins Season Review
by Mike Fanelli
January 16, 2019
Mike Fanelli | January 16th, 2019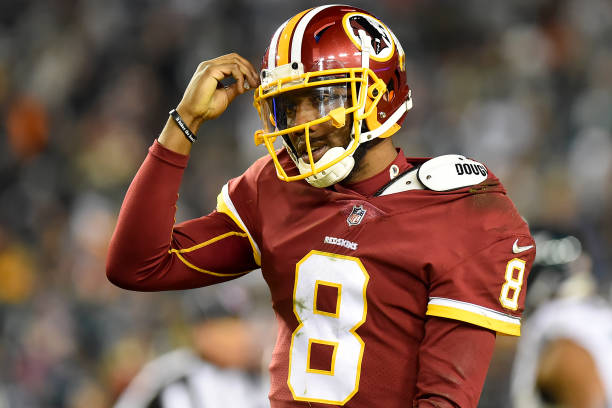 Congratulations to the Cleveland Browns, you are no longer the laughing stock of the NFL thanks to John Dorsey, the firing of Hue Jackson, and Baker Mayfield. That title now belongs to the Washington Redskins.
The 2018 season got off to a rocky start for the Redskins as Derrius Guice tore his ACL in the first preseason game. That unfortunate injury set the tone for the season as the team had high expectations for the second round rookie. Thankfully, the Redskins were able to sign future Hall of Famer Adrian Peterson to be their starting running back. After a hot 6-3 start, with big wins over the Packers, Panthers, and Cowboys, Alex Smith suffered a horrific leg injury in a loss verse the Texans that ended his season and, even now, puts his career in doubt.
After the injury, the Redskins went on to lose six of their final seven games of the season, only beating the Jaguars (more on that later), while using three quarterbacks during that span due to injuries and poor play. Not only did the Redskins lose their starting running back and two quarterbacks to injuries, but several other starters ended the season on injured reserve. Prior to the season finale versus the Eagles, the Redskins had placed seven offensive linemen on injured reserve.
Injuries clearly had a major impact on the Redskins' season as they had the most players placed on injured reserve this season. However, injuries weren't the only problem for the Redskins. Even with Smith under center, the passing game was awful, a dominant defense in the first half of the season crumbled in the second half and starting safety D.J. Swearinger was released after publicly calling out the defensive coordinator.
As if there weren't enough problems on the field, the front office has been a mess for years and it's getting worse. The Twitter movement #FireBruceAllen is all over every Redskins tweet, while members of the front office and coaching staff are learning of their firing via social media reports. Needless to say, this team has a lot of issues to fix, on and off the field this offseason otherwise 2019 will be the same old nonsense.
What Went Right:
While the season as a whole was negative, there were some bright spots in 2018 for the Redskins. Peterson was eighth in the league in rushing yards with 1,042 at 33 years old. Peterson has said publicly that he would like to return with the Redskins in 2019 as he has been a good mentor for Guice.
During the first half of the season, the defense was one of the best in the league and Quinton Dunbar was starting to show flashes of a legit starting cornerback before a nerve issue landed him on injured reserve. Ryan Kerrigan was tied for eighth in the league in sacks with 13, matching his career high from last season. Rookie Da'Ron Payne and second-year player Jonathan Allen both looked like future stars on the defensive line.
Third-year wide receiver Josh Doctson started to show that he is a long-term starter for this team, having a career year in many statistical categories. Jordan Reed was able to stay healthy for 13 games this season for the first time since 2015. Star left tackle Trent Williams was named to his seventh consecutive pro bowl, Kerrigan was named to his fourth while the Redskins had six players named as alternates (Josh Norman, Tress Way, Dustin Hopkins, Peterson, Reed, and Swearinger).
What Went Wrong:
Obviously, injuries had a major impact on the Redskins season, but there were more problems than that. The trade for Smith and the contract extension he was given the last offseason has crippled the Redskins cap situation for the next couple of years. The offense underachieved, and outside of Doctson and Peterson, every other skilled player had a disappointing season.
Starting wide receiver Paul Richardson didn't come close to living up to his five year/$40 million dollar contract he signed in the offseason, playing in just seven games before a shoulder injury landed him on injured reserve. During those seven games, Richardson had just 20 catches and two touchdowns and the Redskins can't get out of his contract till after the 2020 season. The depth at wide receiver was so poorly put together that, in the season finale, Michael Floyd was starting.
To make matters worse rookie, wide receiver Simmie Cobbs was on the practice squad, and when Richardson was placed on injured reserve November 5th, the Redskins didn't bring up him up to the active roster. When Trey Quinn was placed on injured reserve for the second time this season on December 5th, the Redskins STILL didn't bring Cobbs up. On December 14th the Saints signed Cobbs off the Redskins' practice squad and the Redskins made a last-ditch effort to sign him to their active roster but… let's be serious, who would play for the Redskins instead of the Saints.
Now Cobbs isn't an elite player and may not even be worth a 53 man roster spot, but the Redskins have shown time and time again of coming up with new ways to shoot themselves in the foot. Cobbs may turn into the next UDFA that turns into a pro bowl player or he may end up out of the league in two years; either way, the Redskins will never know because they mismanaged their roster when the season was clearly over.
As bad as the Cobbs situation was, it doesn't beat the Redskins winning in Jacksonville in week 15. While it was a nice story that Josh Johnson (the fourth starting quarterback for the Redskins this season) got his first career NFL win in his first start for the Redskins, it seriously crippled the Redskins' draft spot. With that win, the Redskins won their seventh (and last) game of 2018, ended the season at 7-9 and own the 15th pick in the draft. Had the Redskins lost that game, they would have finished at 6-10 and have the seventh pick in the draft.
The 2019 NFL draft is still months away, and things can change, but currently, there is only one quarterback with a consensus first-round grade; Dwayne Haskins. Even if Smith can return from this terrible injury, he is still a below average quarterback who turns 35 years old in May, and the Redskins can't get out of his contract without a ton of dead money until after the 2020 season. Picking at seventh overall would give the Redskins a chance of trading into the top five to grab Haskins, but at pick 15 they have almost no chance and are forced to figure out the position in free agency.
Outlook for the Offseason:
According to Over the Cap, the Redskins are projected to have about $21.5 million dollars in cap space before making cuts. Some players that could be at risk for being cut are Norman ($8.5 million saved), Reed ($6.1 million), Zach Brown ($5.8 million), Vernon Davis ($5 million) and Mason Foster ($2 million). Of those guys, Brown and Foster are likely gone as the team needs to upgrade the inside linebacker spot with younger and faster players, while Davis and Norman may be asked to take pay cuts or be released. Recently, Jay Gruden came out and praised Reed, suggesting he will be back in 2019.
Without of ton of space to work with, the Redskins will have to make some decisions this spring. The top free agents on the roster are Preston Smith, Jamison Crowder, HaHa Clinton-Dix and Peterson. Of the four, Peterson has the best odds of returning. Smith should be resigned depending on the market, but he has struggled to be consistent during his four-year career. Crowder is almost certainly gone, as the free agent wide receiver class is weak, and Clinton-Dix was disappointing as a Redskin but may be given a one-year "prove it" kind of deal.
In free agency, the Redskins are going have to be smart in who they sign at what cost, but before they do that, they need to figure out who will be the starting quarterback in 2019. Smith isn't expected to be ready to start the 2019 season, if play at all, leaving the Redskins with three options: someone on the roster, make a mega draft day trade for Haskins or find a veteran in free agency/by trade. Of the three, making a draft day deal is most likely off the table and I think a mixture of the other two options is in play.
The coaching staff really likes Colt McCoy and the fan base likes Johnson. However, Johnson isn't under contract for 2019 and was the first pick in the inaugural Alliance of American Football League draft, likely ending any chance he plays for the Redskins in 2019, while McCoy is under contract for next season. Some names to watch in free agency or by trade including Ryan Tannehill, Joe Flacco, and Tyrod Taylor. Of the trio, I think Flacco has the best shot of landing in Washington to compete with McCoy as the starter.
Outside of the quarterback position, the Redskins should attack free agency in two ways. One, adding a few bargain value free agents to short team deals who may be older. Two, adding one bigger name free agent to a four or five-year deal that will cost a good chunk of cap space.
Cheap Bargain Values:
All of these players could plug some holes that the Redskins have. Brown and Hogan provide veteran leadership to a wide receiver group that is pretty young. Lewis could be a cheaper replacement for Davis if the Redskins cut him. Iupati and Leary could fill the biggest weak spot on the offensive line; left guard. Irving and Golden could be critical if the Redskins don't resign Smith or to provide depth behind him. Vaccaro would give the Redskins a starting caliber safety as the team currently has zero guaranteed to be back in 2019.
Bigger Name Options:
The Redskins would be lucky to sign one of these players, as both are expected to be pursued by many teams including their current ones. However, adding either of these two to the defense would take the unit to the next level. Mosley would give the Redskins a pro bowl talent three-down linebacker in the middle of the defense; something the defense has lacked for years. Much like Vaccaro, Collins would give the Redskins a starting caliber safety but with more upside and at the same time hurt a division rival.
When Kirk Cousins signed in Minnesota this past offseason, he gave the Redskins one final gift; a 2019 third round compensatory pick (expected to be #96th overall). Combined with other lost free agents last spring, the Redskins will have three compensatory picks and eight total picks in the 2019 draft. With four picks in the top 100, the Redskins are in a good position to build off their good 2018 class and draft another group of future contributors.
Everyone wants to know what players the Redskins should take with their picks, but I don't want to give player names, because we have over three months of evaluating to do before the draft. Also, free agency and trades will have an impact on how the team drafts so take these suggestions lightly.
First Round (#15 overall): Pass Rusher
Many fans want a wide receiver in the first round but the draft class at that position is very deep and successful NFL teams have a lot of depth on both lines. If Smith leaves as a free agent, this is without a doubt the biggest need for the Redskins. Kerrigan has been one of the most underrated pass rushers in the league but if there is no one on the other side to keep offensive lines honest, he will see a double team every single snap.
Second Round (#46 overall): Wide Receiver
Unless the Redskins make a move for a free agent wide receiver like Golden Tate (which would be a mistake), I expect the Redskins to draft a wide receiver in the first two rounds. Even if Crowder is back, the Redskins lack a true number one wide receiver and this draft class has plenty of good but not great options.
Third Round (#76 overall): Safety
Obviously, if the Redskins resign Clinton-Dix and sign a starting caliber safety in free agency, then the safety position isn't nearly as important. However, I doubt either, let alone both moves happen. Teams are playing more and more three-safety sets in recent years and right now the Redskins have zero good options under contract for next season.
Third Round (#96 overall): Left Guard
Going back to the first-round pick, successful NFL teams have a lot of depth on both lines. Even if the Redskins sign a veteran like Iupati or Leary in free agency, depth and youth must be added to this team. Last year's third-round pick Geron Christian is still a work in progress and team has been killed by injuries on the offensive line the last two seasons. Every year, one or two middle-round offensive lineman turn into day one starters, especially at guard.
2019 Expectations:
After the draft, all the offseason camps begin and there are several young players who I expect to take a step forward. The last two first round picks, Payne and Allen, should turn into the leaders of that front seven, while, hopefully, Guice is healthy enough to be a full participant in training camp. Young cornerbacks Fabian Moreau and Greg Stroman need to show consistent play along with their upside. Overall, the team has a number of younger players who need to show what they can offer in 2019 because the season is likely to be an audition for everyone.
With Smith not likely to play much, if at all, in 2019, the Redskins are probably looking at a top five draft pick in 2020. Given the limitations of the offense, even with Smith under center, this might be what's best for the Redskins long term. The 2020 quarterback draft class is expected to be much better than this year's and include names like Tua Tagovailoa, Jake Fromm and Justin Herbert. The hot new idea is to tank for two years and try to draft Trevor Lawrence in 2021, but that is a long shot at best.
What Redskins' fans should hope to see in 2019 is for the team to struggle to win without consistent quarterback play, but development from our young players. Hopefully, after a disappointing 2019 season, Dan Snyder fires Bruce Allen and sells the team, leading to a better run franchise in 2020. Until then HTTR!
Check out our other NFL Team Reviews | Atlanta Falcons | Minnesota Vikings
Questions and comments?
thescorecrowsports@gmail.com
Follow Us on Twitter @thescorecrow
Follow Us on Reddit at u/TheScorecrow
Follow Mike Fanelli on Twitter @Mike_NFL2
Main Credit Image:Embed from Getty Images