Kimbrel or Ottavino? Why Not Both?
January 7, 2019 3:47 pm | by Jordan Leandre | Posted In Atlantic, Boston Red Sox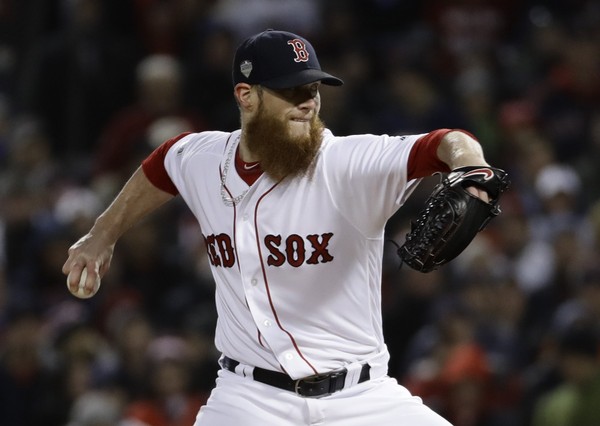 Photo Credit: Matt Slocum - AP Photo
The Boston Red Sox are still stuck at a crossroads about whether to re-sign All-Star closer Craig Kimbrel or move in a new direction with a guy like Adam Ottavino, David Robertson, or Zach Britton.
With the latter two off of the board, the Red Sox have now narrowed their search down to Kimbrel or Ottavino; the familiar, or the unknown. Both of the right-handers have strong cases to be the closer for Boston's beloved baseball team in 2019, but the asking price for either of their services would certainly put the Red Sox above the $207 million luxury tax threshold.
Boston is just shy of $170 million on the books before all of the arbitration money trickles in, which is expected to leave the Red Sox at approximately $203 million on their payroll for 2019. So signing either Kimbrel or Ottavino will put the Red Sox in a pretty vulnerable spot moving into the 2020 season, unless they can shed some salary.
Now there were reports around the time of the Winter Meetings in Las Vegas that the Red Sox would at least entertain the possibility of trading Rick Porcello, Jackie Bradley Jr., or even Xander Bogaerts in order to gain a little bit of payroll flexibility.
But with the market for back-end bullpen arms dwindling, as the likes of Robertson, Andrew Miller, Jeurys Familia, and Britton all having signed contracts, and the Red Sox already losing Joe Kelly to the Dodgers, it leaves the Sox in a bit of a tough spot. Go over the luxury tax threshold for a second consecutive year, making it even harder to retain the likes of Chris Sale and Xander Bogaerts after 2019? Or stay under the threshold and roll into camp with as many as five or six candidates who could close in 2019?
For Dave Dombrowski, you know it'll be the former until he's exercised all other options.
As for the case of Ottavino or Kimbrel for next season; why not both? Neither will sign a contract that will keep the Red Sox under the luxury tax threshold in 2019. And if you pay them both for market value, that leaves you at roughly $21 million over the luxury tax still.
You know who is making over $21 million in 2019? Rick Porcello.
As instrumental as Porcello was in the 2018 World Series run, Boston still has four other starters that Dave Dombrowski says he's fully confident in on many occasions. Sure, he averages 205 innings per 162 games and has pitched at least 190 innings in three out of four seasons in Boston––but let us not forget about the pattern of his Red Sox career thus far. He was pedestrian in 2015, posting a 4.92 ERA, a WHIP over 1.30, and a FIP of 4.13––then followed that season up by winning the Cy Young in 2016; led the league in hits and home runs allowed, along with a 4.60 FIP in 2017, then found the happy medium in 2018 with his 4.28 ERA, and FIP slightly over four.
That being said, if history repeats itself––and it has through four years thus far––Porcello is due for a rather pedestrian season in 2019. Yes, he will certainly put up high innings total when the season comes to an end; but is it really worth $21.1 million in a rotation featuring Chris Sale, David Price, Nathan Eovaldi, and Eduardo Rodriguez? Not so sure.
Baseball is a game that has become predicated on how good the bullpen is. Usually, the team with the superior bullpen is the one hoisting that trophy at the end of the World Series, as it was the case in the 2018 World Series for Boston. The Red Sox have already added a plethora of depth in middle relief options such as Tyler Thornburg, Heath Hembree, Bobby Poyner, Carson Smith*, and Zach Putnam*; but none of which have the track record of success as a Craig Kimbrel or an Adam Ottavino.
People tend to forget that Ottavino posted a 2.10 ERA in 34 outings at Coors Field in 2018; a field well-known for ruining the ERAs of some of baseball's best pitchers. Ottavino was able to overcome that, well on his way to a 2.43 ERA in 75 appearances overall.
The 33-year-old also has one of the nastiest sliders in the game today, as 35% of his sliders resulted in strikeouts, and 37.2% of them resulted in swings and misses in 2018.

Then obviously there's the case for Craig Kimbrel, the familiar. Despite two subpar seasons by his astronomical standards out of his three years in Boston, Kimbrel still showed he can handle the pressure the Boston market brings.
Even with the pedestrian postseason he put together, at the end of the day he was still able to shut the door and convert each of his six save opportunities in October; and while he finished the season with fastballs sitting around 94-96, let's not forget the fact he had pitched in seven of Boston's last nine postseason games, and nine out of 14 overall –– he was worn down, and a dip in velocity can be expected.
The only red flag in regards to Kimbrel's velocity is the fact that he had his lowest average velocity on his fastball (97.1 MPH) since it was 96.8 MPH in 2011. But his barrel percentage and solid-contact percentage were both better than they were in 2017, which was considered to be his lone elite season in Boston, posting an ERA of 1.43 in 67 outings.

The fact of the matter is, both of these guys have elite numbers, and they could easily benefit the Red Sox bullpen just by limiting the number of high-leverage appearances for guys who may not be cut out for them. The Red Sox have proved they can survive without an elite set-up man like Ottavino, but no member of the 2019 Red Sox bullpen will have even close to the same level of experience or track record as a closer than Craig Kimbrel –– thus making the red-headed flamethrower much more important.
But why not both? You just won the World Series without an elite set-up man; imagine how that bullpen would've faired with one? Having a two-headed dragon of Ottavino and Kimbrel, possibly three if you factor in Matt Barnes coming off of a career-year as the seventh inning guy, would be gigantic for the overall success of this team moving forward.