What the Celtics Can Learn From Andrew Wiggins
December 6, 2018 7:51 pm | by Ray Petree | Posted In Atlantic, Boston Celtics, NBA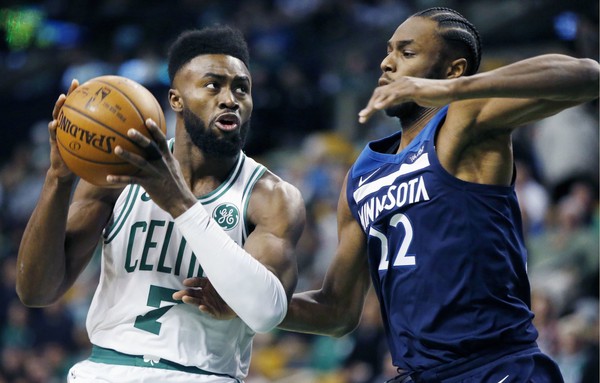 Since dealing Jimmy Butler to the Philadelphia 76ers in exchange for Dario Saric and Robert Covington, the Minnesota Timberwolves have been a revelation.
Tom Thibodeau's pack have won nine of their last 12 games and even Karl-Anthony Towns, who Butler's fangs had so visibly damaged, has averaged 21.6 points on 50.8 percent from the field and 13.3 rebounds in that same stretch.
Setting the wolf-related puns aside, it's been impossible to avoid how bad Andrew Wiggins has been this season. Even in Butler's absence, Wiggins is still averaging 13.5 points on an abysmal 34.4 percent from the field.
For years now, dating back to his brilliant high school career, Wiggins has prided himself on his ability to overwhelm defenses with his sheer athletic prowess. And, considering the Minnesota Timberwolves have precariously found themselves at seventh in three-point percentage, you would imagine that the Timberwolves would be creating enough open lanes for Wiggins to operate within—especially now that he plays alongside a three-and-d stalwart like Robert Covington.
Nearly four years ago Kobe Bryant passed Michael Jordan for third place on the NBA's all-time scoring list, in a game against Wiggins—a rookie at the time. After that game, Kobe famously said that playing against Wiggins was "like looking at a reflection of myself 19 years ago."
( https://twitter.com/JonKrawczynski/status/544328817956118529 )
Just a year later, Kobe doubled-down on his praise of Wiggins after the two traded 30-point performances—saying he was "very impressed" with his improvement.
( https://www.youtube.com/watch?v=9KwB_k3GnI8 )
It wouldn't be inaccurate to remind everyone that Wiggins was primed to inherit the lineage of Jordan and Bryant's dominance over the two-guard position. However, by the end of Wiggins' sophomore campaign, a subtle change had occurred.
Zach Lavine hailed from the same recruiting class as No. 1 ranked Andrew Wiggins, however, unlike his former running mate, Lavine was the 50 ranked prospect. Andrew Wiggins was voted Second Team All-American in his lone year at Kansas, while Lavine did not receive a single All-American vote after his lone year at UCLA. Wiggins was drafted No. 1 overall by the Cleveland Cavaliers and then traded for Kevin Love, while Lavine was selected with the Timberwolves first-round pick at 13 in the same draft.  
However, by the end of both their sophomore campaigns, a chasm had begun to form between the two. Lavine was lauded for his gravity-defying displays of athleticism in the dunk contest but began developing a reliable stroke from beyond the arch. Meanwhile, Wiggins was still struggling to diversify his skill set but showed marginal signs of improvement.
In the two years and change that have elapsed since then, Wiggins has still shown no signs of improvement. In fact, while the game has continued evolving, Wiggins' inability to follow suit has only made him worse, and the numbers prove it. Wiggins is averaging his career-worsts in points, field goal percentage, and rebounds despite now being in his fifth season. By year five, contemporaries like DeMar DeRozan, Klay Thompson, James Harden, and Victor Oladipo had all either ascended to All-Star status or had already made an All-Star team. Even his former teammate Zach Lavine is averaging his career-best in all five major statistical categories and looks like a bonafide All-Star if it weren't for the Chicago Bulls propensity for losing.
Unlike DeRozan, Thompson, Harden, Oladipo or Lavine, Wiggins has yet to add any discernible skills or attributes to his repertoire. Let alone foster a mentality that lends to oneself to the highly coveted status of closer. To put it plainly, stagnation has been the bane of his basketball existence.
To look for a candidate who similarly shares that dreaded flaw, Celtics fans need to look no further than to Jaylen Brown. To play devil's advocate, Brown showed a great deal of improvement jumping from his rookie season to his sophomore campaign and even led the Celtics in scoring throughout the Eastern Conference Finals. However, his abysmal Game 7, where he shot 5-18 from the field and 3-12 from three, seemingly began a downward spiral. Brown has yet to eclipse the 20 point mark this season and is averaging an anemic 39.8 percent from the field. Defensively he still leaves a lot to be desired, but bad habits have yet to corrode his physical tools and fundamental know-how.
Brown's lackluster campaign only worsens when you consider how prolific the Celtics offense has been in his absence. Since suffering a back injury against the Dallas Mavericks, the Celtics posted their three highest scores in regulation, thanks to the addition of Marcus Smart and Marcus Morris in the lineup. Even Gordon Hayward, who has notoriously struggled in his return, erupted for 30 points last Saturday in Minnesota.
So how should the Celtics approach Jaylen Brown's dilemma? In the Timberwolves case, they so highly coveted Wiggins' stock that they erroneously gave him a 4 year/$147 million contract. What's worse is that they traded Lavine and Kris Dunn for Jimmy Butler, in spite of the fact that it was Lavine who had made the greatest strides between the two wings.
The precedent that the Timberwolves established should resonate with Danny Ainge and the —trade Brown while his stock is still high. Thanks to his rookie contract and reasonable upside, more than one inept suitor would bet their proverbial farm on Brown's potential. Not only would it prevent the Celtics from making a $147 million mistake, but it would greatly relieve their stifled rotation and given the proper trade, provide the Celtics with even more assets.
Whatever the Celtics future may hold, fans will see Brown return tonight at 8 p.m. when the Celtics host the New York Knicks—hoping to extend their recent three-game winning streak to an even four.