Report: Pirates, Brackett Agree to Contract Extension
October 9, 2018 11:20 am | by Sam Gordon | Posted In Massachusetts Pirates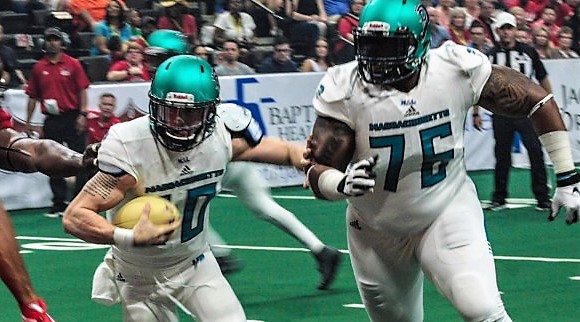 Photo Credit: Jacksonville Sports Day
The Massachusetts Pirates locked up their quarterback Sean Brackett as both parties agreed on an extension to keep him in Worcester for the foreseeable future.
"I knew that I wanted to be there, they knew they wanted to have me back," Brackett said. "It was just a matter of putting pen to paper."
Brackett said teams from other leagues were calling to try and sway him toward signing elsewhere but in the end, there was only one team he wanted to play for.
"My heart's in Massachusetts," Brackett said. "I'm happy to be here, it's where I want to stay and create a legacy, so I'm happy to stay with the Pirates.
In the organization's inaugural, Brackett led the team to an 11-5 record—good enough for first place. Team president Jawad Yatim said consistency from year to year is key and that signing Brackett—the league's reigning Most Valuable Player—was a must.
"It was definitely one of our first priorities coming into this offseason," Yatim said. "He was extremely productive and he was MVP for a reason and that was definitely at the top of our to-do list."
Yatim said it was not hard to get Bracket to re-sign considering they both wanted him to return for next year.
"We went out to Boston and sat down for dinner and talked about it," Yatim said. "He's comfortable here, he enjoys being here, we have a good relationship and it wasn't too difficult to get him back on board. We're extremely happy to have him and we're looking forward to 2019."
With the new deal done, Brackett shed the walking boot and is already back to work on next season.
"We have a lot of unfinished business," Brackett said. "All the guys I'm on the phone with them, I just spoke with Mardy [Gilyard] today. We're excited man, we just wanna get the ball rolling, I wish I could start even sooner than I have been."