Life After Football: The Story of Mike Neal
August 7, 2018 6:20 pm | by Sam Gordon | Posted In Exclusives, Life After Football, Worldwide Sports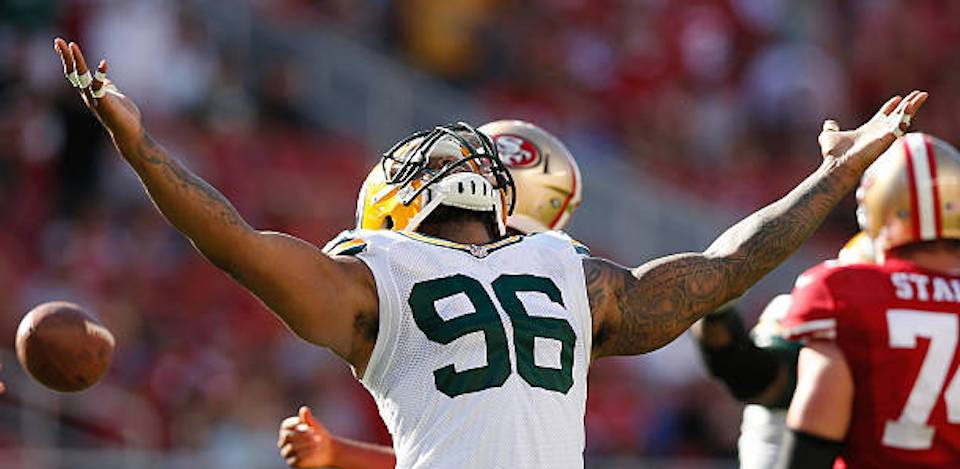 SANTA CLARA, CA - OCTOBER 04: Outside linebacker Mike Neal #96 of the Green Bay Packers celebrates after a sack of quarterback Colin Kaepernick #7 of the San Francisco 49ers during their NFL game at Levi's Stadium on October 4, 2015 in Santa Clara, California. (Photo by Ezra Shaw/Getty Images)
Being an athlete puts you in the spotlight, giving you something that only people dream of, but what happens when the show ends and the smoke clears?
Former Green Bay Packers linebacker Mike Neal grew up in Gary, Indiana never wanting to play football. In fact, he hated the sport after trying it at a very young age.
"When I first got into it, I did not want to play football," Neal said. "I played pop warner when I was about nine years old and my introduction was making a tackle and everyone jumping on top of me and I didn't find that too keen to [my] liking so I quit after that and didn't play again until high school."
Neal's first love, however, was basketball and he played it religiously until his sophomore year in high school when fate would deal him back onto the gridiron.
"I had a friend that talked me into getting back into football my freshman year of high school telling me 'look, come on and try out it's something you can do. You might as well do more than one sport and football might be something you'll take pride and joy in'," Neal said.
Neal joined the team but he would not see the field right away and sat on the bench until his friend went down with an injury.
"My friend that invited me out got hurt and I had to go in and play," Neal said. "The first tackle that I made was a strip fumble, I ran into the backfield completely unblocked, didn't even make the tackle but I knocked the ball out the running back's hand and the ball popped out. That's my most memorable moment right then and there after a couple games sitting on the bench getting the opportunity to cause a fumble on my first play."
The rest was history. Neal continued to make an impression on the football field and schools all around the country began to take notice, including Notre Dame, Indiana, and many schools in the Big 10 Conference. Neal's first choice was Notre Dame, but with his grade point average not high enough, he had to pick another option and Purdue became that backup plan.
"Purdue for me was kind of a no-brainer because it was only an hour from my hometown," Neal said. "They had a den of defensive ends and I figured going into this thing 'I'm a defensive end and they put a defensive end in the NFL every year' so why not take my shot and to Purdue and be a defensive end."
Neal would red-shirt his first season in Purdue before finally making a big impact in his junior season, as he recorded 33 tackles with 10 for a loss and five and a half sacks. He continued his roll into the senior season where he recorded 35 tackles with 11.5 for a loss and once again five and a half sacks.
With two stout seasons on the defensive line, Neal set his sights on playing in the National Football League but during his junior year, he received a wake-up call.
"When I was going into the draft, they told me if I came out as a junior I would've probably been somewhere in the fifth round," Neal said. "My college coach didn't believe that and I didn't believe that so we set a course out and he said I could squeeze into the first round."
Neal worked hard to increase his draft stock, which paid off as projections had him going in the third round. After graduating in November of 2009, he told his agent that he needed to keep training and get to first round draft status. Neal trained down in Tampa, Florida—where he lives today—and he impressed enough to receive an invite to the Senior Bowl.
He then had a successful combine that raised his draft stock once again and when it came time for the NFL Draft, Neal said he was nervous as can be when names continued to be called until his phone rang on the second day.
"Right around the 52nd pick in the second round my phone started ringing and it was the Green Bay Packers and I tried to keep my cool and they told me a bunch of funky things was about to happen but how would you like to be a Green Bay Packer," Neal said.
Green Bay picked Neal at No.56 and he joined the team in 2010 when even though there were well-established players like linebackers Clay Matthews and A.J Hawk, as well as safety Charles Woodson, he wasn't at all intimidated by his situation.
Draft analyst Mel Kiper Jr., as well as Packers fans, felt that drafting him was unnecessary for the team considering the depth already at the position, which gave Neal a chip on his shoulder he would carry his whole career.
He enjoyed early success in his career as part of the Super Bowl XLV championship team in his rookie year before having his role expand. Neal played through his rookie contract with a full 16-game season in 2013 before re-signing with the Packers on a two-year $8 million deal. He played two more 16 game seasons for the Packers while playing through a bilateral sports hernia injury and totaled 69 combined tackles and nine and a half sacks.
His career highlight would come in the last game of his football career—the 2015 NFC Wild Card game against the Washington Redskins.
"That Wild Card game, I needed that performance, little did I know I wouldn't play football next season to have that game was very timely and I think that God knew that," Neal said. "It was a way for me to walk out of the NFL and say that I had a bunch of sacks in the playoffs and that's how I left the game and I'm happy to have left it that way."
While Neal said he doesn't regret walking away, he can't help but feel that while he loved his time in the NFL, he wishes he could have done a more in his career such as playing over a decade in the NFL or recording a 10-sack season.
To this day, Neal still keeps in touch with former teammates Clay Matthews and now Los Angeles Charger Casey Hayward, but has now hung up his shoulder pads and puts on a new uniform in the form of a suit and tie as a real estate agent in Tampa Florida.
Once again, a friend dragged him into the business and drove him to get his real estate license. Though his friend told him it wouldn't be easy, he took the test. While it's still a little new for him, Neal loves the work and opportunities it brings to work with professional business people.
"I took the real estate course in one week and I passed it and it was then that people started reaching out and saying I should hang my license," Neal said. "So I hung my license and I kind of just thought to myself 'listen for me, I like structure and I like a foundation, but it's a new muscle for me it's doing something that I'm not used to, it's all a new territory for me but at the same time it's everything that I crave, it's being a businessman working on the professional level, working with professional people."
Neal took the competitive edge he had throughout his year's playing football and worked day in and day out to build a business in a way he built his football career.
"I think for me everybody talks about finding their niche," Neal said. "I reached a certain level of success that only one percent of the people are able to do and if I was able to do that I can certainly reach the same level of success in real estate that I did in football and that's what drives. I think also what drove me to be a great football player was that I didn't do the same thing that everybody else did, I found a way to do it different and I took a different course and that's how I was able to get the success that I did."
Real estate is a very different game that Neal said took him a few months to get the grasp of, but one of his biggest goals that he hopes to reach is to find a different approach in the game that is real estate.
"I think that having a different approach to real estate is something I will formulate for myself to be different," Neal said. "I'm not going to lose. I come from a Super Bowl champion team, from a historic place, facility, and organization, and look at my history beyond that I have a track record of winning so even if I'm not a seasoned vet in real estate, I know how to win." 
Neal has taken the field in the game of real estate and even though the spotlight may have dimmed on his football career, he is out looking to grow a legacy that success can indeed be found in many ways in life after football.