Splendid and Splintered: Documentary Sheds a New Light on Ted Williams
August 1, 2018 12:00 pm | by Matt Bartel | Posted In Boston Red Sox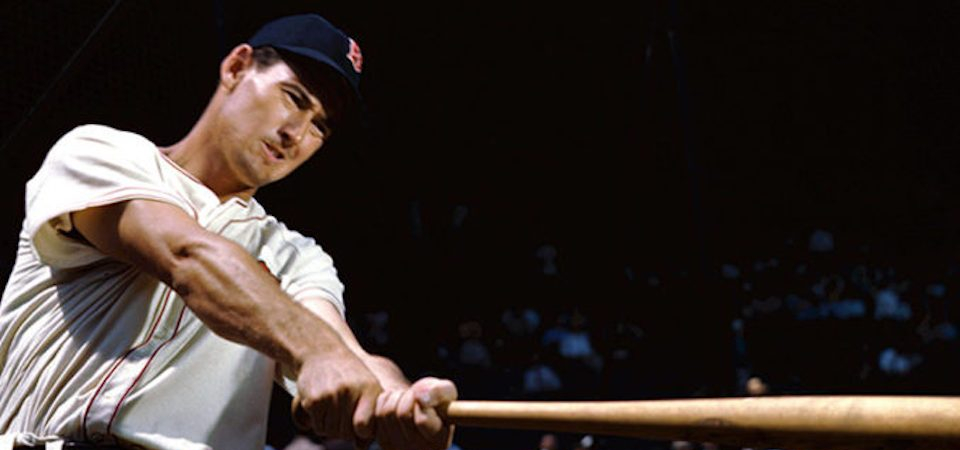 Photo: Getty Images
The PBS AMERICAN MASTERS series takes to the diamond this summer to offer a retrospective on 'Teddy Ballgame' with its latest offering Ted Williams: The Greatest Hitter Who Ever Lived.
This is a story that features many legends any Red Sox or baseball fan already knows rather well. The breakout star's hitting prowess allowed him to excel right away, as he belted 31 home runs and finishing fourth in MVP voting in 1939. Williams' career was full of historic moments.
He elected to play the last game of the season in 1941, rather than rest on his laurels to secure an impressive .400 average. His rivalry with DiMaggio, losing his prime years to serve in the military, being haunted by winning a single pennant, coming up short in the 1946 World Series. Williams hit a home run in his final at-bat in Fenway Park and had a gruffness with media members that could make Bill Belichick blush. Yet this documentary also offers a side of Williams that few knew, or had even heard of.
The man who would finish his playing career as Major League Baseball's all time on-base percentage leader was also deeply conflicted off the field. He lived in a state of worry that his Mexican heritage could surface and he could be discriminated against.
Williams played his rookie season in 1939, only eight seasons before Jackie Robinson would take the field for the Brooklyn Dodgers, breaking the color barrier. He was employed by the franchise that was the very last to integrate in the big leagues, doing so twelve years after Robinson and Branch Rickey made history.
The documentary includes a harrowing tale of what should have been the Rookie of the Year's—if the award existed in 1939—triumphant return home to San Diego for the first time after his breakout season for the Sox. Seeing his Spanish relatives waiting for him at the station, Williams' fear of repercussions led to no reunion at all.
Familial issues ran rampant through the star ball player's life and the filmmakers make no qualms about going over his troubled childhood, and later his own marriages and relationships with his children. You can't tell the whole story without telling the whole story.
When looking at his service time in Korea, it's amazing to see how far athletes have come in terms of wealth. After World War II, Williams stayed on in the Marine Corps reserves to supplement his income. When the U.S. became involved in the Korean War, Williams was called up, as the Marines were in need of Pilots. He would take legal action before eventually agreeing to serve. In contrast, slugger J.D. Martinez is making nearly $24 million this season.
In lighter moments, the documentary features segments of pure adoration from the likes of Wade Boggs, who credits Willams' book The Science of Hitting for setting him on a hall of fame trajectory, and former National League MVP Joey Votto who claims that other than Babe Ruth, Williams is the best baseball player there ever was.
The documentary also shows how Williams used his feeling of possibly being discriminated against as a catalyst for change. Williams publicly called for Negro Leagues players to be included in the Baseball Hall of Fame, and in short order—they would be enshrined.
Williams was a talented man with a complicated backstory, the kind of sports legend that receives the documentary treatment. American Masters treats Williams in a firm and fair way, and its running time of just under an hour makes it very easily consumable. It's a must watch for Red Sox and baseball fans.
Ted Williams: The Greatest Hitter Who Ever Lived delivers a complete story in a compact package. No wasted motion, like the famous uppercut swing of No.9 himself.
You can check out the documentary here.