Mooney: Joakim Nordstrom Could Replace Riley Nash
July 30, 2018 6:00 pm | by Carolyn Mooney | Posted In Boston Bruins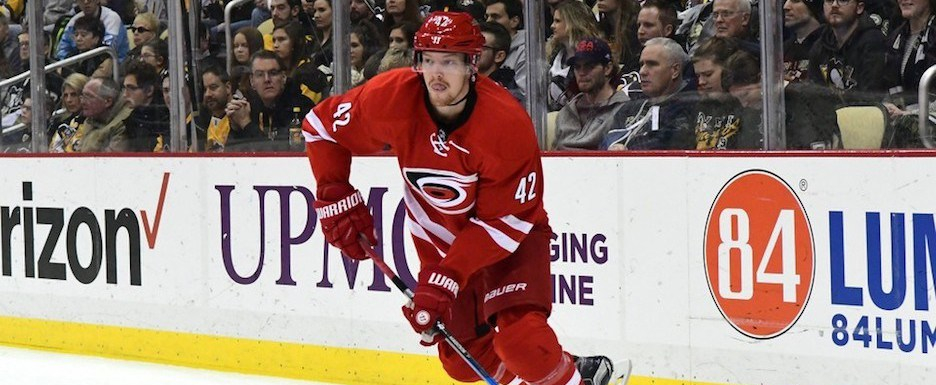 Photo Credit: Matt Kincaid/Getty Images
The Boston Bruins lost one of their better forwards from the 2017-18 season when Riley Nash signed with the Columbus Blue Jackets on a 3-year deal back on July 1.
Nash had career-high 41 points with the Bruins last season which means the hole left behind will be tough to fill. That being said, the Bruins may have found a solid player to play in Nash's spot on the third line.
Joakim Nordstrom has five NHL seasons under his belt and is a Stanley Cup Champion—he was part of the 2015 Stanley Cup run with the Chicago Blackhawks. In his best season, Nordstrom scored 24 points—10 goals, 14 assists—with the Carolina Hurricanes. Nordstrom probably will not put up the scoring numbers that Nash was able to do, but the 26-year-old said he could bring a lot of valuable attributes to Boston.
"I think my biggest asset as a player is my skating," Nordstrom said. "I know the Bruins want to play fast, so that is, obviously, something I can help with."
Nordstrom also said he can be an asset to the Bruins' penalty kill unit if need be.
"Then, just on special teams, the last couple years, I played a lot of PK, so that's, obviously, something that I want to bring to the table, as well," Nordstrom said. "I don't want to limit myself to just be a special-teams guy, so hopefully, I can take my game to the next level here with the Bruins."
While he will more than likely be a bottom-six player, with the re-signing of Sean Kuraly, it will be interesting to see if Cassidy gives Nordstrom a shot at third-line center.