Sale on Pace for His Best Season Yet
July 27, 2018 4:00 pm | by Cullen McIntyre | Posted In Boston Red Sox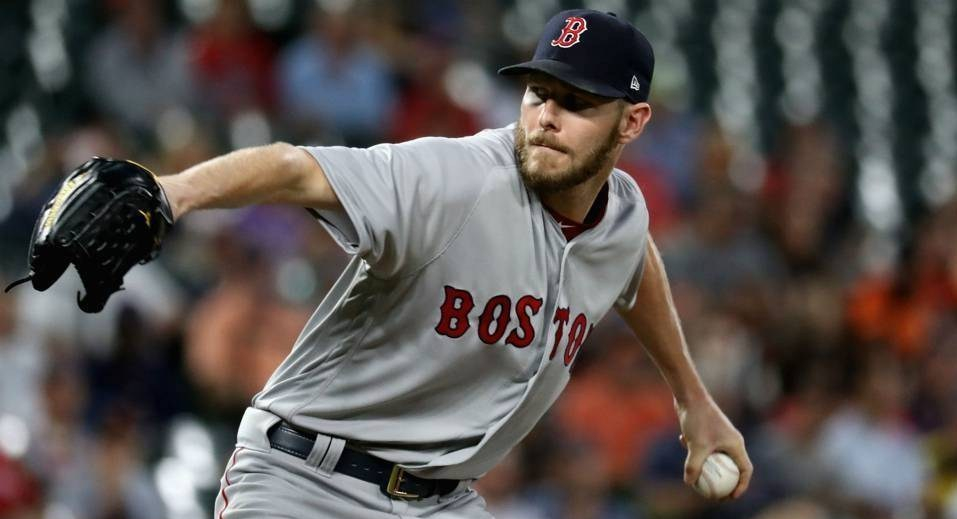 Photo Credit: Thomas Lott/Sporting News
Chris Sale has been outstanding for the Red Sox this year—having not recorded a loss in over a month and throwing harder than previously seen in his career as a starter.
His last start against the Tigers continued to prove his dominance, as Sale pitched six shutout innings giving up only two hits while striking out nine. Alex Cora's philosophy to pitch Sale fewer innings per start is certainly starting to pay off as Sale is in incredible midseason form.
Having started in his third consecutive All-Star game, his second while on the Red Sox, Sale's numbers as of late have been incredible. The Red Sox ace has a 6-1 record in his last eight starts and has an ERA 0.83 over that span. While leading the league in strikeouts at 197 and strikeouts per nine innings at 13.133, Sale has been dominant on the mound. His 11-4, 2.13 ERA, .874 WHIP, and 197 strikeouts are being compared to Pedro Martinez's 1999 season, where Martinez won his first Cy Young award.
Chris Sale after 21 starts in 2018: 2.13 ERA, 87 hits, 31 walks, 197 K.

Different eras, but still…..

— Eric Wilbur (@GlobeEricWilbur) July 23, 2018
The Red Sox have the best record in the MLB, being the first team to 70 wins with a 71-33 record. Should Sale continue to be lights out for the Red Sox, he could finally get his hands on a Cy Young award—an award that has evaded him for quite some time. With New York's Luis Severino and Houston's Justin Verlander also in talks, Sale will need to keep doing what he's doing to finally win the award.
Sale's stats are not the only thing that have improved this year, as his velocity and effectiveness have improved as well, though many thought that was impossible.
Last June, Sale threw his fastest ever pitch as a starter at 100.3 mph. With his velocity improving, his slider has also been untouchable. Sale's slider has struck out 94 batters and so has his fastball, according to brooksbaseball.net. His two most effective pitches have been the fastball and slider, as he has not thrown his change-up or sinker as much compared to the two pitches.
Sale's been at his best this season, and if he can continue his form through September and the playoffs, the Red Sox ace will have a fantastic shot at winning his first Cy Young, and possibly a World Series.