Bogaerts Grand Slam Propels Red Sox to Extra-Inning Win
July 14, 2018 7:44 pm | by | Posted In Boston Red Sox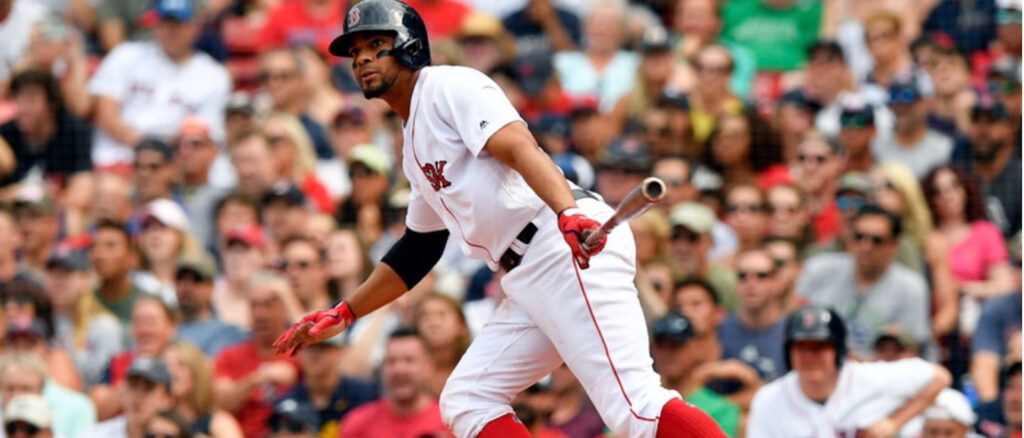 Photo: Brian Fluharty/USA Today Sports Images
What started off as a game the Red Sox appeared destined to lose, ended with Fenway Park being sent into a state of delirium.
Alex Cora sent out a controversial lineup that consisted of Brock Holt batting second, Jackie Bradley hitting fifth, and a bottom third of the order of Blake Swihart, Sandy Leon, and Tzu Wei Lin against the Toronto Blue Jays this afternoon. With Eduardo Rodriguez on the mound, the Red Sox were hoping such a lineup could rally up at least a few runs because, with the way the lefty has been pitching lately, three runs should be enough.
The Red Sox got going in the fourth inning when J.D Martinez blasted his league-leading 29th home run off of Sam Gaviglio. That run seemed like more than enough for Eduardo Rodriguez, who dominated for 5 1/3 innings, allowing just four hits and no runs, exiting with just 67 pitches to boot.
The young left-hander exited the game after rolling his ankle following a Lourdes Gurriel Jr. to hit a ground ball to first base, which Blake Swihart originally bobbled. Swihart rushed and fired it behind Rodriguez, whose momentum took him to the bag anyway. After Gurriel had slid through first, Rodriguez tried to avoid him, but instead, he rolled his right ankle. The Red Sox later announced that Rodriguez suffered a right ankle sprain.
Heath Hembree came out and finished off the sixth by getting Justin Smoak to pop out with runners on first and second.
Joe Kelly took over in the seventh and had another rough outing, as he only got two outs before being lifted for Matt Barnes. Kelly's stat-line showed him allowing another two runs in just 2/3 innings pitched, which raised his season ERA to 4.31 and his ERA since June 1 to 9.22.
Barnes pitched 1 1/3 scoreless innings and was followed by a scoreless ninth from Brandon Workman. However, the Red Sox still trailed Toronto 2-1 with Xander Bogaerts, Jackie Bradley Jr., and Eduardo Nunez due up against acting closer Tyler Clippard.
Clippard blew the save as Bogaerts and Bradley led off the ninth with back-to-back doubles, but Bradley couldn't be driven in as Nunez struck out, Swihart flew out, and Leon grounded out.
Following a scoreless 10th inning from All-Star closer Craig Kimbrel the Sox had another opportunity to walk it off against Chris Rowley. He retired Lin quickly and was looking good after Betts hit a weak ground ball to short, except Gurriel did his best Bill Buckner impersonation, letting the ball go right through his legs.
Holt followed up, having three great takes in a row to work it to a 2-1 count before executing a perfect hit-and-run with Mookie Betts, putting runners at the corners with just one out for Martinez.
Rowley intentionally walked Martinez, loading the bases for Bogaerts, who already had two grand slams on the season. Bogaerts got ahead 2-0 in the count before blasting a walk-off grand slam over the center field wall to give the Red Sox a 6-2 win. This was just the second walk-off for the Red Sox this season, who improved to 67-30 on the year.