Mooney: Moore an Excellent Addition to Bruins' Defense
July 13, 2018 5:15 pm | by Carolyn Mooney | Posted In Boston Bruins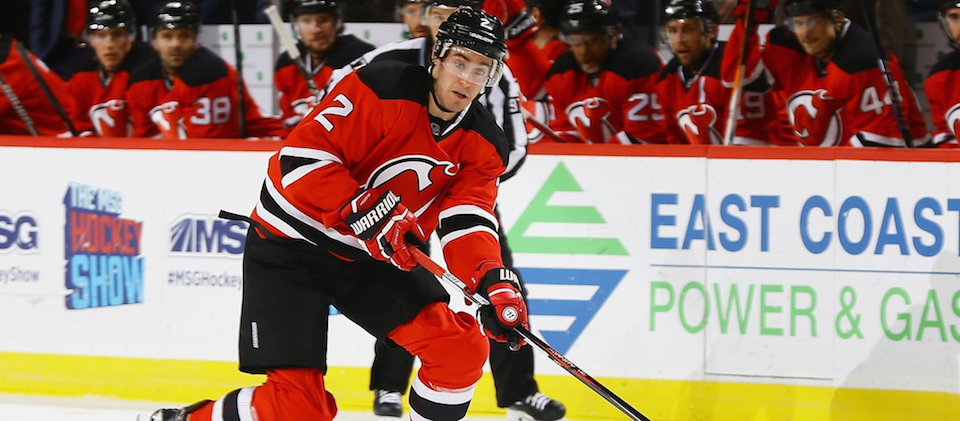 Photo: NHL.com
Going into the 2018 offseason, Don Sweeney made it clear that management's objective was to acquire a reliable, left-shot defenseman in hope to get bigger on the left side.
When NHL Free Agency began July 1, the Bruins wasted no time in signing a potential defenseman to help fill that hole—New Jersey Devils' John Moore. The 27-year-old, one of the higher ranked defensemen that were available for free agents, scored seven goals and 18 points for the Devils last season.
Moore signed a five-year contract with the Bruins averaging $2.75 million a year.
"When Don Sweeney reached out, it felt like a fit," Moore said. "The opportunity to be a Bruin and to play in Boston is something that I really couldn't pass up. And I'm excited, my family's excited. We're ecstatic to get there and to get going. We can't wait."
The Bruins will be getting a similar player to Adam McQuaid and Kevan Miller, but better on the offensive side of the game, according to scouting reports. Unlike McQuaid and Miller, Moore has the ability to come into the Bruins system and provide more depth on the left side on what would likely be a bottom-pairing role.
When asked to explain what type of player he is, Moore told fans that his skating is his biggest strength, as it allows him to cover a lot of ice defensively. He explained that he has a "tight gap" and that he "tries to get the puck up to [his] forwards as quickly as [he] can."
While signing Moore is a step in the right direction to fill that defensive hole behind Chara, Sweeney has a busy offseason ahead of him.
With Brandon Carlo returning to the lineup from a fractured ankle injury prior to the Stanley Cup Playoffs, Charlie McAvoy back to 100 percent after suffering a knee injury, and with a number of defensive prospects on the way in the coming years, it makes sense that one or two defensemen already on the roster could be on their way out of Boston this offseason.
Moore is a lock-in for five seasons, so is it possible that the Bruins could look to move McQuaid, Krug, or Miller?
Whatever happens, to essentially make room for Moore, the defenseman knows that he has a lot of work to do to gain the trust of Bruins fans despite the fact that management already has.
"It's a lot of trust that Don and Cam Neely and the Jacobs family put into me," Moore said. "But I'm ready to work for it."