Gordon: Drama Doesn't Come From Players, but Belichick's Stubbornness
June 15, 2018 6:12 pm | by Sam Gordon | Posted In New England Patriots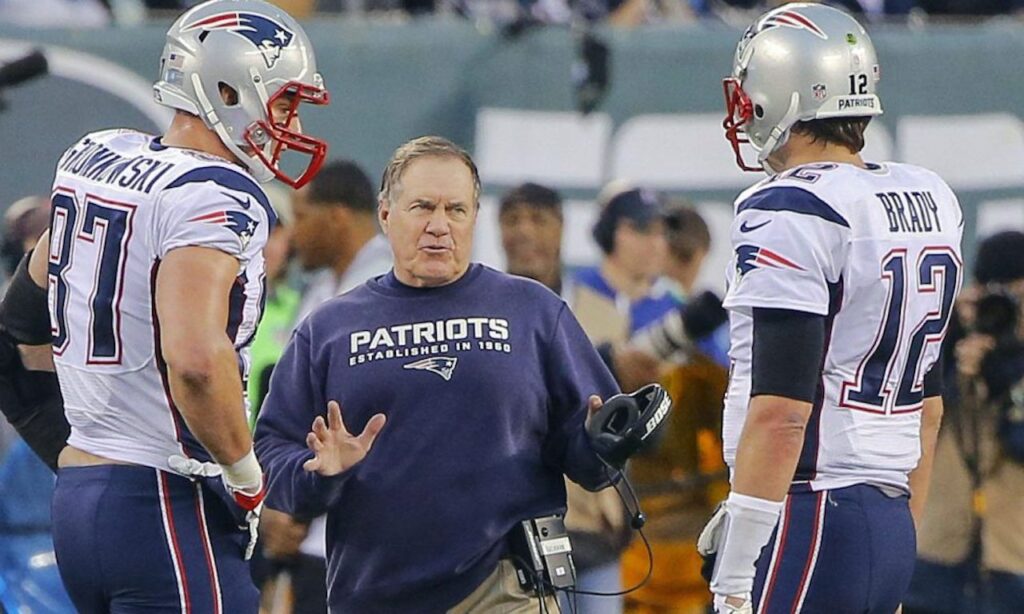 I hate to break it to fans of the New England Patriots, but there is indeed a problem in Foxborough.
Talk show hosts, analysts, and writers will point to the current contract disputes between the organization and their star players quarterback Tom Brady and tight end Rob Gronkowski. But it goes back further than that.
While the game and the players around him have changed, head coach Bill Belichick has stayed the same with the way he commands the ship. Why should he change? The system is working and Belichick is a five-time champion because of it.
However, it's gotten to the point where he may just believe that anything outside the ordinary will throw off the way things work. Look no further than when Brady partnered with Alex Guerrero to create his own method to preserve his longevity and keep playing at a high level.
Belichick made it clear that there's no other quarterback he'd rather have than the one who has helped bring him his success and seem to let it slide, allowing Guerrero to roam the sidelines and to put Brady through his warmups.
But as Brady continued to play better as his age, his teammates began to take notice. Soon enough members of the team like Gronkowski and Chris Hogan who have histories with injuries began using the titled "TB12 Method."
While Belichick seemed to be okay with Brady breaking away from the general norm would not fly with him, he barred the unorthodox trainer from his team's facilities.
After it seemed to all be put to bed, the questioning of Belichick's own methods began again when the Patriots defense took the field in Super Bowl LII without Malcolm Butler, one of their star cornerbacks.
With Butler being hospitalized for a minor reason missing a meeting because of it, he assumed that he would be ok to go and ready. Instead, Belichick went with a power move benching Butler the entire game only taking the field for a single Special Teams play after playing the highest percentage of snaps out of any defensive player.
"I never got a reason," Butler told CBS Sports. "I feel like this was the reason. I got kind of sick. I went to the hospital. They probably thought I was kind of late on the game plan; I wasn't as locked in as I should be and could have been a matchup deal. It could have been anything."
This doesn't seem like a valid reason for a punishment. Is Belichick that stubborn with his ways that if a player misses a meeting no matter the reason during Super Bowl preparations, they get benched?
By putting in a struggling Eric Rowe instead of his all-pro cornerback, Belichick basically said to the whole football world 'I'm Bill Belichick I can win with anybody on the field.' But as the score states, the move proved disastrous as receivers had their way with whoever Belichick put alongside Stephon Gilmore.
Former Patriots receiver Danny Amendola claimed he asked coaches after the game about the decision and did not receive an answer.
"I have my thoughts about it because I was out there putting my blood, sweat, and tears out on the field that night, and one of our best players wasn't on the field," Amendola said to ESPN.com. "To tell you the truth, I don't know why. I did ask, but I didn't get any answers. I can't make decisions like that, so I don't necessarily worry about it, but I know Malcolm is a great player and he could have helped us win. For whatever reason, he wasn't out there. He's going to play more football in his career, and he's going to be a great player for a long time."
By questioning Belichick's methods and ways after the game, Amendola sealed his fate that he would be playing elsewhere. It didn't matter if Amendola fit the system, or what he had done for the team and what he could still do. He questioned Belichick and that's it.
All these dramatic circumstances definitely haven't made things better. Brady, who had never missed the first offseason training activities of the year in his career, decided to skip and proceed to go on as he liked leaving his teammates for his own ways like throwing footballs in Singapore.
Gronkowski himself has been mulling retirement and clamoring for a contract extension as he too skipped OTA's. It will hurt for Patriots fans to hear this but newsflash, the team and arguably the game's greatest coach can indeed do wrong and he's screwed up a lot lately.
The "Patriot Way" isn't the team's way, it's Belichick's way and his stubbornness and unwillingness to adapt is taking a toll on the team and the sparks for the dynamite that will take down the castle, have been lit.