Could LeBron James Sign With Boston?
June 9, 2018 5:00 pm | by | Posted In Boston Celtics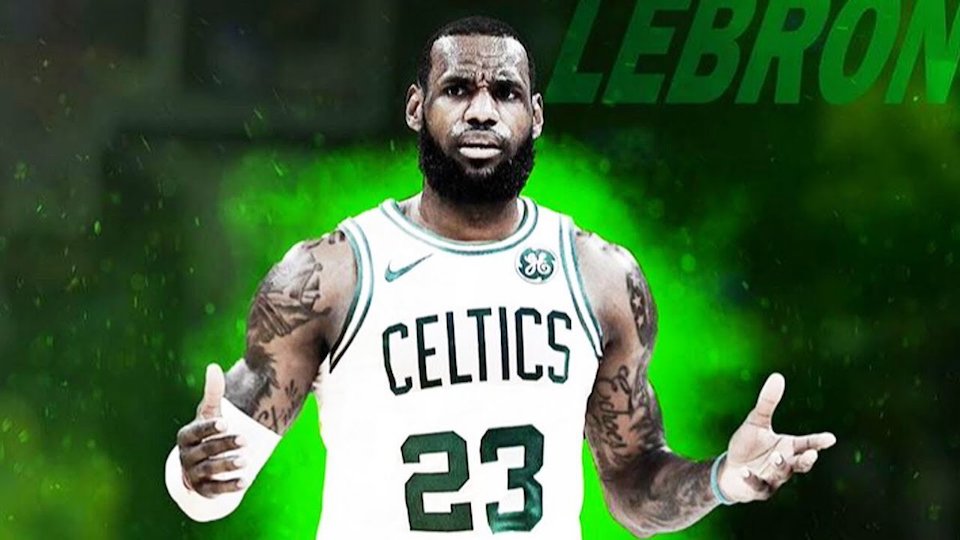 Photo: @bigjimmurray/twitter
Last week, former Celtics frontcourt star Antoine Walker weighed in on Fox Sports One's hit show "First Things First," regarding LeBron James' pending free agency.
LeBron James will be officially eligible to sign with whomever he wants as of July 1, and despite his team contending for an NBA Championship, NBA beat writers and experts are more focused on where the 33-year-old future hall of famer will be playing in the 2018-19 season.
The 'front-runners' at the moment for James are the Philadelphia 76ers and the Houston Rockets. However, that was before Antoine Walker joined a panel on Thursday afternoon when he threw the biggest metaphorical curveball in recent memory when he suggested this team—the Boston Celtics.
"Now if I was him, I'm going to Boston… I will figure out a way to get to Boston if I'm LeBron James… If I'm Danny Ainge, I'm taking a shot at him," Walker said.
The panel of Nick Wright and Cris Carter juggled this idea back and forth, dissecting just what exactly the Celtics would need to do in order to obtain the NBA Legend donning #23 for the Cleveland Cavaliers. In the end, the only way this hot take can come to fruition is if Ainge is able to move one of his max contracts on the payroll.
The Celtics have three max deals: Kyrie Irving, Al Horford, and Gordon Hayward, with the latter of the three being who the general consensus agreed on.
Hayward is coming off of a season in which he was limited to just about six minutes of playing time in before a gruesome ankle injury cut it short. After taking all season to rehab, the All-Star forward is expected to be good to go at the start of training camp. For any team possibly looking at Hayward, they at least have a timetable for when he's expected to return.
However, how funny would it be if the Celtics traded Hayward to make room for James to come to Boston?
For starters, Irving wanted to leave the Cavaliers so he could finally be an alpha dog on a team that didn't have James, so signing him would probably irritate Kyrie to no end. Also, remember the joint press conference with Irving and Hayward last summer? When Hayward talked about how he met with the Cavaliers back in the summer prior to the 2014-15 season, and Irving told him how awesome it would be to play with him?
"Then LeBron came and kinda squashed all that," Hayward joked.
The likelihood of James signing with Boston this summer might be even slimmer than slim, but as my former Astronomy teacher told me, "NEVER bet the farm." Well, if there were ever an appropriate time to bet the farm, it would be now.
Ainge, however, never ceases to surprise even the greenest of Green Teamers out there. After all, just last summer he traded Isaiah Thomas to the Cavaliers for Irving.
I guess the best way to approach this offseason would be to think of this quote from the one and only, Kyrie Irving.
"It's gonna be crazy, G!"