Celtics Regain Series Lead at Home
May 23, 2018 11:57 pm | by Dylan Corey | Posted In Boston Celtics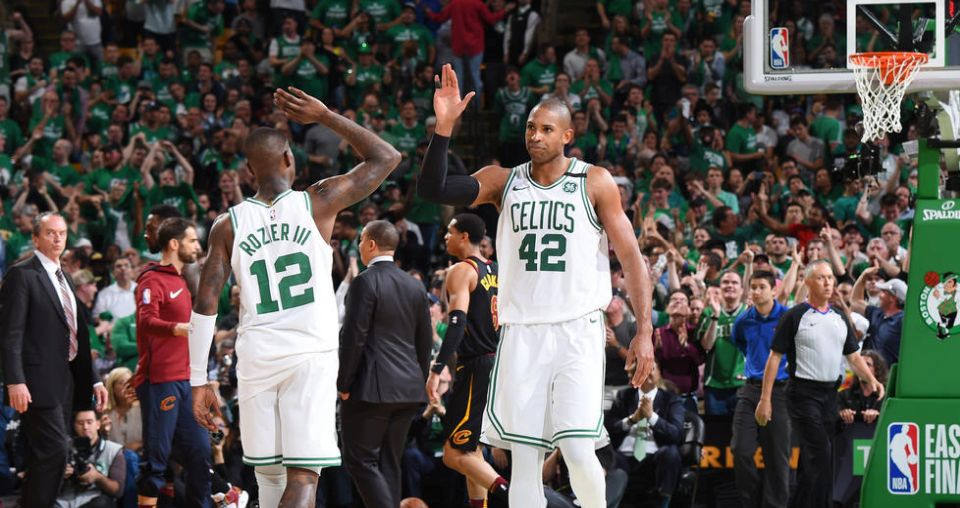 Photo Credit: Brian Babineau / Getty Images
The Boston Celtics improved to 10-0 at home following Wednesday night's victory, when they bested the Cleveland Cavaliers 96-83 and grabbed a 3-2 series lead.
Unlike games three and four, when Boston never scored more than 20 points in the opening quarter, the Celtics came out firing on all cylinders and led 32-19 after one.
Head coach Brad Stevens limited his team's rotation to just seven players until 2:36 to play with the result already solidified. These players seemed to always have an answer anytime Cleveland came knocking, largely in thanks to the young tandem of Jayson Tatum and Jaylen Brown who led their team to victory.
The Cavaliers scored nine-straight points with under six minutes remaining in the game which cut the deficit to twelve when an alley-oop to Al Horford revived Boston's offense and they rode that momentum to close the game.
Rozier finds Horford for the oop in transition! ? pic.twitter.com/mOTN9G6t1X

— Boston Celtics (@celtics) May 24, 2018
Neither team shot the ball particularly well, but Boston took advantage of their opportunities from the charity stripe making 21 out of 23 attempts. Meanwhile, Cleveland was only able to go 12-for-19.
LeBron James led all scorers with 26 points to go with 10 boards, but stellar team defense by Boston forced him into committing six of his teams 15 turnovers.
Five of the seven Celtics who played significant minutes scored in double-figures, with the exceptions of Aron Baynes and Terry Rozier.
Tatum led his team in scoring, but also played fantastic on both ends of the floor. The 21-year-old poured in 24 points, seven rebounds, four steals, and two blocks. Horford ended the outing with a double-double, contributing 15 points and pulling in 12 rebounds.
One area for concern for Boston as they try and close out Cleveland is Rozier, who has not played well offensively as of late. The 24-year-old shot just 3-15 from the floor, including going 1-for-7 from three-point range.
The Cavaliers will be facing elimination in Game 6 at home, which is slated for Friday, May 5 at 8:30 p.m.