Leandre: Betts and Martinez Quickly Becoming Best Duo in Baseball
May 21, 2018 3:00 pm | by | Posted In Boston Red Sox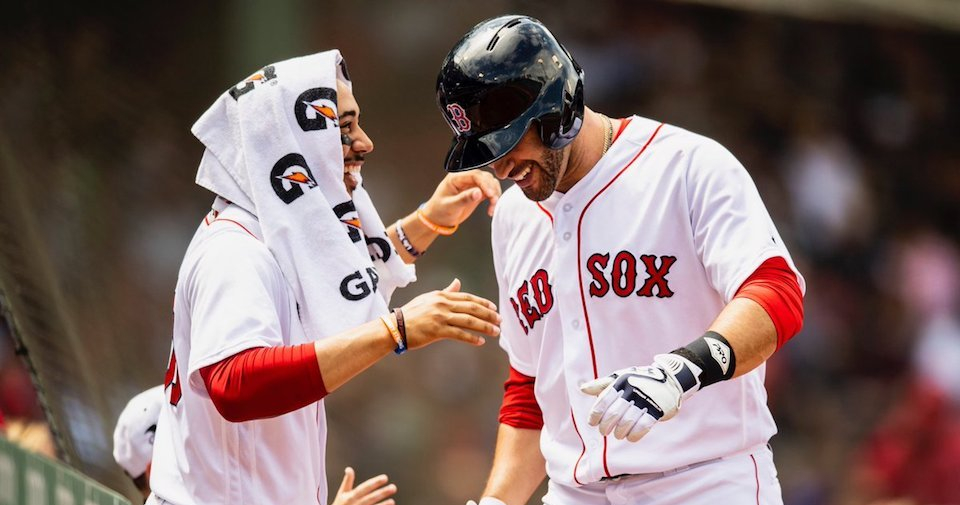 Photo: @RedSox/Twitter
Boston's most dominant duo since David Ortiz and Manny Ramirez are quickly becoming the most exciting punch in baseball.
Over the course of the history of baseball, there is always a select few players who go off the charts hot and emerge as early MVP candidates. Very seldom, however, do we see multiple players on the same team emerging as MVP candidates and essentially racing for the home run crown. On the other hand, this year Red Sox fans are witnessing that happen with stars Mookie Betts and J.D. Martinez.
As of May 20, both of the Sox sluggers are tied atop the major league leaders in home runs with 15 each with no signs of slowing down. On top of the absurd amount of power Betts and Martinez are exhibiting on a nightly basis, both are also hitting over .340.
It's really crazy to think about how just one month ago, Red Sox fans were quick to judge Martinez. Many chalked him up as yet another Red Sox contractual blunder that has seen the likes of Carl Crawford, Adrian Gonzalez, and Pablo Sandoval come and go. Now here we sit in late May and over the course of the last month, Martinez is hitting .370 with 11 home runs and 54 RBI.
As for Betts, he's been on another planet from the first pitch of the season, hitting .365 with 15 homers and 32 RBI as the leadoff hitter, following a season in which he fell down to the .260's at the plate under John Farrell. His aggressive approach under first-year manager Alex Cora has Betts back in the MVP form that he was back in 2016. Mix Martinez in there and the Red Sox have one of the best duos in the majors.