Bruins Grades: Goaltenders
May 20, 2018 2:00 pm | by Davis Ender | Posted In Boston Bruins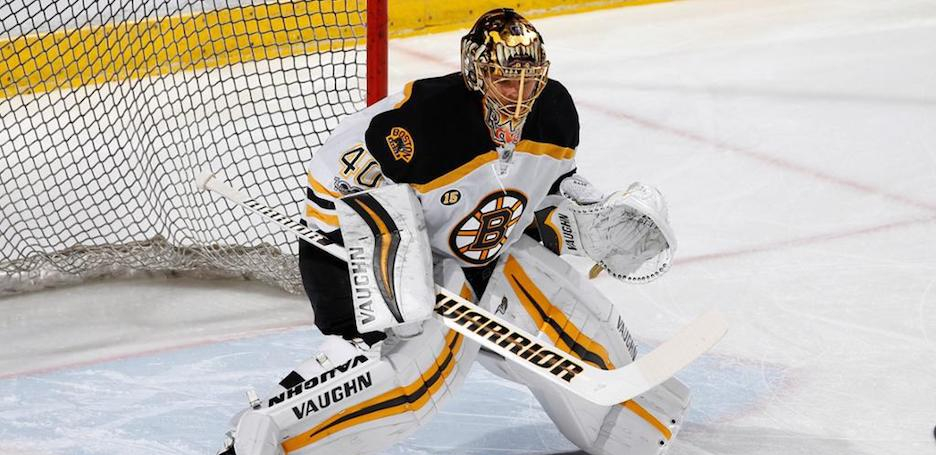 Photo Credit: NHL.com
The Boston Bruins' 2017-2018 campaign has come to a close and thus it is time to start looking back on the season and highlighting the highs and lows.
Over the next month and a half, we will be rolling out our series of Bruins grades in which we will grade the individual performance of each player who finished the year on the Bruins roster.
Players such as Frank Vatrano and Ryan Spooner who were traded away before the season's end will not be eligible for these grades.
Without further ado, let's begin by breaking down the performance of the Bruins' goaltenders Tuukka Rask and Anton Khudobin.
Player: Tuukka Rask
Regular Season Stats: 65 games started, 35 wins, 2.25 GAA, .924 Save Percentage, 5 Shutouts 
Post Season Stats: 12 games played, 5 wins, 2.88 GAA, .903 Save Percentage, 0 Shutouts 
Grade: C+
Ohhhhhhhhh Tuukka.
Tuukka Rask has to be one of, if not the most polarizing player in Boston sports today. Half of the fanbase loves him, but the other half wants his head.
The debate likely won't end soon either because the 2017-2018 season has got to be the most Rask season of all time. Rask's 2017-2018 campaign saw some incredible peaks as well as some embarrassing lows, but when all is said and done, the bad will have outweighed the good.
Rask got off to a really rough start in October and November and was even briefly benched in favor of back up netminder Anton Khudobin. Boston's season looked like it was going nowhere and fans were immediately pointing to Rask's early season struggles because of it.
Once December rolled around, however, Rask looked like a new man and began one of the best stretches of his career. From early December to late February there was a legitimate argument for Rask to take home the Vezina Trophy come season's end.
Rask's high-quality play along with the emergence of several Bruins rookies led many to believe Boston would be able to break through to the Stanley Cup Final for the first time since 2013, but in typical Rask tradition, he wet the bed in the playoffs.
All of Rask's progress seemed to disappear overnight once the playoffs got underway. His save percentage dropped by .21 and his goals allowed average jumped by .63. Rask's playoff struggles were particularly alarming in Game 7 against the Toronto Maple Leafs where he allowed four goals in just under two periods.
Rask has shown signs of stardom, but every time the hope he brings has faded away once April rolls around.
The Bruins could easily do a whole lot worse than Tuukka Rask, but at some point, Don Sweeney needs to realize he is rolling with the same guy over and over again and expecting things to change.
Player: Anton Khudobin 
Regular Season Stats: 29 games started, 6 wins, 2.56 GAA, .913 Save Percentage, 1 Shutout
Post Season Stats: N/A
Grade: B 
Say whatever you will about Tuukka Rask, but your team's starting goaltender should be able to take a night off every now and then.
Rask played way too many games in 2016-2017 and needed a solid back up to emerge, and the Bruins got just that with Anton Khudobin.
Ever since Bruce Cassidy took over as head coach, Khudobin has been playing the best hockey of his career. He always played decent hockey for the likes of Anaheim and Carolina, but Cassidy seems to know what makes him tick.
When Rask struggled early on back in October and November, Khudobin was able to hold down the fort and keep the season alive.
Khudobin will never be a starter, but for a team that was in desperate need of a capable backup, Khudobin did his job.