Brown Speeding Towards Arena Stardom
May 14, 2018 5:00 pm | by Sam Gordon | Posted In Massachusetts Pirates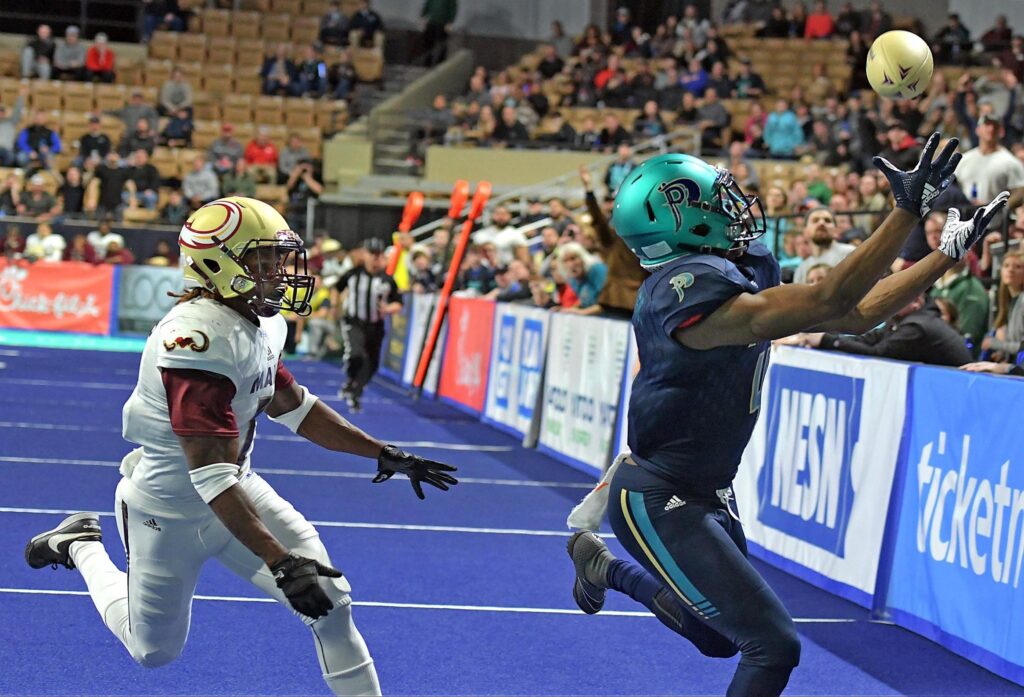 Photo: Steve Lanava/Telegram
It has been quite the kickoff for the Massachusetts Pirates, as the team has hit the ground running with a 4-1 record as well as the first place position.
While it has been a team effort so far, one part of the Pirates' early success is wide receiver, Devonn Brown.
Brown played his college football for Lamar University and recorded 59 receptions for 906 yards and eight touchdowns using speed to grab an average of 15.4 yards per catch.
After college, he spent time in the Indoor Football League with the now folded Spokane Empire where he caught four of quarterbacks Charles Dowdell's seven touchdown passes against the Colorado Crush in March 2017.
The 25-year-old has continued his leading role this season with the Pirates, leading the team in total yards receiving and 11 touchdowns.
Team president and director of player personnel Jawad Yatim said he received a push from offensive coordinator Anthony Payton to sign Brown to the newly formed squad.
"Payton had a pre-existing relationship with him and he vouched for Brown from their time in Spokane," Yatim said. "He said that he could help us out on offense with his speed and versatility."
Yatim said Brown has made a huge impact on the team in their inaugural season.
"He's our most explosive player, teams haven't been playing as much man against us as he has exposed that," Yatim said. "He just opens everything for us, he makes it easier on the other guys, he definitely comes through for us, he's been awesome with his character and he's a great team player."
The ownership has been impressed but so has head coach Ameer Ismail who says it's a privilege working with Brown. Pirates quarterback Sean Brackett said he has the utmost respect for his speedy receiver and that his talent puts him up there as one of the best Arena Football has to offer.
"His ability to stretch the field is second to none," Brackett said. "He is the kind of guy that makes the defense change what they do and makes my job a heck of a lot easier."
Brackett has even gone so far as to say that Brown is one of the best he's been on the field with.
"He's right up at the top with all of the receivers I've played with," Brackett said. "Just happy he's on our team and I can throw him the football."
Brown said he always thinks there's room for improvement in his game as the Pirates continue their season.
"I feel like I can improve in all areas of the game," Brown said. "I really want to create separation and find small windows, see the small windows and keep scoring those touchdowns."
Playing football all around, Brown has taken to the state of Massachusetts and believes the fans are some of the most passionate around.
"It's a big sports town," Brown said. "If you're winning they are ride or die for you. I like how the fans are behind you all the way."
Although he is in his first season with the team, Brown said he has big goals for this year.
"My personal goal is to lead the league in receiving touchdowns but that's not the main goal," Brown said. "The goal is to win a championship as a team."