Larkin to Miss Game 5 Due to Injury
May 9, 2018 3:16 pm | by Jeremy Guerin | Posted In Boston Celtics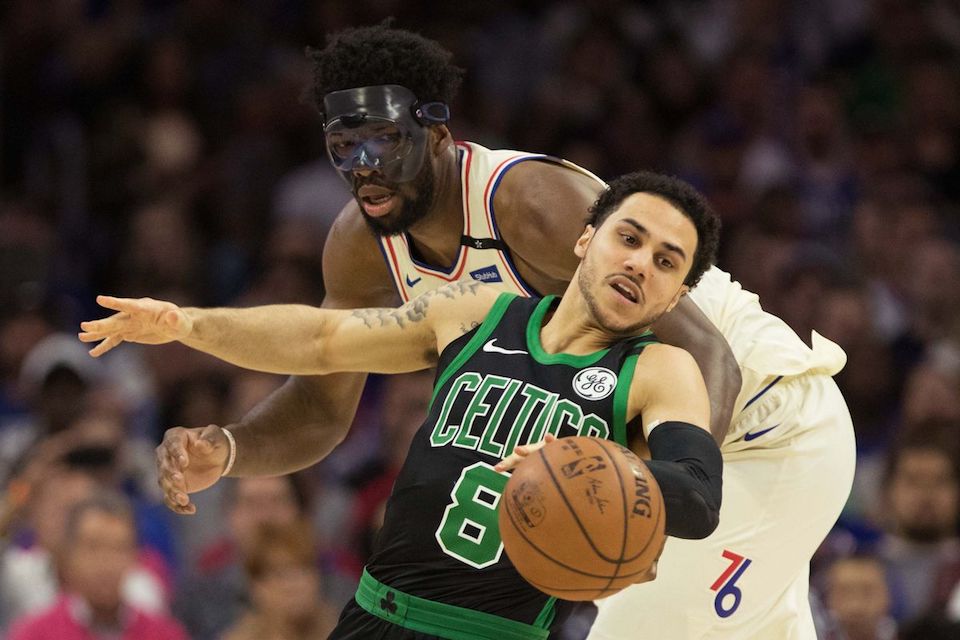 Photo: Bill Streicher-USA TODAY Sports
Celtics guard Shane Larkin will miss Game 5 against the Philadelphia 76ers Wednesday night due to an injury he suffered in Game 4.
Larkin injured his shoulder with under two minutes to play in the first quarter against the Sixers in Game 4, and did not return. The 25-year-old was defending J.J. Redick and trying to go around a screen from Sixers center Joel Embiid when Embiid's hip hit Larkin in his shoulder.
The Ohio native played an average of 14 minutes per game this series, scoring almost four points a game and adding a rebound and two assists. With Larkin out, Brad Stevens may just make the bench shorter. He might put the confidence in Abdel Nader, but it is doubtful.
Instead, look for guards Marcus Smart and Terry Rozier to see more action, as well as Jaylen Brown. Brown may still be on a minutes restriction after injuring his hamstring against the Milwaukee Bucks in Game 7 on the Celtics' first-round series.
The other thing to bear watching is the fact that without Larkin in the lineup, the Celtics can't go as small as they would like to. One of the lineups Stevens used in Game 1 was Larkin, Rozier, Smart, Jayson Tatum, and Aron Baynes.
The absence of Larkin forces the Celtics to play more of a traditional lineup, and even with smaller guards in the game, the Celtics will have trouble covering the likes of Redick and T.J. McConnell.
The Celtics also got into foul trouble early in Game 4, and Larkin not being in the lineup might hamper that as well.
The Celtics lead the 76ers 3-1 in the series and Game 5 is in Boston on Wednesday May 9 at 8 p.m.