Celtics Outlast 76ers in Overtime
May 5, 2018 10:34 pm | by Dylan Corey | Posted In Boston Celtics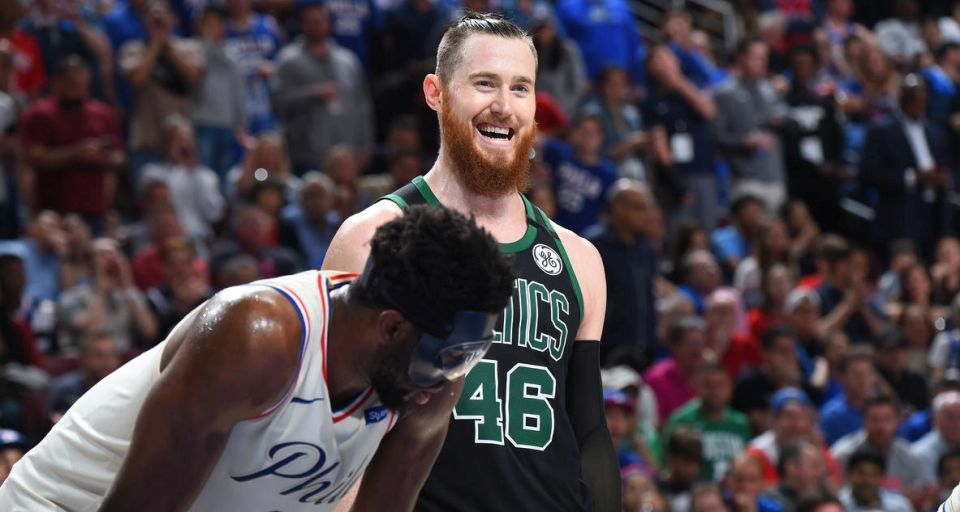 Photo Credit: Brian Babineau / Getty Images
The Boston Celtics defeated the Philadelphia 76ers 101-98 after going to overtime in Game 3—a game in which a winner who wasn't decided until the final seconds.
Saturday afternoon's action was all but finished following a steal by Terry Rozier, who dished it to Jaylen Brown in transition for an easy layup. This flurry of events left Boston with a two-point lead, and just 1.7 seconds remaining in regulation.
Enter Marco Belinelli.  Thanks to multiple screens by teammates on an inbound pass, Belinelli found himself wide open in the corner to make what Philadelphia thought was a game-winning three-pointer. Confetti fell, the Wells Fargo Center erupted, but it was all for nothing as the shot was determined to be worth only two points upon further review.
Meanwhile, the Celtics seemed to be in dire straights with overtime just seconds from starting. An already injury-ridden team would have to play the five extra minutes with Marcus Smart fouled out, Brown over his minutes restriction, and other players nearing the six-foul limit.
Philadelphia jumped out to an early lead, but Jayson Tatum scored five straight by himself, and their advantage was cut to just one with under 45 seconds remaining.
In the final six seconds, Al Horford made this go-ahead bucket that forced Brett Brown to call his final timeout.
Al for the lead!!! pic.twitter.com/qI45g4XauX

— Boston Celtics (@celtics) May 5, 2018
Ben Simmons then threw a sloppy pass to Joel Embiid at the top of the key, which Horford then stole, got fouled, and calmly sank both free throws to put this nail-biter in the books.
Tatum finished with at least 20 points for the fifth-straight playoff affair, joining a very exclusive list of rookies.
Rookies since the merger to have 5-straight 20-point games in the playoffs per @bball_ref:

David Thompson 1976: 5 games
David Robinson 1990: 6
Donovan Mitchell 2018: 7
Jayson Tatum 2018: 5

— Jared Weiss (@JaredWeissNBA) May 6, 2018
Brown flirted with a double-double off the bench, gaining 16 points and nine boards in an impressive outing.
Embiid, for the third time in as many games, had an incredible performance that wasn't enough to pick up a win. He snagged 19 rebounds to go with 22 points.
Simmons was back to his normal self after having only one point and no field goals in the previous game. The rookie neared a triple-double, getting 16 points, eight rebounds, and eight assists.
This was Boston's second overtime game of the postseason, with the first game coming in game one of their opening series versus the Milwaukee Bucks. That game also ended in Boston's favor, putting them at 2-0 thus far in overtime affairs. Furthermore, winning in Philadelphia finally gave the Celtics their first road win in their playoff run.
The Sixers will now try to avoid a sweep in Game 4, scheduled for Monday, May 7 at 6 p.m.