Celtics Blown out by Bucks in Game 3
April 21, 2018 12:18 pm | by Dylan Corey | Posted In Boston Celtics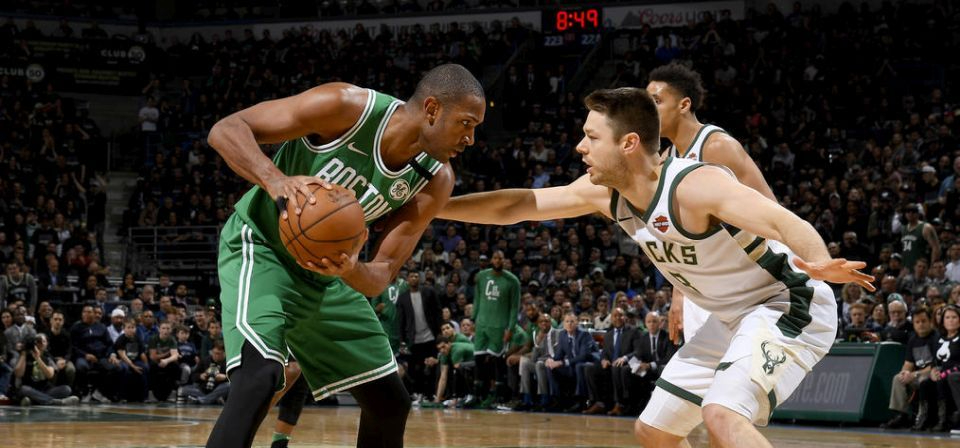 Photo: Brian Babineau/Getty Images
After winning the first two games of the series, the Boston Celtics were embarrassed in game three by the Milwaukee Bucks. The Bucks won 116-92 which cuts the Celtics series lead in half.
With 6:05 to play in the opening quarter, Malcom Brogdon slammed home a dunk that put Milwaukee up 16-6, and the Bucks never looked back.
Celtics' fans had a sliver of hope at yet another impossible comeback after Jayson Tatum hit a three-pointer to make it a 14-point deficit late in the third. However, following the shot, Aron Baynes fouled Thon Maker on a three-point attempt and Marcus Morris picked up a technical which put any whispers of a rally to rest.
Giannis Antetokounmpo got it done on both ends of the floor for Milwaukee. In only 24 minutes of action, the 6-foot-11 forward finished with 19 points, five boards, six assists, and three steals.
Khris Middleton led the way for Milwaukee, netting 23 points, eight rebounds, and seven assists on 10-of-17 shooting. Jabari Parker, Eric Bledsoe, and Maker all finished with at least 14 points.
Milwaukee ended the night shooting 57 percent from the field with 28 assists compared to Boston's 17, and were +11 in blocks.
One good thing going for Brad Stevens' squad is they won the battle on the boards as the Celtics grabbed 45 rebounds while holding the Bucks to 37. However, they also turned the ball over 18 times—double the amount of Milwaukee's.
Greg Monroe had a decent night from a numbers perspective as he ended the night with 12 rebounds to go along with 15 points. Unfortunately, those points came on 33 percent shooting.
Al Horford's night ended with 16 points in 24 minutes of action, while the young tandem of Tatum and Jaylen Brown scored 14 and 11 respectively.
This series—which Boston leads 2-1—will return with game four, scheduled for Sunday, April 22 at 1 p.m.