Bruins Win Game 4 Despite Bergeron Injury
April 20, 2018 1:48 pm | by Libby Sweeney | Posted In Eastern Conference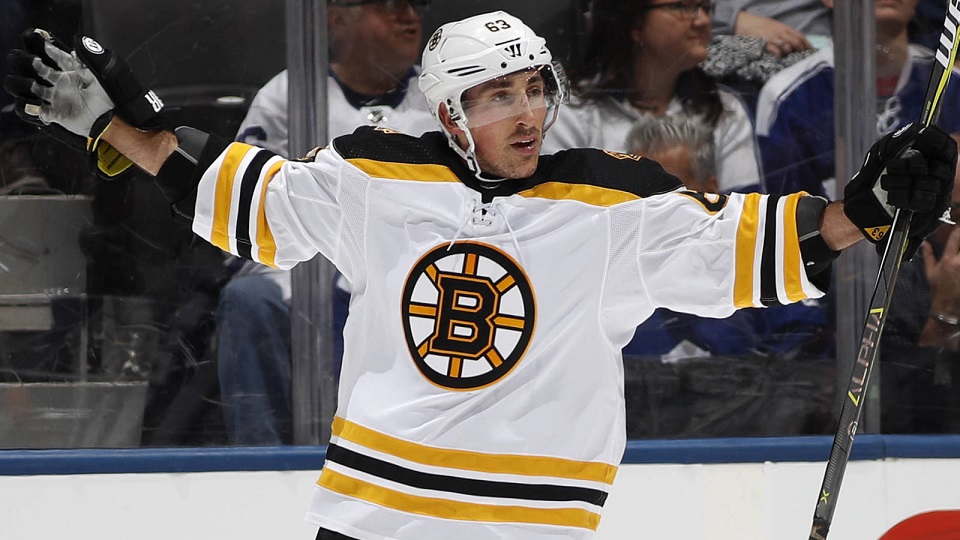 Photo: Mark Blinch/Getty Images
The Boston Bruins managed to recover from their shaky performance in Game three to put the choke-hold on the Toronto Maple Leafs.
The Bruins beat the Leafs 3-1 on Thursday, scoring two goals late in the second period and early in the third to break the 1-1 tie and claim the fourth game of the series without the help of Patrice Bergeron.
The alarming news of an injury to Bergeron was announced half an hour before puck drop. Head coach Bruce Cassidy said the Boston centerman would not play Thursday night and was labeled day-to-day with an upper-body injury. Riley Nash slid into his spot on the first line, having taken rotations with the first line at practice that morning.
Boston opened the scoring 28 seconds in, with a wrist shot from the blue line by Torey Krug that careened straight at Maple Leafs goaltender Frederik Anderson, tipping off his shoulder and in.
The Bruins controlled most of the puck for the first period, though Toronto got on the board to tie the game at 12:18 left in the period. Maple Leafs forward Mitch Marner passed the puck towards the high slot, where Patrick Marleau tipped the pass instead of receiving it in order to give it to former Montreal Canadien Tomas Plekanec, who ripped a short one-timer by Tuukka Rask.
In the second period, Toronto began to regain its footing. They controlled the puck for most of the period, leaving the Bruins running around for the puck and having to defend their own zone, as well as having to rely heavily on Tuukka Rask. Rask stepped up to the challenge of Toronto's barrage though and made 31 saves in the game. Rask made several highlight-reel saves, which kept Boston's hopes high throughout the struggle to regain possession.
Brad Marchand scored after a pass by David Pastrnak with nearly 3 minutes to go in the second period, breaking the tie and opening the floodwaters for the Bruins. Boston returned after the second intermission to score once more four minutes into the third, with Jake Debrusk capitalizing on a 2-on-1 set up by David Krejci.
The Bruins held the Leafs at bay for the rest of the game, with the Leafs pulling Anderson for the extra-man advantage in order to score two goals and avoid being under the threat of elimination.
The series will now swing back to the Boston scene, as game five will take place Saturday night at 8 p.m. at the TD Garden.