Red Sox Notebook: Betts Carries Team Against Angels
April 19, 2018 4:23 pm | by Hannah Brewitt | Posted In Boston Red Sox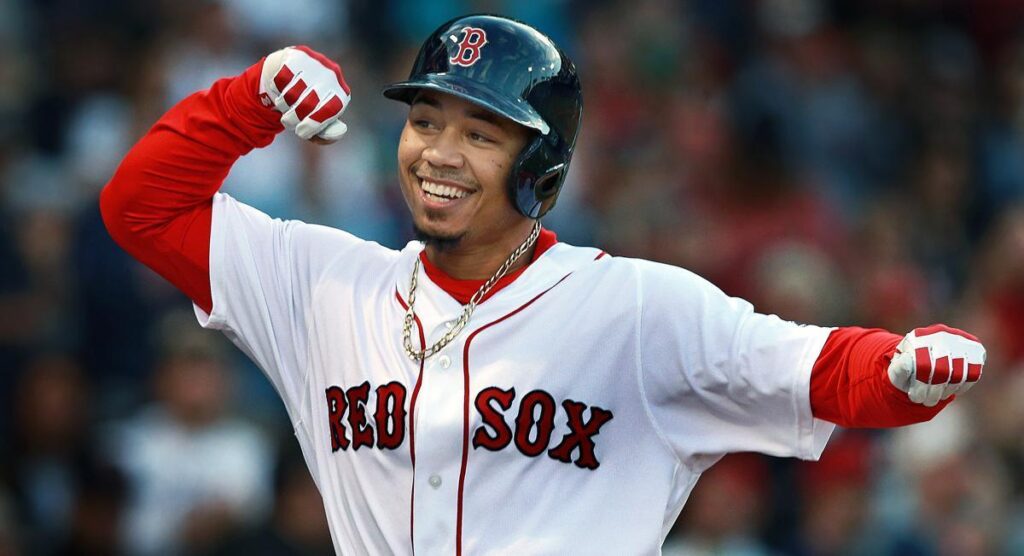 Photo: Jim Davis/Boston Globe
Boston Red Sox outfielder Mookie Betts smashed three solo home runs during the team's 10-1 win over the Anaheim Angels on Tuesday.
This game marked Betts' third career three-homer game, tying Ted Williams for the franchise record for most home runs in a single game.
"It's pretty fun," Betts said. "Anytime you can do something like that it's huge to help the team. I just ride the wave."
Betts sat out of Sunday's game due to precautionary measures following an injury at home plate on Saturday. Monday's game was canceled due to rain which allowed for an extra day of healing. The rest clearly paid off for Betts, who spent the time recuperating and watching film. The weather in Anaheim also was a difference-maker for the outfielder.
"Definitely, the warmer weather [helps], but a couple of days off was good," Betts said. "It's a good thing I only missed one game and not a couple. But yeah, everything is pretty good."
Through 15 games, Betts is batting .389 with  .493 on-base percentage, a .796 slugging percentage, anda 1.289 OPS.
Bogaerts on road to recovery 
Xander Bogaerts is making steady progress during his 10-day stint on the disabled list, according to manager Alex Cora.
Bogaerts suffered an ankle injury sliding into the dugout at Fenway Park while attempting to field an errant ball on April 8.
Before Tuesday's win against the Angels, Bogaerts ran, fielded groundballs, and participated in batting practice. Although Cora called it a "great day" for the shortstop, there is no specific date for his return.
"I'm working on my window," Cora said. "Whenever I feel it makes sense for us that he's healthy and he can go out there and perform the way we want him to perform, he will be out there. As long as he's making progress."
Looking ahead 
Red Sox @ Angels, Thursday, April 19, 10:07 p.m.
Red Sox @ Athletics, Friday, April 20, 10:05 p.m.
Red Sox @ Athletics, Saturday, April 21, 9:05 p.m.
Red Sox @ Athletics, Sunday, April 22, 4:05 p.m.