Celtics Notebook: Playoffs Begin With Quick 2-0 Lead
April 19, 2018 4:46 pm | by Patrick Mulligan | Posted In Boston Celtics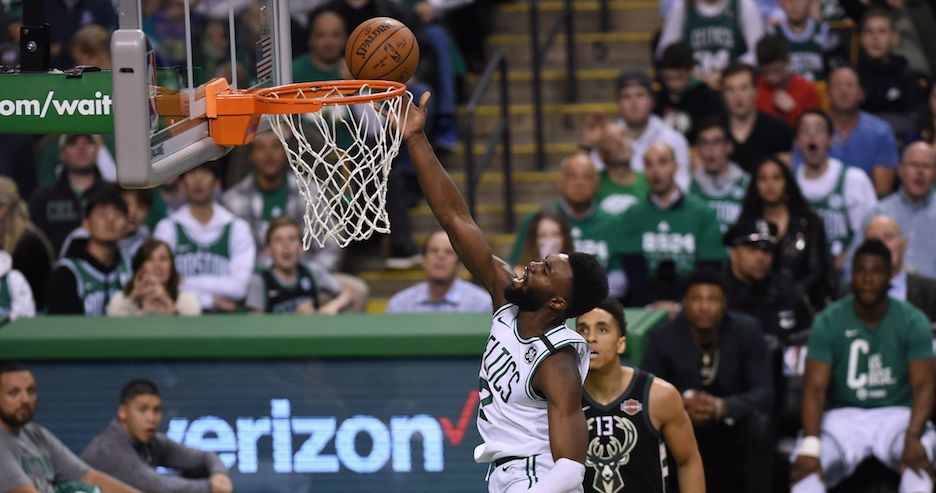 Photo: Bob Dechiara/USA Today Sports
The Celtics opened the playoffs at home against the Milwaukee Bucks on Sunday and overcame 35 points from Giannis Antetokounmpo to win 113-107 in overtime.  Al Horford scored 24 points while Terry Rozier added 23 points in the win.
Game two of the series also took place in Boston and the Celtics won 120-106. Jaylen Brown responded to Antetokounmpo's 30 points with 30 of his own to lead the Celtics.
Rozier steps up for injury-plagued Celtics
Since the Celtics don't have key guards Kyrie Irving or Marcus Smart for the first round of the playoffs, they needed a guard to step up.  With 23 points in each of the first two games, Terry Rozier has done just that. Head coach Brad Stevens said Rozier is improving every day for the team.
"It goes back to his competitiveness and his work ethic and I think that's showcased by opportunity," Stevens said. "There's a lot of guys that don't get as much opportunity that are getting better every day too. It's just the way it goes. He's showcasing that, as are our other young guys."
Smart continues recovery
Celtics guard Marcus Smart is continuing rehab on his injured right hand and is hoping to return soon.  
He told reporters earlier this week that if the team's first-round matchup with the Bucks goes seven games, he expects to be back for that, and otherwise, he hopes to be back for the second round.
"We're optimistic, but we're not going to rush anything," said Smart. "We're going to take it slow. I think I have another doctor's appointment, checkup, in the next two weeks. We'll see what she says. If she clears us to be able to start a little bit earlier than we might. But as of right now, Game 7 [or the] second round is the [goal]."
Looking ahead
Celtics @ Milwaukee Bucks Friday, April 20 at 9:30 p.m.
Celtics @ Milwaukee Bucks Sunday, April 22 at 1 p.m.