Bruins Can't Get Complacent With 2-0 Series Lead
April 16, 2018 12:00 pm | by Davis Ender | Posted In Boston Bruins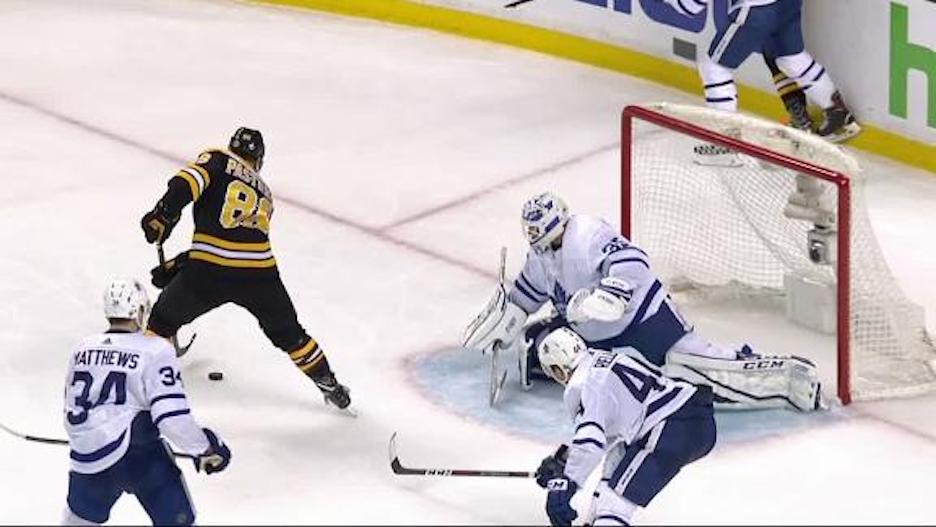 Photo Credit: ESPN
The Boston Bruins jumped out to a 2-0 series lead against the Toronto Maple Leafs and they've done so in dominant fashion.
After dominating Game one by a score of 5-1, the Bruins proceeded to cruise through Game two with a 7-3 win.
The team's penalty kill is 6-for-7, the power play 5-for-10, David Pastrnak scored a hat trick in game two, and the top line has 20 points through two games. Everything has gone perfectly for Boston so far, but they can't afford to let up now, especially as they head into Toronto for Game three.
The Maple Leafs are down 2-0 in the series and know they need to turn it around soon, so they're going to come out hot in Game three with a sense of desperation.
Boston's performances in games one and two were inspiring, but it's a best of seven series and things can turn in a heart beat. Bruins fans don't need to be reminded about the 2010 Eastern Conference Final against the Philadelphia Flyers.
The Leafs are 29-10-2 at home and much like the Bruins, play a lot better in front of their home crowd so the Bruins should be ready to head into a scary environment.
The Bruin's penalty kill has been outstanding thus far in the series, but they shouldn't get accustomed to taking too many penalties.
This series has already proven to be a physical one, but continuing to take penalties is playing with fire. Toronto's power play was the second best in the NHL during the regular season so they're bound to flip the switch eventually.