Pastrnak Hat Trick Sinks Maple Leafs in Game 2
April 15, 2018 12:24 pm | by Steve Lalonde | Posted In Boston Bruins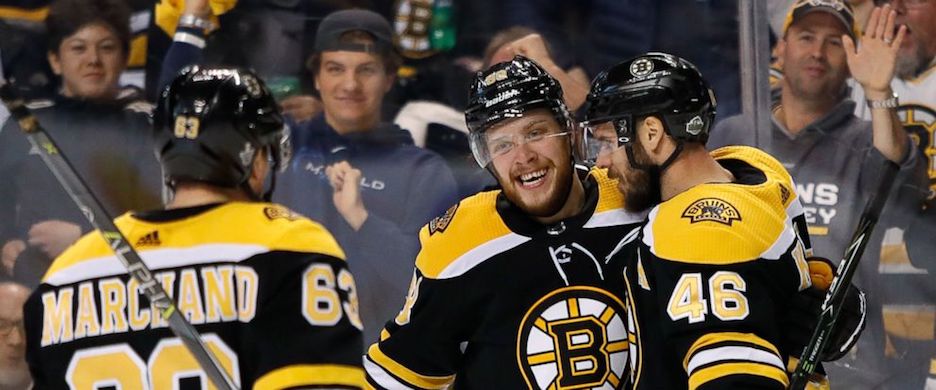 Photo: AP Photo/Winslow Townson
The Boston Bruins took a commanding 2-0 series lead over the Toronto Maple Leafs with a 7-3 win thanks to a hat trick and three assists from David Pastrnak.
Jake DeBrusk, Kevan Miller, Rick Nash and David Krejci also scored for Boston while Mitch Marner, Tyler Bozak, and James van Riemsdyk replied for the Leafs. Patrice Bergeron, Brad Marchand, and Torey Krug combined for 11 assists.
Boston's top line of Pastrnak, Marchand, and Bergeron combined for 14 points in the game two victory. The trio combined for six on Thursday in game one and now has 20 points through six periods against their division rivals.
The Bruins grabbed the lead at 5:26 when Pastrnak picked up the puck in front of Andersen and made a nifty move to score his second goal of the playoffs. Less than five minutes later on the power play, DeBrusk scored his first career NHL playoff goal with a redirection of a Krug pass
Boston's relentless attack continued at 12:13 when Miller, who was given time and space down low, fired the puck and found the back of the net after bouncing off Leafs defenceman Nikita Zaitsev. With three goals allowed on five shots, Frederik Andersen's swan song rang and was pulled from the game in favor of Curtis McElhinney.
Boston's thundering power play went back to work at the fifteen-minute mark when Nash buried a juicy rebound past McElhinney.
The Leafs got on the board at 1:22 in the second period when Marner fired the puck past Tuukka Rask on an odd-man rush. Boston went back up four when Krejci tipped-in Pastrnak's shot on McElhinney's blocker side. Toronto cut the deficit back down to three at 9:02 when Bozak scored to make it 5-2 in the second period.
Pastrnak scored his second of the night with 7:26 remaining when he was allowed to skate to the net and roof the puck top shelf. Van Riemsdyk scored for Toronto on the power play at 14:53. Pastrnak sealed his hat trick at 18:24 sliding the puck through his own legs in front of the net before roofing the disk home.
Rask recorded 30 saves for his 32nd career playoff win. Boston lit the lamp on two of its four power plays and are now five for 10 in the playoffs. Miller was out in full force tonight recording a goal and seven hits while David Backes took the body six times.
With Nazem Kadri suspended for three games after his blind side hit on Tommy Wingels, Boston took full advantage of his replacement. Aging veteran Patrick Marleau took Kadri's place down the middle on the second line and finished the night with a minus three.
The next game in the best of seven series goes north when the Bruins head to the Air Canada Center on Monday, April 16 at 7 p.m.