Bruins Dominate Maple Leafs in Game 1 Victory
April 13, 2018 9:47 am | by Davis Ender | Posted In Eastern Conference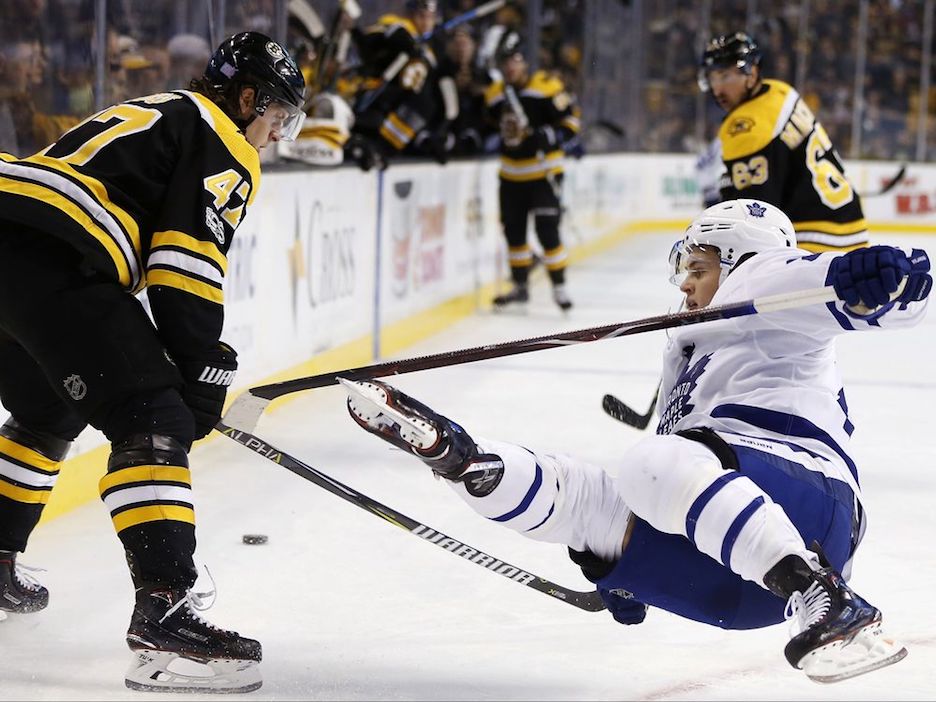 Photo Credit: National Post
The Boston Bruins started off the 2018 Stanley Cup Playoffs with a dominant 5-1 win over the Toronto Maple Leafs behind a red-hot power play and plenty of Leafs miscues.
Boston's first period wasn't fantastic. Brad Marchand got the scoring started with a great power play goal, but Zach Hyman scored at the end of the period to tie the game for the Maple Leafs. David Krejci and Charlie McAvoy both had a chance to disrupt the puck but were unable to make the play and thus Tuukka Rask was forced to try to make a difficult save.
The Bruins started to take over with goals from David Backes and David Pastrnak in the second period.
The third period is where Boston put the game away with a goal from Sean Kuralay and a goal from David Krejci to complete the David hat trick (Krejci, Pastrnak, and Backes).
The Bruins beat the Maple Leafs at their own game by luring Toronto into several penalties and then scoring three power play goals.
Boston's special teams were a strength as Toronto's usually dominate power play unit, which ranks second in the NHL, went 0-for-3 and was largely kept in check.
Not all is perfect in Beantown however as the Bruins lost Tommy Wingles to injury in the third period. Nazim Kadri was given a four-minute charging penalty and ejected for his illegal hit on Wingles.
The Bruins look to pick up where they left off tonight for Game 2 on Saturday at the TD Garden.