Red Sox Notebook: Rodriguez Nearing Return to Rotation
April 5, 2018 3:47 pm | by Hannah Brewitt | Posted In Boston Red Sox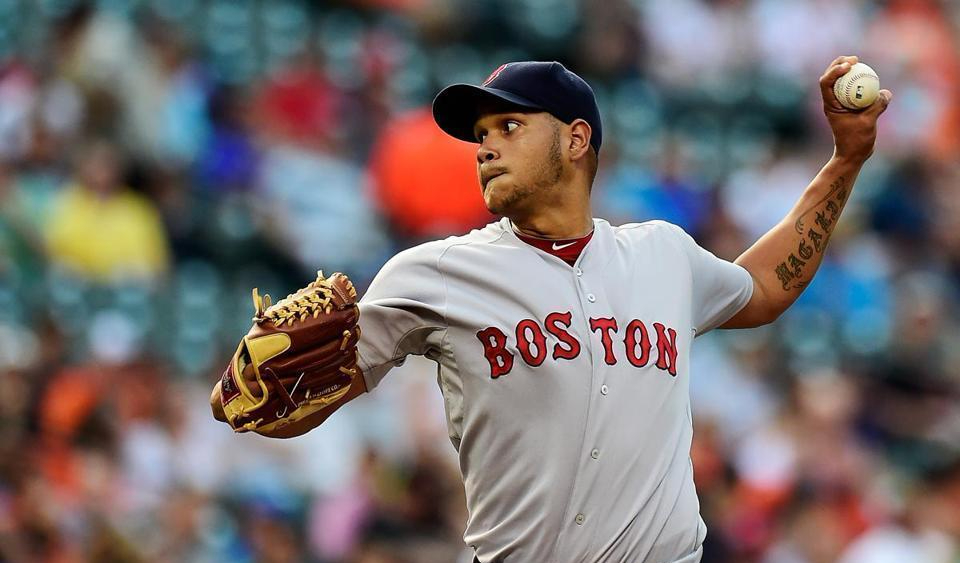 Photo: Patrick McDermott/Getty Images
If Red Sox manager Alex Cora stays on schedule with the current pitching rotation, ace Chris Sale will start on Sunday against the Tampa Bay Rays.
However, recent reports from MLB.com's Ian Browne indicate that this rotation might not be set in stone. Resting Chris Sale on Sunday would allow Cora to start the series against the Yankees, although he claims that does not factor into the decision-making process.
"It's not saving him for the Yankees series," said Cora. "It's just seeing where we're at. There are a few options available for that Sunday game. If we took care of him from the beginning of Spring Training, then whenever we have a window, we will probably take advantage of it. I'm not saying we will, but we're going to revisit that."
Lefty Eduardo Rodriguez could be activated from the disabled list just in time to start Sunday's game, according to multiple reports.
Rodriguez underwent knee surgery this offseason and has been battling back ever since. On Tuesday, he pitched a well-executed six innings in an extended spring training game.
"We'll talk about it," Cora said Tuesday. "Six innings are six innings regardless of where you're at, A ball, end of Spring Training, whatever. He used all his pitches, he felt great, we'll talk about it probably tomorrow and see what the next step is."
Fellow starter David Price deemed Rodriguez a key component of the starting rotation.
"[It's] all five of us," Price said. "I'm excited to see what Eddie's going to do. To me, he's been our best pitcher in spring training, just watching him throw bullpens and watching him on the back fields."
Although Rodriguez is making sure signs of recovery, it has not been confirmed if he is healthy enough to return to league play. If he isn't ready to take the mound on Sunday, Hector Velazquez and Brian Johnson would also be options.
Looking ahead
Rays @ Red Sox, Saturday, April 7 @ 1:05 p.m.
Rays @ Red Sox, Sunday, April 8 @ 1:05 p.m.
Yankees @ Red Sox, Tuesday, April 10 @ 7:05 p.m.