What is Blake Swihart's Future in Boston?
March 21, 2018 11:00 am | by Rick Pierce | Posted In Boston Red Sox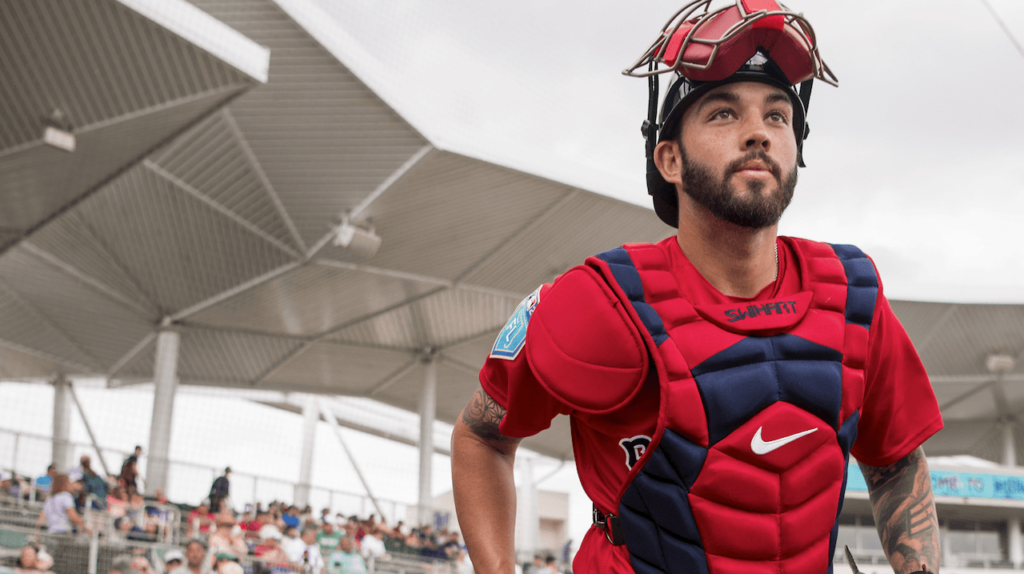 Photo Credit: Billie Weiss/Boston Red Sox/Getty Images
This season could be the final shot for Blake Swihart to make it as a Red Sox player.
Swihart goes into the 2018 season without any minor league options, meaning if the catcher is sent down to the minors, he would be placed on waivers. This begs the question—what's in store for Blake Swihart this season?
The Texas native was drafted by the Boston Red Sox in the first round of the 2011 amateur draft and while he has exceeded the rookie status, Swihart was most recently been used as a September call-up in order to fill the roster. However, Blake Swihart deserves to see more time in the Majors this season.
His rookie season in 2015 was a good start to his career, with a slash of .274/.319/.392 with five home runs and 31 RBIs in 84 games. Swihart spent 20 games with the Pawtucket Red Sox in 2015, batting .311/.363/.351 with 11 RBIs. The 25-year-old started the 2016 season in the Majors, but his season ended in July after he ran into a wall and injured his left ankle during his stint as a left fielder.
While Swihart returned in 2017, he was forced to change his swing due to his injury. The change in his swing left him slashing an upsetting .187/.261/.284 with Pawtucket and the GCL Red Sox, along with four home runs. Swihart has seemingly come back better than ever though as he slashed .407/.515/.481 in the Dominican Winter League and is slashing .277/.333/.553 with two home runs and nine RBIs in his 19 spring training games.
Swihart has also proven himself to be a great fielder, with a .990 fielding percentage as a catcher in the minors, and a .996 fielding percentage during his games in the majors.
If Swihart were to play in the majors in 2018, he would most likely be replacing one of the catchers, and he would probably replace Sandy Leon.
The 25-year-old had a career-high season in 2016, with an incredible .310/.369/.476 with seven homers, but his 2017 stats dropped to a .225 batting average with a .644 OPS. While Leon's fielding is of equal skill to Swihart's, Swihart would add much needed offense to the lineup.
Recently, Sean McAdam of Boston Sports Journal reported that the Red Sox received multiple trade offers for Swihart, but the teams interested in him are unknown. The interest in Swihart is well justified, as a young catcher who can hit and is barely used could easily be traded, but the Red Sox do not intend to get rid of Swihart. If traded to a team in need of a catcher, Swihart could get the opportunity to be an everyday player.
Whether he's traded away to another team, picked up off of waivers, or becomes one of the main catchers of the Red Sox, the future is bright for Blake Swihart.
Correction 3/25: A previous version of this article incorrectly stated Swihart's age. It has been corrected to "25-years-old".