Araujo O'Neill Predicts Red Sox Starters for 2018
February 24, 2018 12:40 pm | by | Posted In Boston Red Sox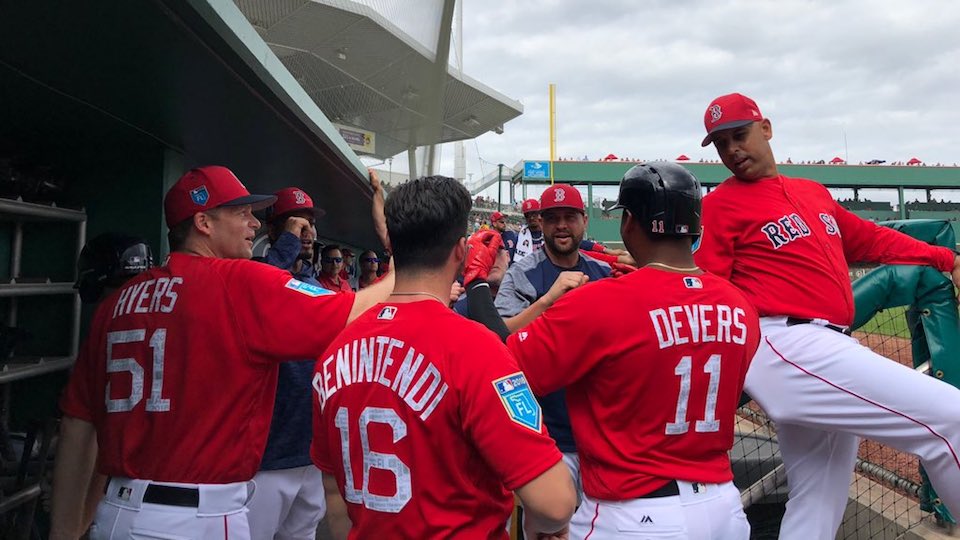 Photo Credit: @redsox/twitter.com
The potential lineup for the Boston Red Sox is looking solid heading into the 2018 season.
My best prediction would be—not in order—Christian Vasquez, Mitch Moreland, Eduardo Nunez, Xander Bogaerts, Rafael Devers, Mookie Betts, Jackie Bradley, Andrew Benintendi and then I have the new signing J.D. Martinez and Hanley Ramirez at designated hitter, with Martinez being the favorite.
Betts, Bradley Jr, and Benintendi are all locks in the outfield due to how vital they were all last season. The trio dubbed "The Killer B's" were all great batters in 2017 with all of them hitting 20 or more home runs. Betts led the outfield in home runs last season with 24.
With Dustin Pedroia still under doubt due to his knee injury, I have Eduardo Nunez in his position as he was a solid replacement for Pedroia last season.
Although Hanley Ramirez can be a great hitter, he hasn't shown this consistently enough, leaving Mitch Moreland as the more reliable first basemen at least for now.
Rafael Devers did a great job to secure the third basemen spot last season, and it will be tough for anyone under him to come up and try to take his job, so I have him as the obvious starter for this upcoming season.
Christian Vasquez is coming off a career-best season where hit .290, which was his highest career batting average by .050. Although his performance at the plate has been decent but not amazing throughout his career, he is still the go-to catcher this year.
Xander Bogaerts had a great season on both sides of the ball in 2017. If he continues to perform the way he did last season, there will no questions as to why he is the starting shortstop.
Lastly, after the signing of J.D. Martinez, there is no doubt that he won't at least be the designated hitter for the team after almost reaching 40 home runs last year. The only question to be determined is whether or not he will be fielding this season.