Celtics Notebook: Irving and Morris Return
February 8, 2018 6:02 pm | by Patrick Mulligan | Posted In Boston Celtics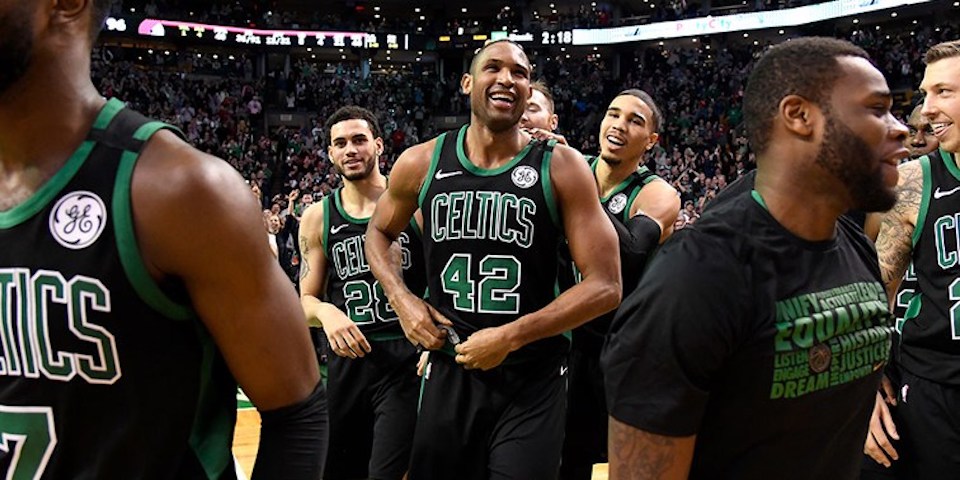 Photo Credit: NBA.com
The Celtics started their weekend off with a 119-110 win at home over the Atlanta Hawks. In his second career start, Terry Rozier poured in 31 points and added seven rebounds in the win. Taurean Prince also had 31 for Atlanta.
The Portland Trail Blazers made their way into Boston for a matchup with the Celtics on Sunday, and Boston came away with the buzzer-beating 97-96 win.  Al Horford had 22 points, 10 rebounds and the game-winning shot for Boston.  C.J. McCollum led the way for Portland with 22 points.
The Celtics then took a trip up to Toronto on Tuesday and left after a 111-91 blowout loss.  Kyrie Irving led the way for the Celtics with 17 points, while Kyle Lowry put on a show with 23 points—including six three-pointers—for the Raptors.
Terry Rozier steps up during Kyrie Irving's absence
When Kyrie Irving and Marcus Smart went out with injuries, the Celtics looked to Terry Rozier for a spark in his first experience as a starter.  
In his first two games, Rozier delivered.  His first start came against the Knicks, and he compiled 17 points, 11 rebounds, and 10 assists as he compiled his first triple-double.  In his second game, Rozier poured in 31 points on 11-18 shooting against the Hawks, leading to a win.
"It's just been a blessing. It's been great," Rozier said to reporters after the game against Atlanta. "All the praise goes to my coaches and my teammates for allowing me to get open and … just making it easy for me. Everybody's playing hard out there. All the credit goes to them."
Irving and Morris Return to Action After Injuries
Kyrie Irving and Marcus Morris both returned to action against the Raptors after nursing injuries that kept them out for a few games.  
Irving scored 17 points while Morris added 12 off the bench. Irving only played 22 minutes in the game, while Morris logged 30 minutes.
Next 7 days at a glance
Thursday, Feb. 8 at 8 p.m. @ Washington Wizards
Friday, Feb. 9 at 7:30 p.m. vs Indiana Pacers
Sunday, Feb. 11 at 3:30 p.m. vs Cleveland Cavaliers
Wednesday, Feb. 14 at 8 p.m. vs LA Clippers