Red Sox Spring Training Preview: Questions at First Base and DH
February 7, 2018 12:29 pm | by Sam Connon | Posted In Boston Red Sox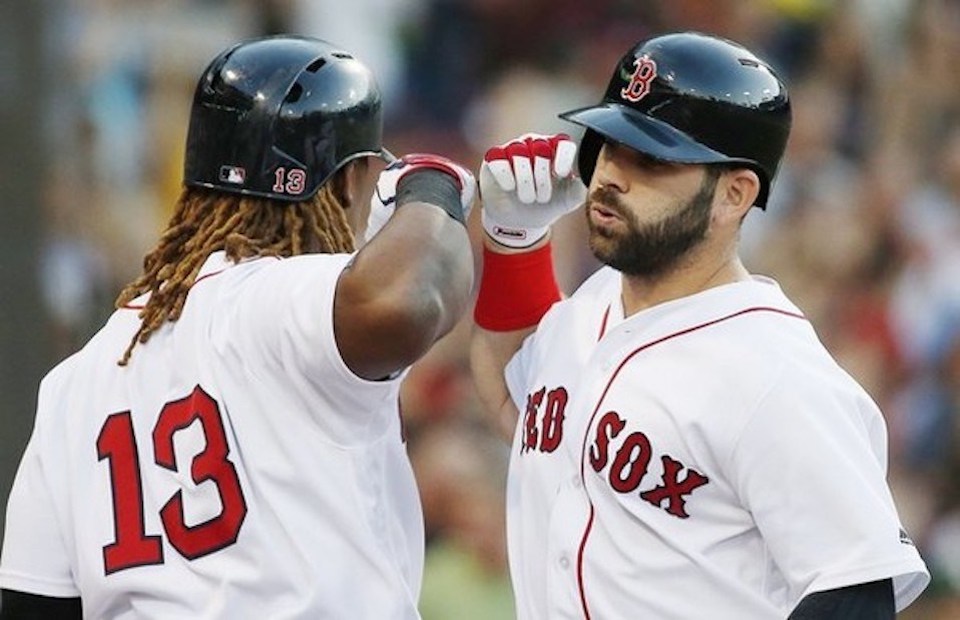 Photo Credit: AP Photo/Michael Dwyer
Spring Training is right around the corner, and the Red Sox have just sent out invites. Over the next couple weeks, I'll take a look at every position and who Alex Cora and Dave Dombrowski are bringing down to Fort Myers. Today, we'll take a look at first base and designated hitter.
If you had asked me three weeks ago what the starting first baseman-designated hitter combo would be for the Red Sox in 2018, I would have guessed that it would be Hanley Ramirez and J.D. Martinez.
But now, with Martinez, Eric Hosmer and Logan Morrison still free agents, there are still many dominoes left to fall.
For now, Mitch Moreland looks to start the season as the starting first baseman, after signing a two-year deal worth $13 million, and Hanley Ramirez will be the designated hitter. But after that, the only other first baseman or designated hitter that the Red Sox invited to Spring Training is Sam Travis.
Considering they haven't sent an offer out to a cheap veteran like Matt Holliday or Chris Carter or even a young prospect like Josh Ockimey, they are most likely still looking for a major free agent addition.
Martinez and Hosmer are the clear targets, with the former engaged in contract negotiations with Dave Dombrowski and the Red Sox for several months. Then there are the lower-tier guys like Lucas Duda or Logan Morrison, who could sign short-term deals and provide solid power numbers in the back end of the lineup.
However, where things lie now, the Sox don't have any of those players and are left with a rotation of Ramirez, Moreland, and Travis at first base and designated hitter. Chances are Travis and Moreland will form a platoon at first with Hanley settling in full time at designated hitter.
Travis started hot when he first came up to the majors last season, batting .295 in his 20 games played at first base in 2017. However, he only managed one RBI and failed to notch a single home run.
While he was a promising prospect coming up through the farm, the most home runs he hit in a single season in the minors was 10. The Sox had major power struggles last season following David Ortiz's retirement, hitting just 168 home runs, and having a first baseman with such poor power would be a worrisome move for Boston.
Hanley Ramirez had a fine season last year, tallying 23 home runs, but his inconsistency and inefficiency at the plate–shown in his -0.4 WAR–were obviously disappointing.
Mitch Moreland, who won a Gold Glove in 2016, was an above average fielder at first base for the Sox last year. On a season-to-season basis, Moreland is consistent, hitting 22 to 23 home runs and at least 60 RBI in each of his past four seasons, but his .756 career OPS is proof that he isn't the power bat that Boston needs.
Blake Swihart, who came through the minors as a catcher, may get reps at first this March, but given his poor numbers after being moved around the field over the past two years, it might be the safe choice to keep him parked behind the plate.
With no non-roster invitees getting the call down to Fort Myers, the first snub from Spring Training is Josh Ockimey.
Ockimey is a 22-year-old who the Sox drafted out of high school in 2014 and is coming off of back-to-back solid seasons in the minors. His 21 home runs per 162 games these past two years show promise in his power tool. At just 22-years-old, it's understandable why he didn't get an invite, but with almost no depth to speak of, Dombrowski should have given him a chance this March.
Pedro Castellanos, a 20-year-old Venezuelan prospect signed in 2015, is the only other first baseman of note in the farm system.
Scouts say Castellanos has a high ceiling, but with just 116 games played in America, he's still a bit of a question mark. His 77 RBI are impressive in such a short stretch, but despite his 6-foot-3 size, he has only five home runs. He shouldn't have got the call this year, but give him a few years, and Castellanos could be making noise in the majors.