Smart Makes First Comments on Hand Injury
February 5, 2018 12:07 pm | by Dylan Corey | Posted In Boston Celtics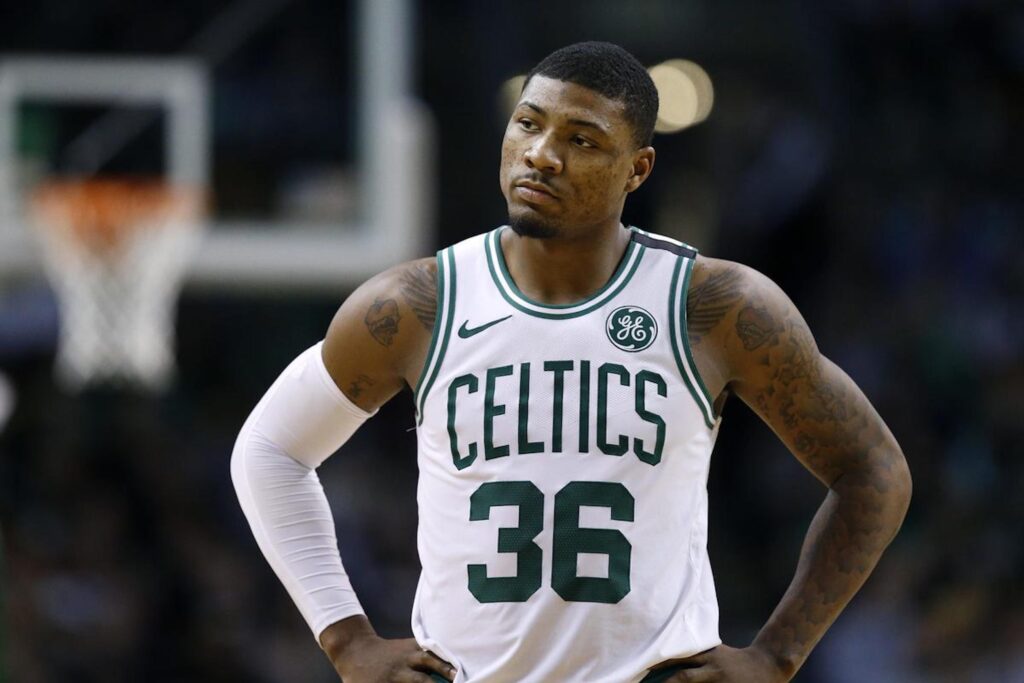 Boston Celtics' Marcus Smart stands on the court during the fourth quarter of an NBA basketball game against the Philadelphia 76ers in Boston, Thursday, Jan. 18, 2018. The 76ers won 89-80. (AP Photo/Michael Dwyer)
Marcus Smart publicly addressed his lacerated hand that has kept him sidelined since Jan. 24 after punching a picture frame due to being angry at a missed game-winner.
Although Smart said he expects to be out until after the All-Star break, he understands it could have been worse.
"The hand is healing very well," Smart said. "I'll be back soon and I'm just blessed that nothing more serious happened to it."
Hitting a glass picture frame may seem like an extreme response to losing a regular season NBA game, but the Oklahoma State University product assured everyone that it was the only factor.
"Off the court had nothing to do with it which a lot of people probably think it was but it wasn't," Smart said.
With the injury to the 6-foot-4 point guard, the Celtics are extremely shorthanded in terms of guards.
Kyrie Irving has missed the past three games with a quad injury, and Shane Larkin is out with knee soreness. Luckily, Terry Rozier stepped up in his first two starts and delivered a triple-double against the New York Knicks. In his second start, he managed a career high in points with 31 in a win against the Atlanta Hawks.
With Rozier being able to showcase his talents, Smart's name has surfaced recently in trade rumors. Trusted league source Adrian Wojnarowski reported on his podcast, Woj Pod, that Boston would consider swapping Smart in a deal that included a first-round pick.
Marcus insisted that this is something he is used to and he isn't sweating it too much.
"It happens. It's business. Nothing's written in stone until it happens," he said. "We just kinda see how it goes but I'm not worried about it."
Hopefully, Marcus will learn from his mistake and avoids punching glass frames for the rest of his life.
Until he returns, the Celtics will continue to have a shallow bench in important games against Eastern Conference opponents. Some of these matchups include the Toronto Raptors, Washington Wizards, and Cleveland Cavaliers, where his defensive efforts will be dearly missed.