Red Sox Spring Training Preview: Devers Ready for Breakout Season
February 3, 2018 4:00 pm | by Sam Connon | Posted In Boston Red Sox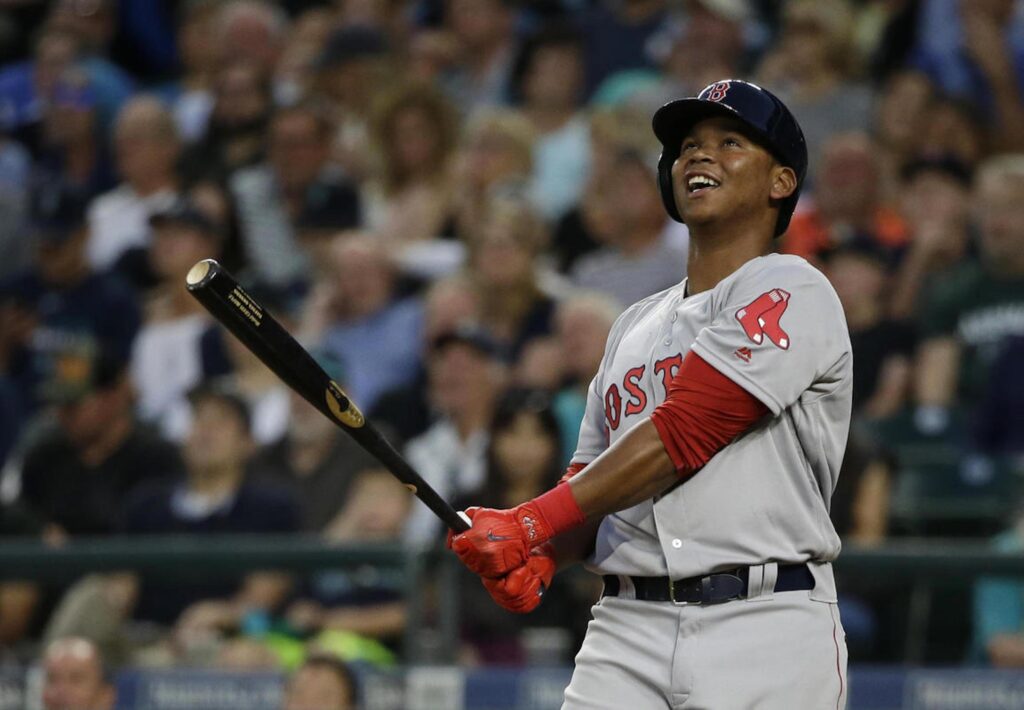 Boston Red Sox's Rafael Devers smiles after hitting a foul ball in the sixth inning of a baseball game against the Seattle Mariners, Tuesday, July 25, 2017, in Seattle. (AP Photo/Ted S. Warren)
Spring Training is right around the corner, and the Red Sox have just sent out invites. Over the next couple weeks, I'll take a look at every position and who Alex Cora and Dave Dombrowski are bringing down to Fort Myers. Today, we'll take a look at third base.
For the past two years, the Red Sox have gone into Spring Training with a major question mark at third base. Pablo Sandoval was overpaid and always hurt, Travis Shaw was wildly inconsistent and Rafael Devers was too far away.
In 2018, they have a clear-cut plan for the future, with Devers now an everyday major league player.
When Devers made it to the big leagues last summer, he performed even better than expected. Even though he played only a third of the season, he still hit 10 home runs and had 30 RBI while batting .283.
With a full season ahead, the Sox should expect even bigger and better things this year. FanGraphs' ZiPS projections have Devers set to hit 27 homers, 85 RBI, a .273 average and an OPS over .800.
Even though he's buried in the lineup by the other young stars the Red Sox have, Devers has the chance to launch himself into the conversation for the best young third baseman in the league. Outside of Machado, Devers could solidify himself as the next best third basemen in the AL by taking the next step in 2018.
As I've mentioned before, the Red Sox have a bevy of utility players on the 40-man roster. Brock Holt, Deven Marrero, Tzu-Wei Lin and Marco Hernandez all have experience at third, and I'm sure all of them will get their reps.
Lin started his stint in the majors at third last year, but something tells me that he won't get too many looks there. Deven Marrero, who came up through the farm as a shortstop, has played 70 of his 107 career games at third. Marco Hernandez, primarily a second baseman, has also spent over half of his major league innings at third.
On the topic of Lin, I have a feeling that he'll be the one left off the Opening Day roster. He has the least experience of the utility men, and he might be the worst of them anyway. It seems like the rest of them will make the roster, and with Holt and Marrero seemingly in the lead for the backup shortstop and second base roles, I would say Marco Hernandez gets the nod for backup third baseman.
Now, onto the non-roster invitees, the most prominent of which is Michael Chavis. The 22-year-old prospect is ranked No. 2 in Boston's system by both SoxProspects.com and MLB Pipeline and is coming off of a red-hot 2017.
Chavis hit 31 home runs with 94 RBI and a .282 batting average with the Salem Red Sox and Portland Sea Dogs last season, and is the Sox best offensive prospect. With four years of experience in the Sox' farm, Chavis has proven to be an important part of this franchise's future.
However, with a young star like Devers blocking him at third, Dombrowski should consider moving his position by the time he makes it to the majors.
With his experience and his quick journey through the farm system, that time could come sooner rather than later. With an impressive Spring Training and Double-A performance, Chavis could justify a call-up in the 2018 season if someone in the lineup gets hurt. He could be a DH, a third baseman or he could even be a corner outfielder, and I think that he'll be up in Boston by July.
Ivan De Jesus, a journeyman utility player, was brought in by Dombrowski as a non-roster invitee last week, but with Dustin Pedroia down to start the year, all signs point to De Jesus being used primarily as a second baseman.
Bobby Dalbec, a Red Sox top-10 prospect on MLB Pipeline, is their highest ranked third base prospect who didn't receive an invite to Fort Myers.
Dalbec was a fourth-round pick in 2016, after three solid years at the University of Arizona. However, his .248 average last year is a cause for concern, and his mere 13 home runs certainly didn't make up for it. His 12 home runs across 27 games in the Cape Cod League in 2015 are promising for his long-term power, but it's understandable why he didn't get the call.
Danny Diaz is fresh off his 17th birthday, but he has already shot up to No. 17 in the system on both SoxProspects.com and MLB Pipeline.
The Venezuelan native was signed along with shortstop Antoni Flores last July, and although he has grown up as a shortstop, his build projects him to be more of a third baseman in the future. Diaz is one of the highest ranked international prospects, as some scouts claim he has the balance of average and power of a young Rafael Devers. Obviously, he's too young to go to Spring Training, so he definitely wasn't snubbed.