Brock Holt Spends Day at Dunkin'
January 28, 2018 12:43 pm | by Sam Connon | Posted In Boston Red Sox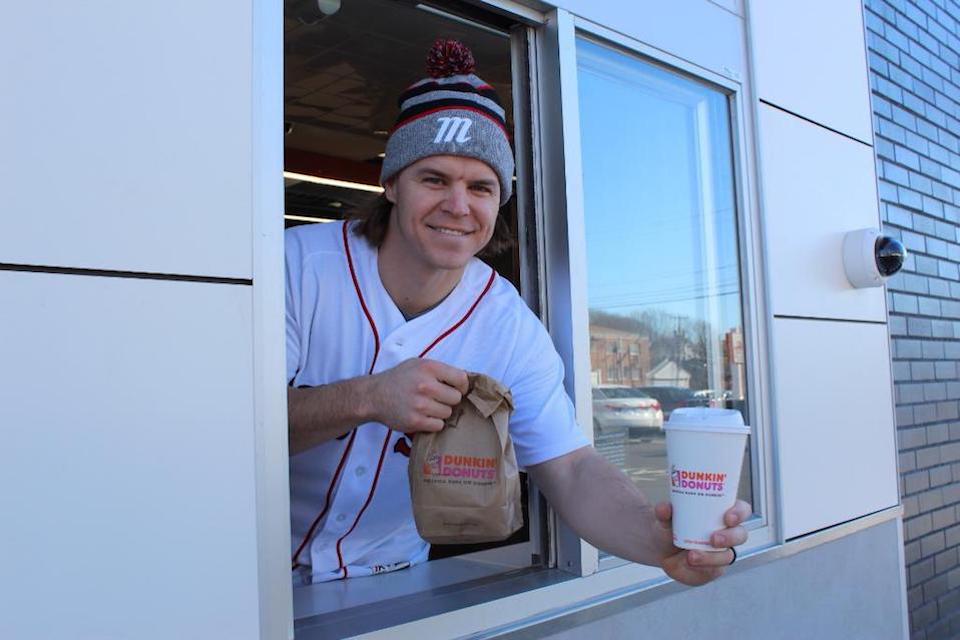 Following in the footsteps of his former teammate, David Ortiz, Brock Holt spent the day working at a Dunkin' Donuts in Quincy.
The 29-year-old utility man stopped by the new Dunkin' location with Wally the Green Monster on Saturday. Holt took orders, made coffees and worked the drive-through, all while chatting with fans and Channel 7 WHDH News.
Holt, a Fort Worth, TX native, was all in for the Patriots ahead of Super Bowl LII next Sunday, telling WHDH that New England would come out on top. The former All-Star saw the Patriots' continuous success as motivation for him and his teammates.
Brock Holt serves customers, talks Patriots at Quincy Dunkin' Donuts https://t.co/gOrzD7uF6x #7News pic.twitter.com/9WgKuXN85R

— 7News Boston WHDH (@7News) January 26, 2018
"Patriots seem like they're in the Super Bowl every year," Holt said. "Celtics are doing well, Bruins are doing well. Once we get going, we're going to have to carry the torch."
The Red Sox, as Holt said, have high expectations this year, with the rest of Boston's teams continuing to impress. Holt will make the trip down to Fort Myers on Feb. 19.